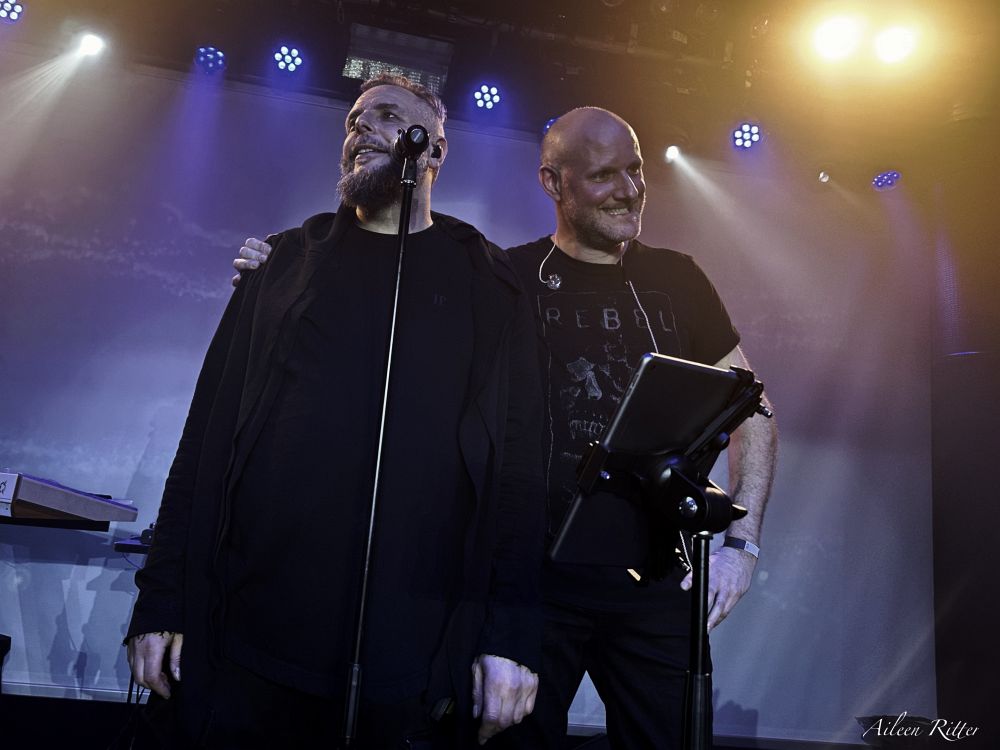 Subkultur, Hanover, Germany
4th February 2023
Neuroticfish & Support: Neon Space Men

How did the "idiot with a box and a screwdriver" once strongly worded? "For some people, small, beautiful events are what life is all about." I couldn't say it any better, because this is exactly what it should be. And I'm happy, that I was able to attend such a small and very beautiful event last Saturday when NEUROTICFISCH did one of their rare live shows. But it wasn't just one show. No, according to Sascha, the band was giving its Hanover debut tonight. And it was a debut show for their support NEON SPACE MEN too. The trio had their very first gig ever on this evening. All good things come in threes. So, this is my first visit at Subkultur Hanover as well. After all, I do put up the 350 kilometres ride to Lower Saxony's capital not that often.
First thing's first, but not necessarily in that order. The "Musikklub der Subkulturen" lives up to its name and to its motto "Love Music Hate Racism". You can see and feel at every corner, how much dedication and passion are invested into the small club. The place is lovingly furnished and decorated. There are so many little details to discover that it is impossible to list them all. The team of club boss Jens Klostermann is extremely nice and it goes very familial. I immediately understand why many call the club their second living room. I also feel extremely comfortable here. Definitely not my last visit, just to mention. The entrance starts with a slight delay, but then goes quite quickly. In the meantime, a good bunch of music lovers has gathered outside and the small club is filling up quickly. No wonder, because the show is sold out for weeks. When I come in, it's still quite cool in the almost "too well"-ventilated room. So, I decide not to give my jacket to the cloakroom for the time being. That would've been free here, by the way.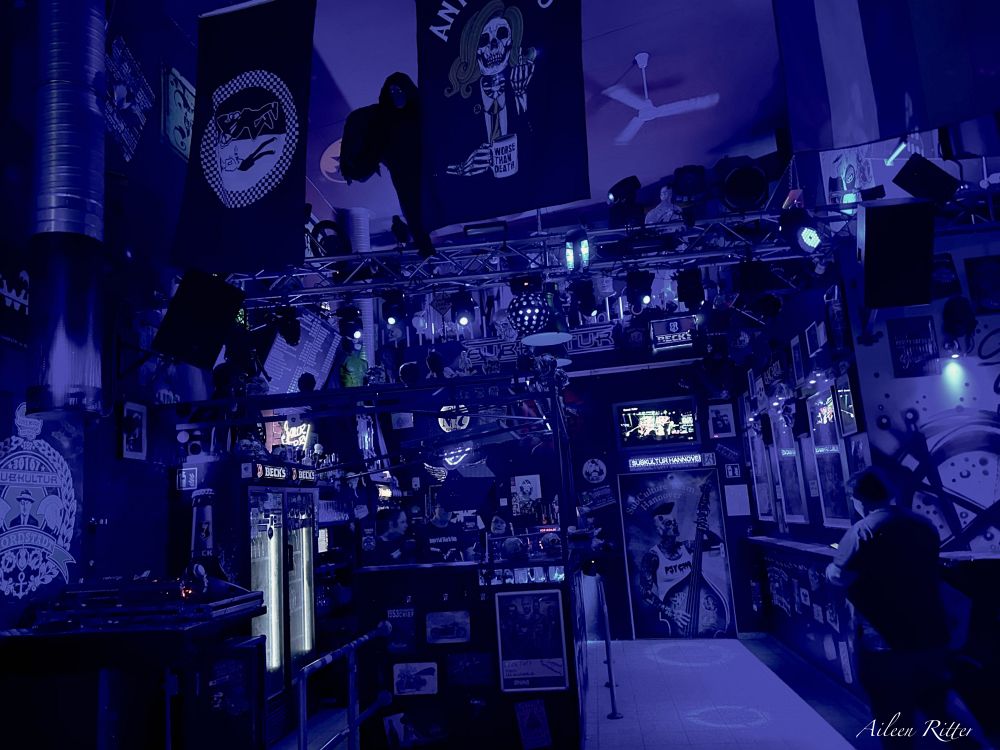 Neon Space Men

The three synthesizer enthusiasts Jochen (vocals, production), Uwe (backings, e-drums) and Oliver (keys) entered various scene charts with their first single 'Follow Me' with high rankings. The members of the trio live all over Germany. Singer Jochen comes from Stuttgart and probably had the longest journey today. Keyboarder Oliver lives in Leipzig, while Hanoverian Uwe has a home game tonight. The guys can't deny their fondness for the synthpop of the eighties. Their first single 'Fallow Me' and the unreleased song 'Twisted Mind' remind me a lot of ERASURE in the late 80s. https://neonspacemen.com / www.facebook.com/profile.php?id=100085271030821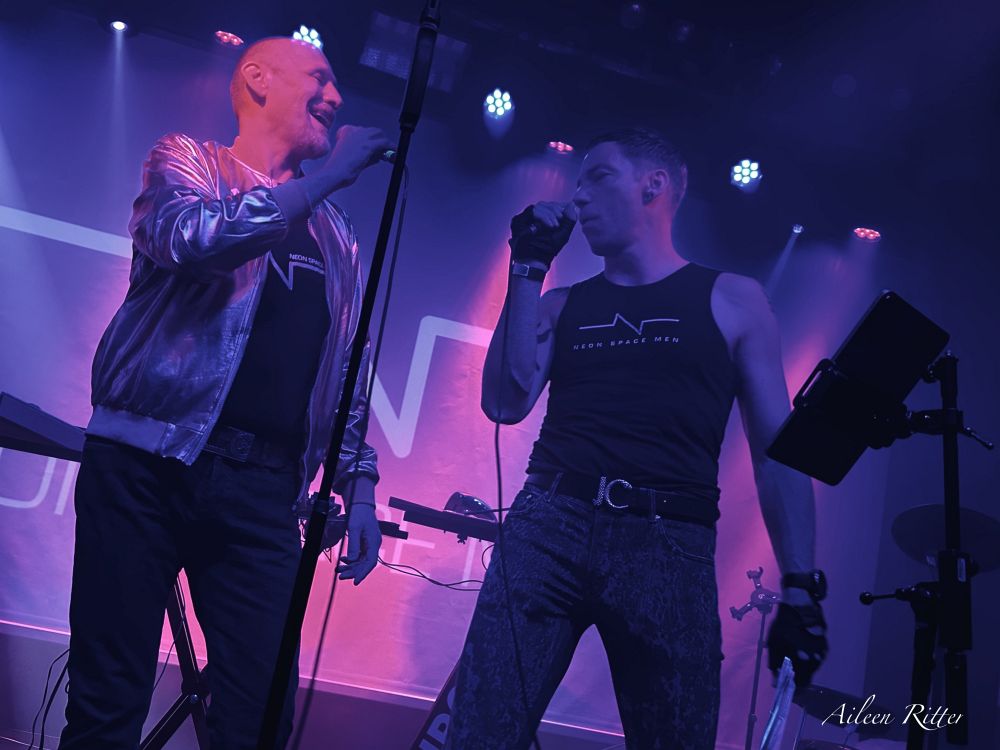 Music & Performance

After a half hour delay it finally starts. Uwe and Oliver are the first to enter the stage, wearing spacy masks and enlighten jackets. Then Jochen follows without a mask and dressed a little less conspicuously. In terms of outfit, the trio lives up to the band name and has chosen the right intro with the 'Captain Future Theme'. Then the men start the real set with 'Things (Adam & Steve)' followed directly by the recently released single 'Follow Me'. Both catchy and danceable. Jochen seems to have a little trouble with the high notes, which could be due to stage fright. It's obvious that the three men are very nervous. But who could hold it against them. At the next song, a "title from the 80s", there's nothing to hear of it. According to Jochen, he actually owns Kate Bush's classic 'Running Up That Hill' on a maxi.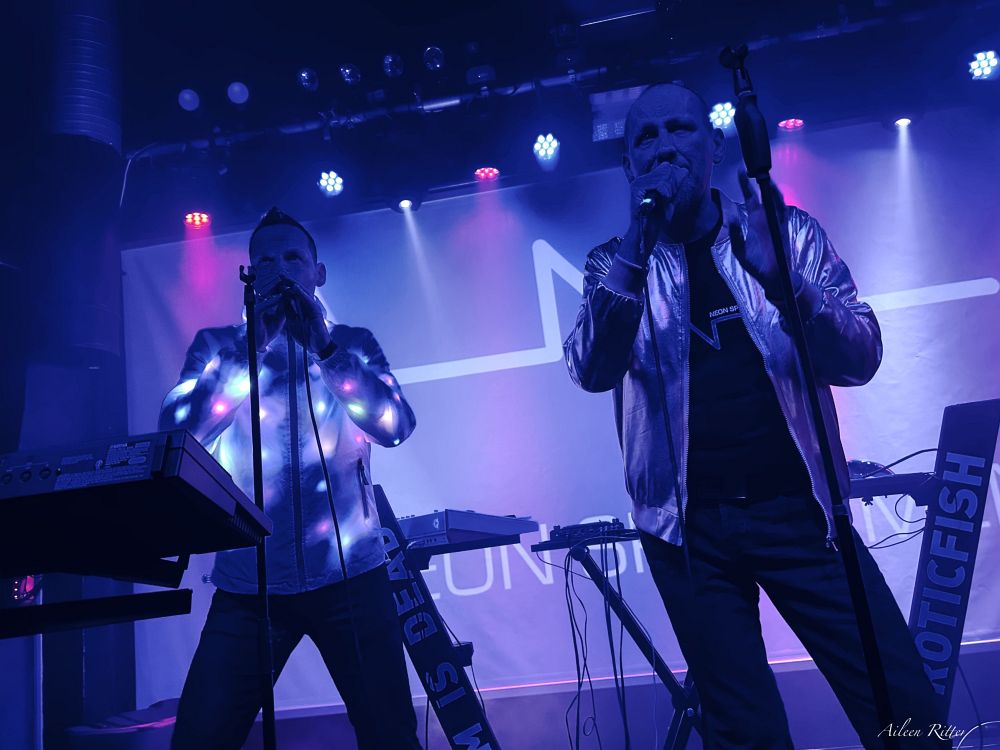 Uwe takes a chance to introduce the trio, before the set gets poppier again with 'Moving Slowly Moving Faster' and 'Twisted Mind'. The next song 'Seeds Of Love' is actually a year old and brought the three together. After 'Sailing 7 Seas' Uwe thanks Jens and NEUROTICFISH for making this possible. He thanks their loved ones, their friends, who have come from far away to support them today and last but not least, the audience. Finally, NEON SPACE MEN present us 'Follow Me' again, this time in the Robert Dust mix, before they leave the stage after almost 45 minutes.
Setlist

01. Intro (Captain Future Theme)
02. Things (Adam & Steve)
03. Follow Me
04. Running Up That Hill
05. Moving Slowly Moving Faster
06. Twisted Mind
07. Seeds Of Love
08. Sailing 7 Seas
09. Follow Me (Rob Dust Edit)
Rating

Music: 7
Performance: 6
Light: 7
Sound: 7
Total: 6.8 / 10
Neuroticfish

Formed at the beginning of the 90s, NEUROTICFISH have created their own style of electronic music with elements of Synth-Pop, Trance, Industrial and EBM and the unique voice of Sascha Mario Klein. The music is inspired by the sound of bands like SKINNY PUPPY, NINE INCH NAILS and DEPECHE MODE. In his lyrics Sascha grapples with neuroses, paranoias and emotional dependencies and their effects. Songs like 'Skin', 'Velocity', 'M.F.A.P.L.' or 'The Bomb' have taken the alternative dance floors by storm and you can't still imagine a club night without it today.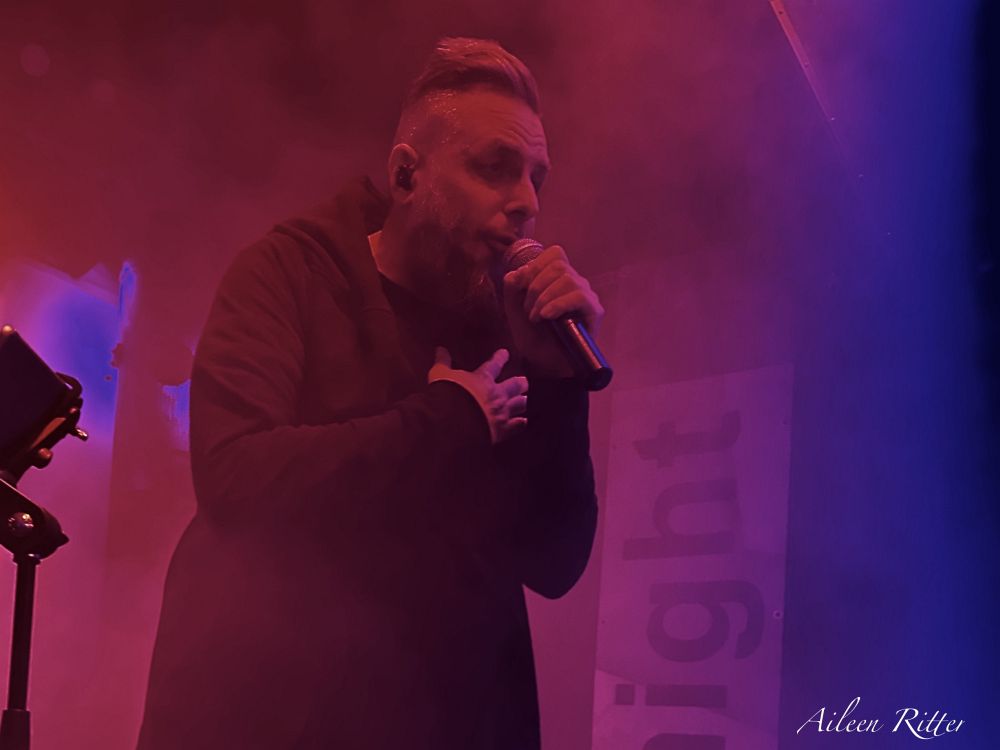 The rare performances by Sascha (music, lyrics, keyboards and production) and Henning Verlage (keyboards and production) are characterized by Sascha's clear and very emotional vocal performance, paired with naive pop melodies over hard and technoid beats. The two artists seem so warm-hearted and open and bring their music on stage with such an unbelievably intense and energy, you just can't resist. Their shows are always a special experience. In the course of the year there will finally be a new album, 'The Demystification Of The Human Heart'. But today the guys from Bochum take us on a journey through almost 25 years of band history. jwww.neuroticfish.com / www.facebook.com/OfficialNeuroticfish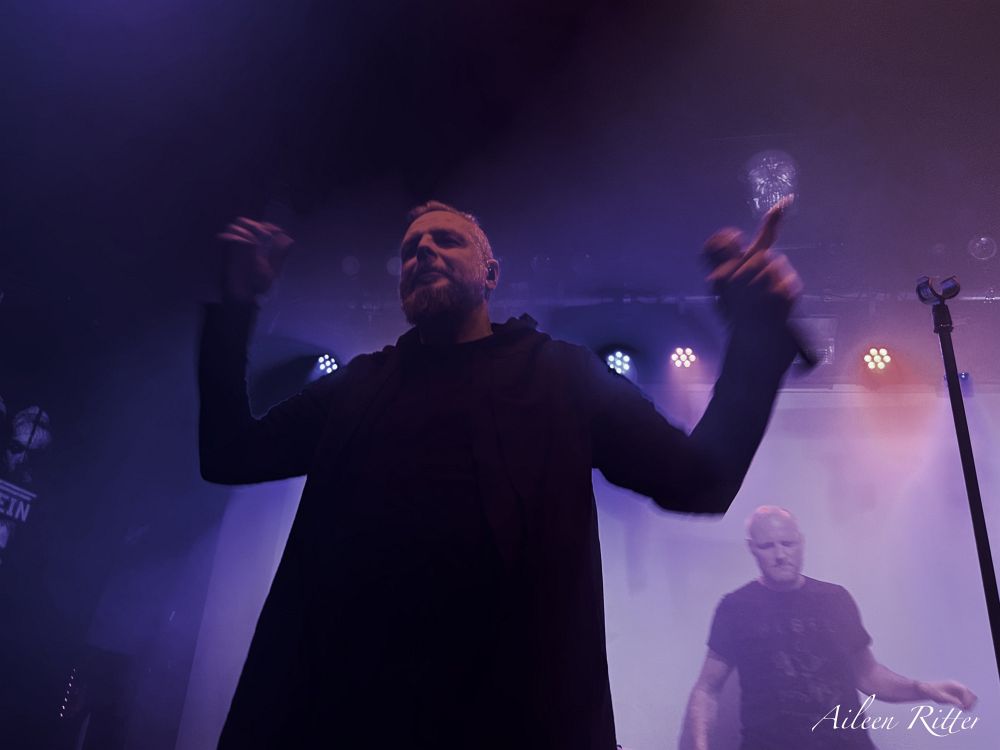 Music & Performance
It takes a while for the NEON SPACE MEN to dismantle their equipment. Then, around a quarter to ten, Henning is the first to come onto the stage. Shortly thereafter, Sascha takes his place at the mic and opens the evening with the words "Where is my stand? (Editor's note: The German word for stand is "Ständer" and is colloquially used as a term for an erection. As you can imagine, this prompted laughter and ambiguous heckling.) Where's my iPad stand?" Out of sheer excitement, NEON SPACE MEN were a little too busy remodelling and probably cleared away too much. Sascha didn't have that either, coming on stage and his stuff is gone. So that Sascha doesn't have to cling to the "text help" all evening, quickly they get out the thing again and reassemble it and then "Let's go". Now the first-class time travel can finally begin.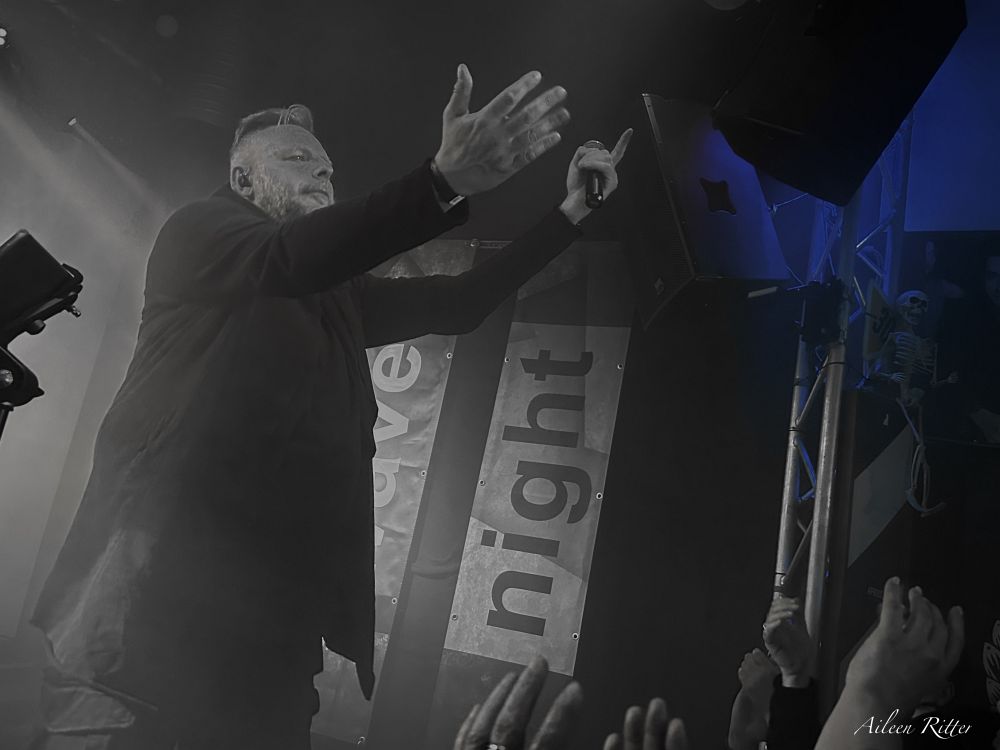 Already with the opener 'Colourblind' I get goosebumps all-over and it stays for the rest of the evening. Sascha's vocals dig deep under the skin through every pore. Sascha then greets us properly, thanks Jens for the invitation and "now there's something up the ear". The Hanoverians are said to be a bit reserved at concerts and rather quiet connoisseurs. I don't notice any of that though. True to the motto "Silence is my enemy", 'Silence' is accompanied by rhythmic clapping, and loud cheering and singing. Sascha forgot to bring something to drink on stage and asks for a bottle of water. And he gets that passed from behind quickly. After the banger from just now, 'Walk Alone' makes things calmer and very emotional. The first but not the last time that I almost have tears in my eyes. The song is also sung along loudly and in the end the audience erupts in cheers again.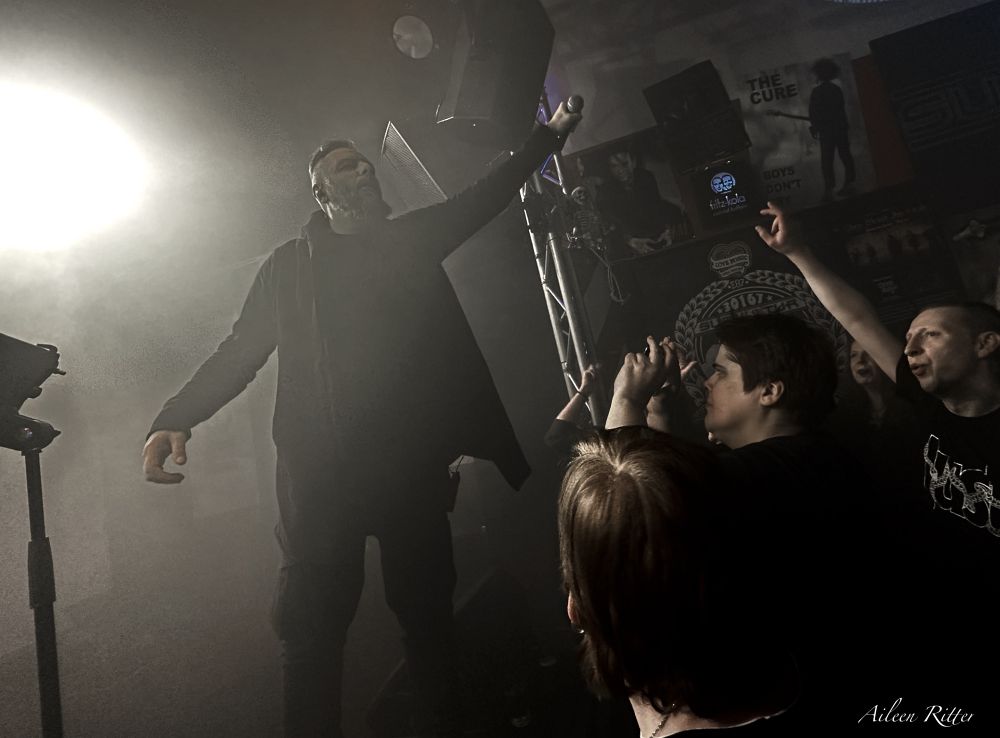 Then back to full force with 'Civilized'. "So, now there's a classic". Not just one! But three absolute top-class hits follow. All of them celebrated hardly: 'Wake Me Up', 'Former Me' and 'A Greater Good' create so incomprehensible much energy and power, it puts us into sheer ecstasy. Then follows another very emotional track that has a special place in Sascha's heart. 'Suffocating Right' was his father's favourite and it never leaves me dry too. I simply love this song. The next one lives up to its name. Not only does it hit like 'The Bomb', it lets explode the Subkultur and initiates the proverbial "tearing down". So Sascha has to admit "Jens told me, they would tear down my shack. I didn't want to believe him. But he was right." And full of energy it goes on. 'Behaviour', 'Is It Dead?', 'M.F.A.P.L.' and 'Can't Stop A Riot' make the place smoulder again.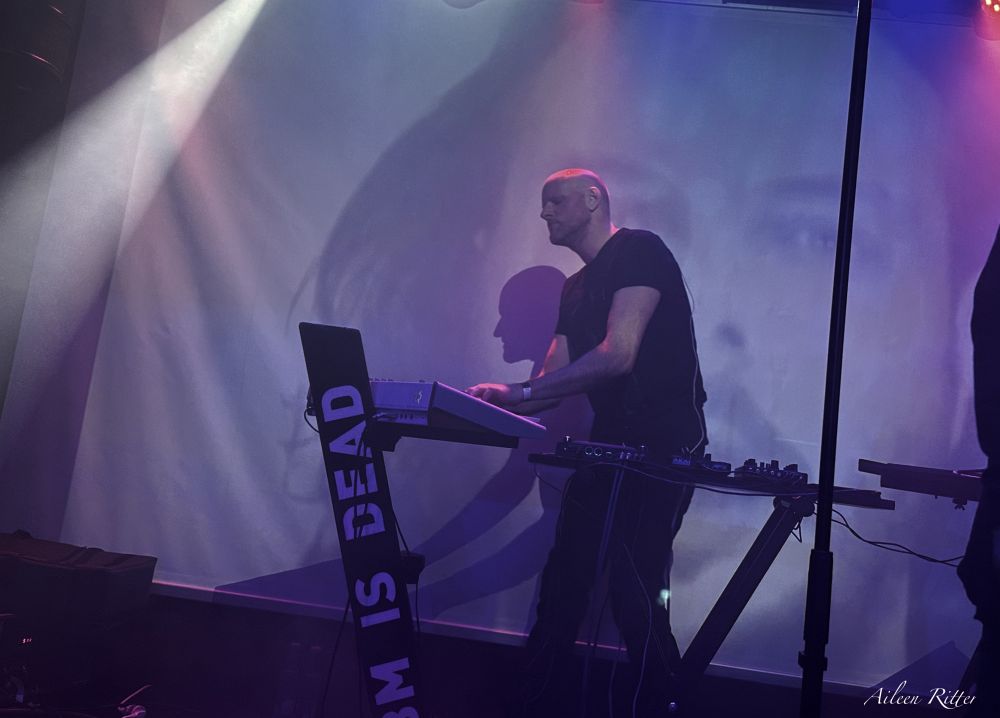 In the meantime, I have nothing against the almost "too good" ventilation, pleasantly cool air thanks to the ventilators. 'Fluchtreflex' first triggers a collective "Whooo!" and then the whole club sings, not a foot stands still. Boss Jens is also visibly in ecstasy. "Okay guys, we remade 'Velocity', right. You all know this one. Then let's do it, now." And it really kicks our heads! I, for my part, no longer have a voice, but Sascha is holding on. "Hanover, it was a wonderful evening. You have made two old men very happy." Happy is what we are, when Sascha modifies the lyrics of 'Need' a bit "Ich habe keine Eile von EUCH fortzugehen - Ich warte eine Weile, um EUCH nachzusehen". So, we can be sure that our time travel is not to end up here. And the two of them are led off the stage with calls for an encore. It takes not long and they are back for an encore that really packs a punch.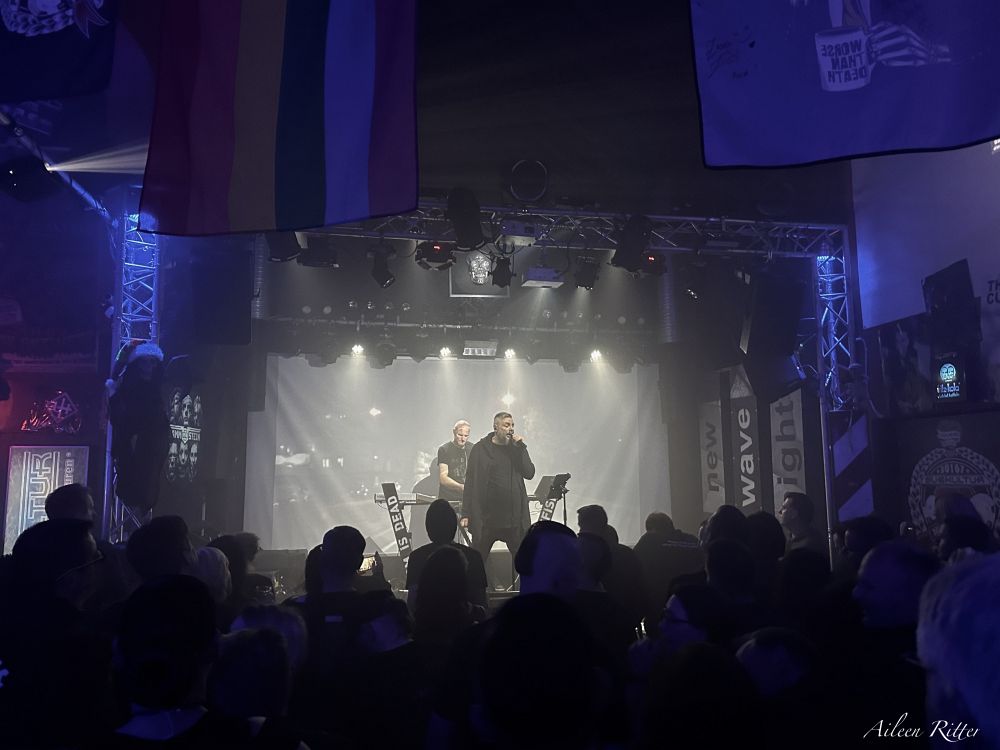 After a bit of advertising for the Bergfest in summer where NEUROTICFISH will perform together with MORPHOSE, ROTERSAND, ABSURD MINDS and SONO, the duo really turns it up again with 'Illusion Of Home' and 'Somebody'. After a good hundred minutes, 'I Don't Need The City' and the last song of the evening, 'Invisible', bring the evening to an emotional and worthy closure. Everything's got to end sometime. Otherwise, nothing would ever get started. I am happy to leave the final word to Sascha tonight, because there's nothing to add at this: "Hanover, you were wonderful... We would like to thank Jens for the invitation, the NEON SPACE MEN for heating up. Thanks, Krischan for the sound. Thank you for being here... Bye! We'll see each other at the Bergfest at the latest."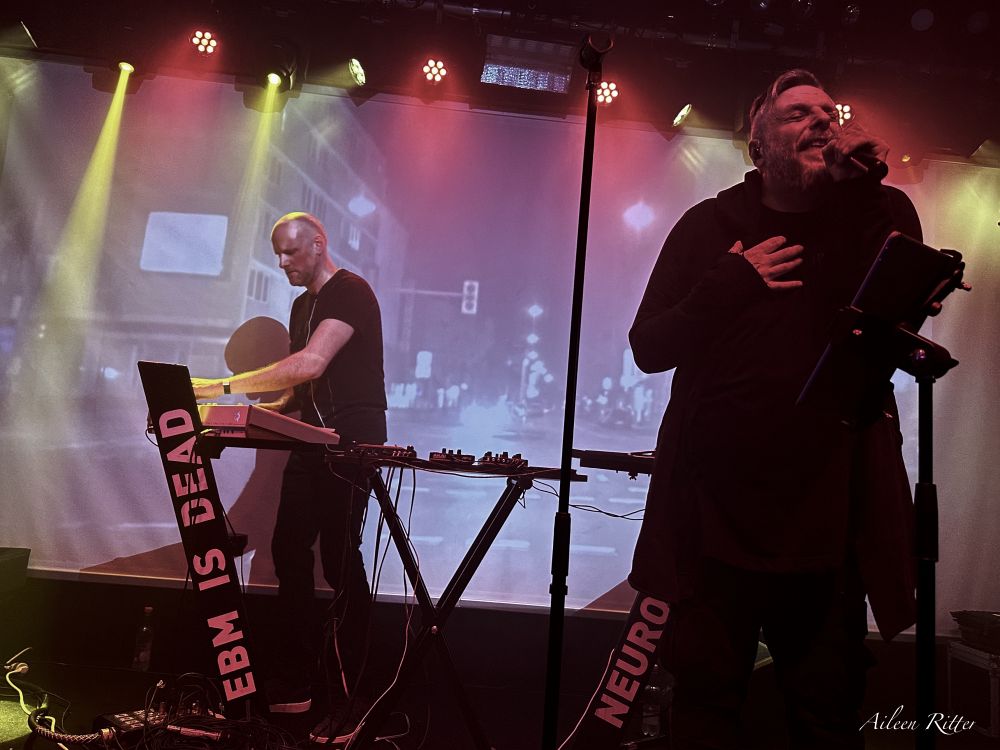 Setlist

01. Colourblind
02. Silence
03. Walk Alone
04. Civilized
05. Wake Me Up
06. Former Me
07. A Greater Good
08.Suffocating Right
09. Bomb
10. Behaviour
11. Is It Dead?
12. M.F.A.P.L.
13. Can't Stop A Riot
14. Fluchtreflex
15. Velocity N20
16. Need
---
17. Illusion Of Home
18. Somebody
19. I Don't Need The City
20. Invisible
Rating

Music: 10
Performance: 10
Light: 10
Sound: 9
Total: 9.8 / 10
All Pictures by Aileen Ritter
See also (all categories):