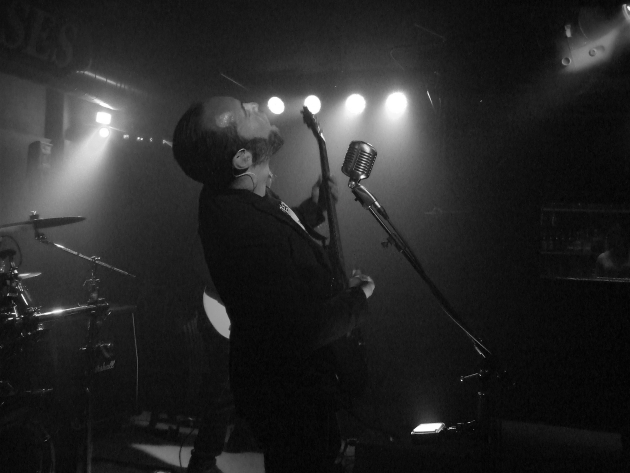 The Cart & Horses, Stratford, London, UK
4th February 2023
Opensight & Support: Core Of IO and Purple Kong

IRON MAIDEN were invented in East London. Leyton to be precise but it is at the legendary Cart & Horse Pub down the road in Maryland that they took up a semi residency. And here the legend was born. This pub is where I am tonight to watch metal stalwarts of the London scene, OPENSIGHT, headline a bill that includes CORE OF IO and PURPLE KONG. Let's get stuck in shall we?
Purple Kong

PURPLE KONG have been around for a few years, how long exactly I've no idea but I have seen them once before a few years back before the covid lock downs when they played at the annual M2TM's competition in London. You check out the band by following this link: https://www.facebook.com/PurpleKong666
Music & Performance

If I remember correctly, they had a male drummer the last time I saw them. This time around they had a rocking female by the name of Sylvy Styx who backs up black bouncy bass and the wah-wah sinew of Dr Tompson's guitar. The whole is a mish mash of BLACK SABBATH crossed with Hendrix crossed with Phil Lynott crossed with DEEP PURPLE, melodious and groovy, smooth and sand papery and not at all unpalatable.
Rating

Music: 7
Performance: 7
Light: 5
Sound: 8
Total: 6.8 / 10
Core Of IO

Sussex based CORE OF IO formed way back in 2012 out of university and their goal was to create challenging but enjoyable music dripping with hooks. You can find out more by following this link: https://www.facebook.com/Coreofio
Music & Performance

Although I have heard of this band for a few years I've not heard any of their output before, tonight's gig was a chance to break that duck! Their sound is a Progressive Metal sound that mingles in what others would label Djent or Math Rock. The sound does sound precise, mathematically measured down to the micro beat. When you add "math" to the description it makes everything sound so control freaking anal, but at the same time the precision is enjoyable and jaunty. Sometimes even annoying and jaunty. Don't ask me to elaborate, I can't! This is just the feeling I get! To give you something to latch onto it's like listening to a METALLICA / DEFTONES / RUSH / JACO PASTORIUS mash up.
Rating

Music: 7
Performance: 7
Light: 5
Sound: 8
Total: 6.8 / 10
Opensight

OPENSIGHT have been active since 2002, I've known of their existence since around 2011. In the early days their Metal sound was more "human experience" orientated but around 2010 that sound morphed into a more film score feel that encompassed soundscapes that evoked those produced by the likes of John Barry or Ennio Morricone but wrapped in a progressive metal veneer. There have been many musicians within the ranks over the years, the current and settled line up is long standing guitarist / vocalist Ivan David Amaya, drummer Redd Reddington whose been bashing sticks for a decade, and newish members Duncan Arkley on bass and Neil McLaughlin on guitar. For more information you can check OPENSIGHT out via this link: https://www.facebook.com/opensightmusic/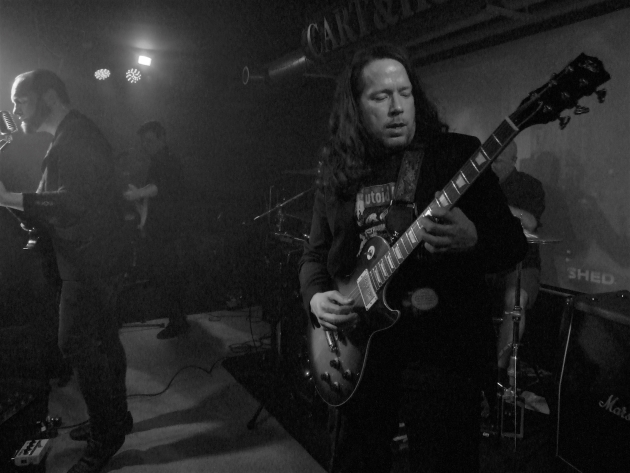 Music & Performance

I've seen OPENSIGHT quite a few times since 2011. And although the sound has stayed consistently cantering in one direction, they've changed sound wise, does that make sense? No other band to my knowledge does this type of music so it has given them the space to make the sound their own and sit in space above and between all categorisation. The line-up of Danilo Stanner on bass and Genia Penksik on guitar is no more. That iteration had its pluses and minuses but this current line up adds something different to the formula. That came across tonight because I thought the set at The Cart and Horses was the best show I've seen them play. And that's not withstanding a fault with front man Ivan David Amaya's pedal setup. It's as if that issue subconsciously inspired them to up their game. The set was around 30 minutes long, the sound quality was exceptional as it was for PURPLE KONG and CORE OF IO. Just the right amount of loud so my ears didn't feel like they were being stabbed with needles!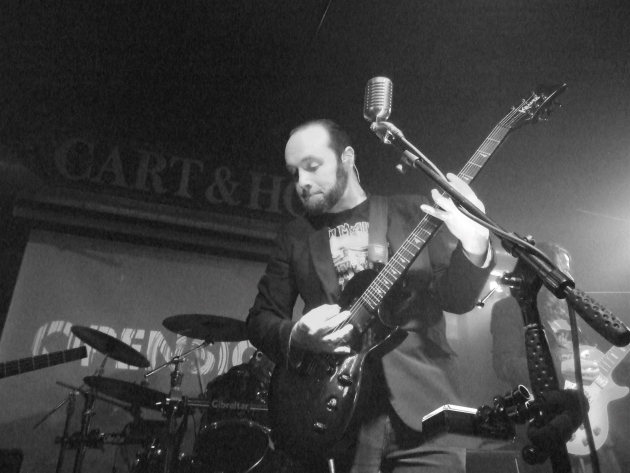 The audience filled out for their set after two good support bands did their thing. I sensed a lot of attentive good will in the crowd that the band ramped up and fed on. There were a few Polish chaps stood where I was on the left side of the stage and they were getting into the groove quite quickly 'Ulterior Motive' and 'Plot Twist' were crowd favourites which chugged along with the trademark metal / film score vividness. 'Plot Twist' reminding me of what James Bond would be like if Quentin Tarantino directed. 'Stained Remains' building up the tension with emphatic drums allowing the track to sore off up into the ceiling. The bass was very throaty which I like and the guitars thin, bright and searing! Ivan threw shapes around the stage, he didn't just stand at the mike monolithic and unmoving, if the lighting was better, for all bands, then it would have made for some better photography. All this bill needed, for all bands was a few more people in, it deserved it! Just 50 more people!
Rating

Music: 8
Performance: 8
Light: 5
Sound: 8
Total: 7.3 / 10
All Pictures by Claudia Black