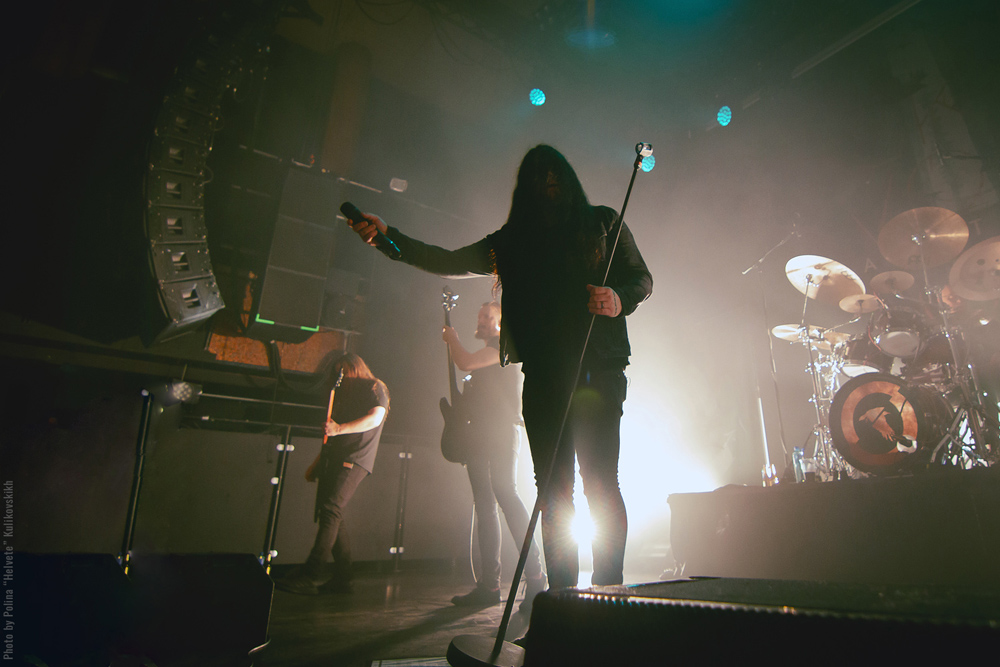 Rockefeller, Oslo, Norway
24th February 2023
Katatonia + Sólstafir - "Twilight Burials UK & Europe 2023" - Special Guests: SOM

When KATATONIA released the album 'City Burials" back in 2020 they were planning a support tour for it. But then the pandemic hit and, as it did for many, ruined all the plans. The band continued making music in the studio and now finally returned to Oslo with a concert supporting their latest creation 'Sky Void of Stars'. Together with SÓLSTAFIR and SOM they made it a great melancholic evening.
SOM

SOM plays an atmospheric Post-Rock that's been also characterized as "Doom Pop". They released their debut album 'The Fall' in 2018, followed by EP 'Awake' (2021) that they had to record remotely instead of going to the studio due to pandemic lockdown. The band takes its inspiration from bands like DEFTONES and TAME IMPALA. Their latest album 'The Shape of Everything' was released in 2022. With their powerful and atmospheric music SOM was definitely a great addition to the two other bands this evening
Sólstafir

Icelandic SÓLSTAFIR can be described as a mix of Classic Rock and Avant-Garde, and with a past as a Black Metal band, their main focus is on the atmospheric and emotional. The band strives to transform taste and texture into sound with lyrics increasingly focusing in the direction of spiritual contact with nature. The band's name is the Icelandic word for sun beams. It's an amazing band to see live and my personal impression was that for many people this evening it was rather SÓLSTAFIR who was the headliner.
Setlist

01. Náttmál
02. Köld
03. Melrakki
04. Bloodsoaked Velvet
05. Rökkur
06. Fjara
07. Ótta
08. Goddess of the Ages
Katatonia

KATATONIA is a band with a long history full of beautiful melancholic music. Starting from early 90s they went through quite an evolution and still going strong. They recently released their 12th album 'Sky Void of Stars' that was well received by fans and critics. The writing sessions of the album acted as a sort of therapy to help the vocalist Jonas Renkse maintain his mental health while living through the pandemic time. This evening the band plays some of the best songs from 'Sky Void of Stars' as well as their famous hits 'My Twin' and 'Old Heart Falls'.
Setlist

01. Austerity
02. Colossal Shade
03. Lethean
04. Deliberation
05. Birds
06. Behind the Blood
07. Forsaker
08. Opaline
09. Buildings
10. My Twin
11. Atrium
12. Old Heart Falls
13. Untrodden
---
14. July
15. Evidence
All Pictures by Polina Kulikovskikh