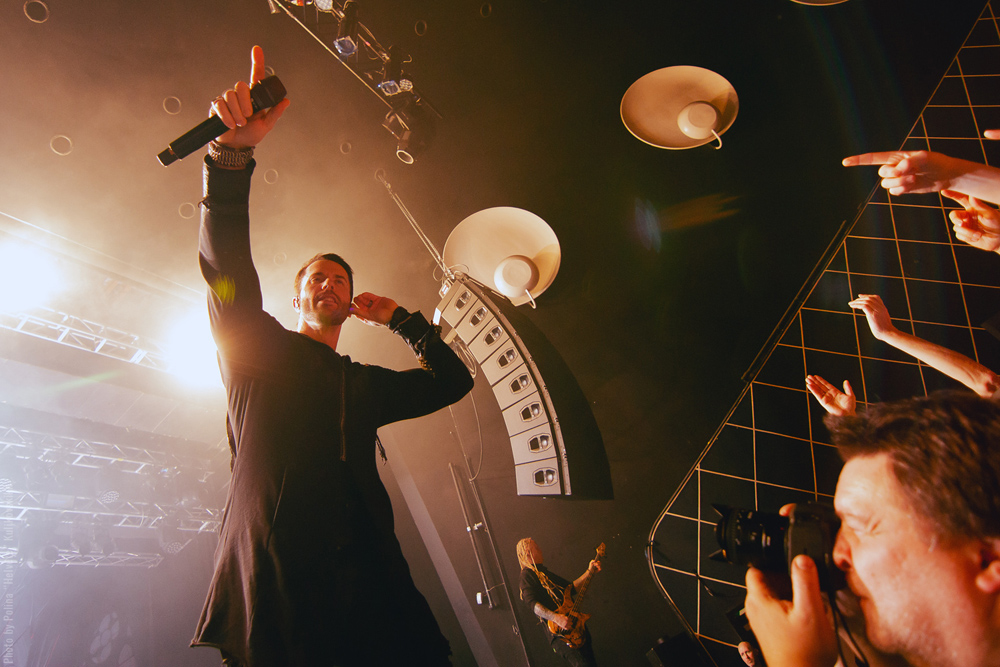 Sentrum Scene, Oslo, Norway
24th March 2023
Kamelot - "Awaken The World Tour 2023" - Special guests: Myrath, Eleine & League of Distortion

March in Oslo had no shortage of good concerts. One of them was the return of the stars of modern Power Metal - KAMELOT. This time they were joined by three special guests - MYRATH, ELEINE, LEAGUE OF DISTORTION.



League of Distortion

Vocalist Anna Brunner, from the renowned Metal band EXIT EDEN, teamed up with guitarist Jim Müller from the heavy metal band KISSIN' DYNAMITE to form one of the hottest modern Metal upstarts of the year when LEAGUE OF DISTORTION was born in 2017. Now, having recently signed with Napalm Records, they are ready to fight the darkness with their 2022 full-length self-titled album. LEAGUE OF DISTORTION gives you classic pieces featuring strong instrumentals, on-the-nose lyrics and energetic vocals, proving their penchant to stand out from the pack. Coming out of the stagnation of the pandemic, they've transformed their frustration into a musical statement beyond comparison.

Setlist
01. My Revenge
02. Solitary Confinement
03. It Hurts So Good
04. Rebel by Choice
05. Wolf or Lamb
06. L.O.D.


Eleine

ELEINE is a Swedish Metal band formed in 2014, fronted by vocalist Madeleine Liljestam, notable for their dark Symphonic Metal sound with influences from Black Metal, Death Metal and Thrash Metal. In 2015 they released their debut album and have since been on several tours with big names from the Rock and Metal scene. In 2022 they signed a deal with the label Atomic Fire Records and their next and fourth full length album 'We Shall Remain' is set to release this summer. They recently released a track from the album as a single, namely 'We Are Legion' along with its music video.
Setlist

01. Enemies
02. As I Breathe
03. Ava of Death
04. All Shall Burn
05. We Are Legion
06. Death Incarnate
Myrath

MYRATH (which is Arabic for "Legacy") is a Tunisian Progressive Metal band formed in 2001 (from 2001 to 2005 known as X-TRACY). The band stands out with its mix of Arabic and Middle Eastern instrumentation with Power Metal and Progressive Rock and are as such considered an important band within Oriental Metal. MYRATH dubbed their sound "Blazing Desert Metal". They are also the first band from Tunisia to be signed to a record label outside the country. MYRATH gained international renown after a high-profile tour as the warmup act for SYMPHONY X in 2016. Since then, they released two full length albums, 'Legacy' (2017) and 'Shehili' (2019), which according to the band themselves have songs that are connected between them.
Setlist

01. To the Stars
02. Born to Survive
03. Dance
04. Monster in My Closet
05. Beyond the Stars
06. Child of Prophecy
07. Endure the Silence
08. Believer
Kamelot

Heavy icons KAMELOT from Tampa, Florida, USA are regarded as one of the most innovative and prestigious bands in modern Symphonic Metal. They keep growing their fanbase with their incredibly diverse Metal expression with a clear foot in the progressive camp while they themselves describe their music as modern Symphonic / Gothic Metal. They are on the road to promote the very recent release of their 13th studio album, 'The Awakening' (2023). Monumental, epic and cinematic are key words to KAMELOT's sound and as such, 'The Awakening' is no exception. KAMELOT themselves describe this album as follows: "KAMELOT present their most introspective, uplifting, vital release to date - their first full-length in five years, 2023's aptly titled 'The Awakening'."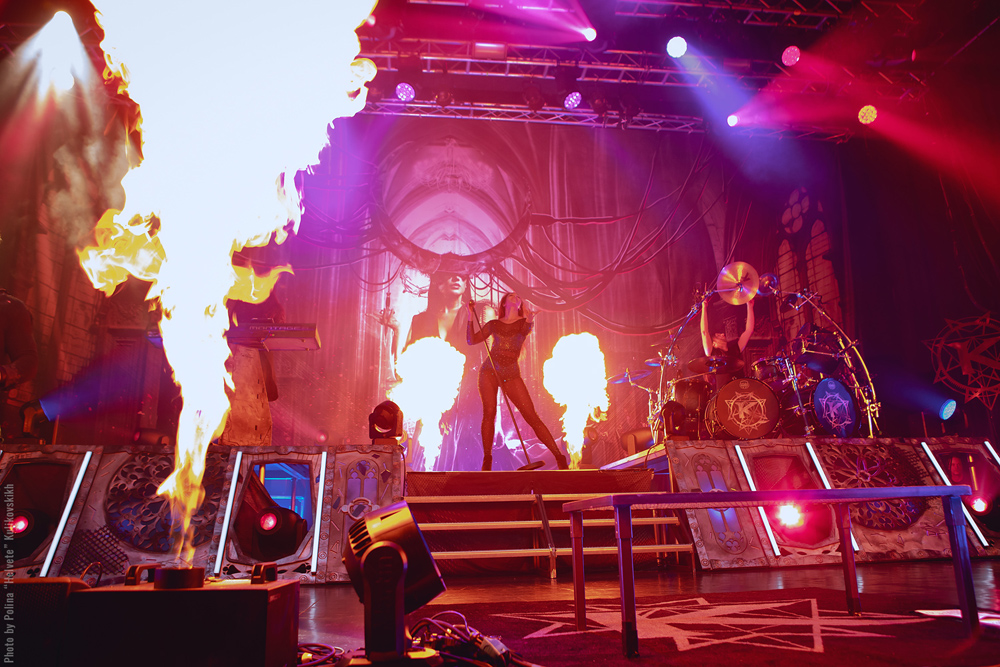 The band's vocalist Tommy Karevik was joined on stage by Melissa Bonny (a Swiss Heavy Metal singer and songwriter) and Anna Brunner (LEAGUE OF DISTORTION). The show was great and included already traditional KAMELOT elements of pyro, smoke and theatricality.
Setlist

01. Veil of Elysium
02. Rule the World
03. Opus of the Night (Ghost Requiem) (with Melissa Bonny)
04. Insomnia
05. When the Lights Are Down
06. Vespertine (My Crimson Bride)
07. New Babylon (with Melissa Bonny)
08. Manus Dei
09. Sacrimony (Angel of Afterlife) (With Anna Brunner & Melissa Bonny)
10. Karma
11. Song for Jolee
12. NightSky
13. March of Mephisto (with Melissa Bonny)
14. Drum Solo
15. Forever (With band introduction and audience singing lessons)
---
16. Piano Intro (Tommy playing snippets from 'Opus of the Night')
17. Phantom Divine (Shadow Empire) (with Melissa Bonny)
18. One More Flag in the Ground
19. Liar Liar (Wasteland Monarchy) (with Melissa Bonny)
All Pictures by Polina Kulikovskikh
See also (all categories):