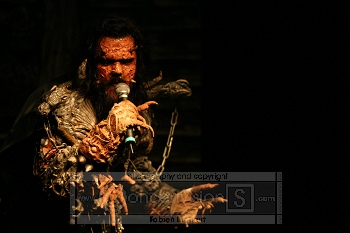 Trabendo, Paris, France
April 13th 2005
Lordi


Lordi, a monsters' quintet from Finland, plays a kind of hard FM which reminded me of Europe or Kiss to quote famous bands from this genre as examples. The band is composed by Amen, the mummified guitarist, Kalma, the zombie bass player, Kita, the alien drummer and Enary, the Valkyrie goddess keyboardist, all lead by the almighty and evil Lordi, a red-eyed giant monster-singer dressed in armour.

As a matter of fact, this is how they appear to the crowd, on a stage decorated like a horror movie such as Evil Dead or Tales From The Crypt. This is why I would say that the main distinctive feature of the band is more visual than musical. Their theatrical concept on stage draws them close to a Kiss or Alice Cooper's horror show indeed (but in a rather modest production).
Lordi released 2 albums of 13 songs each ('Get Heavy' in 2002 and 'The Monsterican Dream' in 2004) and 3 EPs as well. Their show in Paris took place on Wednesday, April 13th at the Trabendo, a quite small club working together with the Zenith (one of Paris most important places for big musical events). There were approximately 300 to 350 people who came to see the show. They only managed to fill up the club to one third, probably because of the lack of promotion for Lordi's 2005 European Monstour. Despite of its number, the crowd was much diversified: from the 45 years old Maiden fan to younger gothics and metalheads and even parents with their children! All in all it may have been composed by half Lordi fans and half curious spectators.
Music

Lordi's music sounds a bit like 80's hard FM. The songs structures are quite simple, with verses punctuated by catchy choruses, the kind of refrain you can hear in good pop songs, which makes Lordi's ones easy to remember and sing along with. Some of them contain short guitar solos but most of them really focus on the vocal melodies parts. In that aspect Lordi is a band that is very easy to listen to. They surely don't provide the finest masterpieces of the genre but manage to make quality music. Lordi's vocal parts are in a quite low and powerful register, occasionally very high as heavy metal singers like to do. The musicians seem to be accustomed to perform with their embarrassing masks and apparel. Sometimes the mummy guitarist made some mistakes in his solos but the others did a proper job. The band performed a bunch of songs chosen from their two albums. They ended the show with their anthem titled 'Would You Love a Monsterman?' after just one hour. The stage sound has been set quite well for the gig.
Performance
The gig started off with an intro consisting of the Muppet Show theme, immediately followed by a Kiss' hit (God of thunder taken from their 1976 famous LP, Destroyer). That really helped to set Lordi's "Rock'n Roll circus" atmosphere, both funny and theatrical and obviously introduced their tribute to Kiss as their biggest influence. Then, the Alien entered the stage, after that the Zombie, Valkyrie and Mummy who quickly started to play. The evil giant finally joined the band just before he started singing. The whole crowd seemed to be pleased by the music and the one of a kind frontman, nearly headbanging at every chorus. The band introduced their songs by small gore jokes which often dealt with for instance skulls or huge pieces of meat. Lordi himself used various accessories such as an axe/microphone or a sawing-machine and added some attributes to his costume like wings, masks and so on. I've been told that the band likes to put a lot of pyro effects in their show but probably for security reasons and because of the club's small size there wasn't any fire or pyro that night. The shortness of their performance is without a doubt the most disappointing point of the whole show. Visually, Lordi remains a funny live experience.
Setlist

Theatrical Trailer
Bring It On
Rock the Hell Outta You
Blood Red Sandman
Children Of The Night
Wake the Snake
Pet the Destroyer
Get Heavy
My Heaven is Your Hell
Forsaken Fashion Dolls
Devil is a Lover
-----------------------------------------
Biomechanic Man
Would You Love a Monsterman
Rating

Music 7
Performance 8
Sound 7
Light 7
Total 7 (7.3)