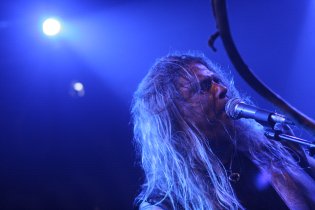 K17, Berlin, Germany
16th October 2007
KORPIKLAANI, Kivimetsän Druidi


I was looking forward to this concert for a long time. Everybody I asked how KORPIKLAANI would perform told me it would be great. So, I was really anxious to see what was gonna happen. And although it took us a long time to find the K17, my mood was really great and I was ready to enjoy the concert.



KIVIMETSÄN DRUIDI
In 2002, two brothers from a small Finnish town called Kouvola, Antti (keyboard) and Joni Koskinen (guitar, growling vocals) decided that they have had enough of playing cover songs and ended up writing their own songs. The most influential album that innovates their song writing and they both love and cherish is MOONSORROW's 'Voimasta ja kunniasta' (Of Strength and Honour). During the years, the line-up began to change and more people joined the band. They ended up being a 5-member band, Jenni Onishko being to the front woman of the band.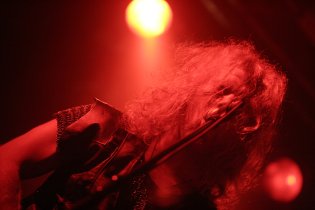 Music

I liked them from the first note on they played. The mixture of his growling and her beautiful voice was just perfectly matched up and with the lyrics being in Finnish, it gave a special note to it. The heavy guitars were being followed by nice keyboard passages. It was a pleasure listening to them because her voice wasn't that high and so; KIVIMETSÄN DRUIDI wasn't one of those NIGHTWISH-like bands. It was really refreshing.
Performance
When they entered the small stage of the K17, I haven't even heard of them before and I didn't know what to expect. They started playing and you could see that the space the stage offered was way too small for all of the 5 members. But they still tried to do their best. And that was pretty ok. Jenni walked around on the stage and the guys tried to keep their positions as they were playing the instruments and head banging at the same time. Hair was just flying around like crazy and you could see that Jenni tried to do it, too but her jewellery kinda didn't wanna let her do that. It was pretty funny to see.

Rating
Music 10
Performance 8
Light 5
Sound 7
Total 7.5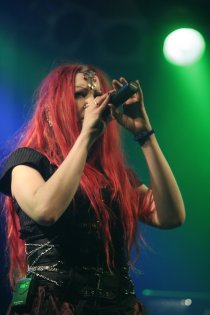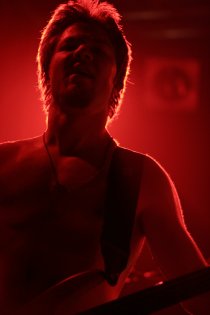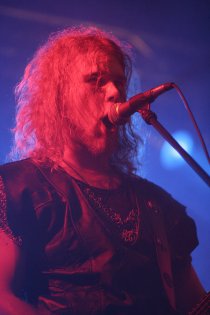 KORPIKLAANI
KORPIKLAANI (Forest Clan in Finnish) is a folk metal band from Finland. KORPIKLAANI is the new name of the band previously called SHAMAN that was formed by Jonne Järvelä who still remains the mastermind of KORPIKLAANI. The music of KORPIKLAANI ranges from the violin-and-guitar paean to the Finnish god of fermentation Pellonpekko, to the "typical" trollish metal "Wooden Pints", to "Crows Bring the Spring".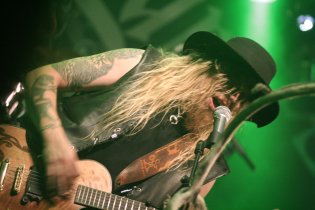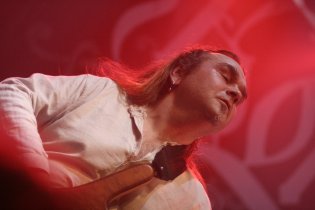 Music
KORPIKLAANI play so-called "humppa metal" which basically is folk-metal. Since I really like that sort of metal, I really liked their music. You could hear all of the different kinds of instruments they were using on stage like the violin, the guitars and the accordion. Eventually, I have to say, that their music, although it was really good, didn't really stand out. There are a number of other bands that sound exactly like KORPIKLAANI do. It kinda made me wonder if they were really that special and it's pity that my answer has to be "no, they are not." Still, their music was good although nothing special to me.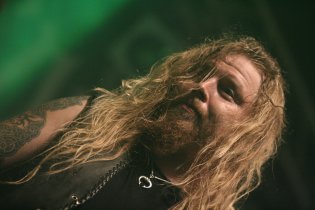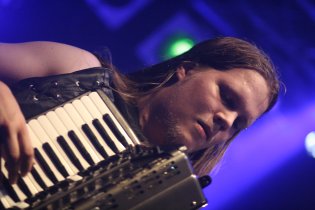 Performance
The lights went off, smoke began to crawl over the stage and you could see the antlers of a deer that was hung up on the microphone stand like it is typical for KORPIKLAANI and their shows. Jonne Järvelä, vocals, tried to entertain the audience by jumping around on stage which looked pretty funny. Imagine this older guy with long hair and a long beard jumping around the stage constantly smiling like he was on drugs. Pretty funny. The only thing that wasn't really good is that they played only for maybe an hour which was way too short and looking in the faces of the other visitors; you could see that I wasn't the only one thinking like that. It was pretty pity but I guess it's just the way they are.

Rating
Music 8
Performance 8
Lights 5
Sound 7
Total 7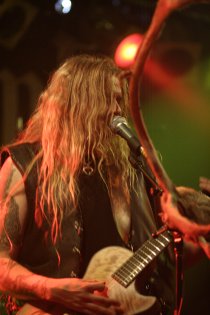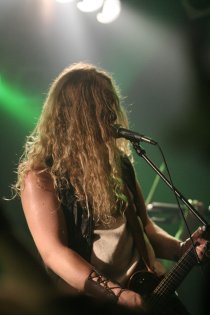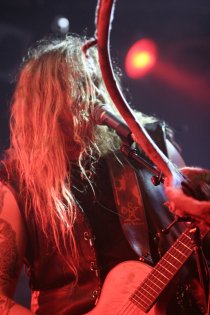 All pictures by Anne Kuhfuß
{jos_sb_discuss:17}

See also (all categories):