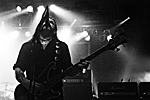 Messe Congresszentrum B, Stuttgart, Germany
26th November 2007
Motörhead, Overkill, Skew Siskin, Valient Thorr


This late November night the legendary Hard Rock formation MOTÖRHEAD was going to appear at the Messe Congresszentrum B in Stuttgart, so I was sure to be there. The weather was already very cold and windy, and I was late due to having to work pretty long, so unfortunately the concert had already started when I arrived at the venue. VALIENT THORR were on the stage, the Congresszentrum nearly half-filled, but most of the attendees were hanging out around the beer- and food-selling stands.


As I could see, VALIENT THORR were making a nice party on stage, though with a very meagre light show, most of the time the stage almost completely disappeared in darkness. The audience was still a little dull, but some fans in front of singer Valient himself and his band mates were sharing his enthusiasm and partying wildly with him. So I was hoping for better light during the other bands' appearances and was looking forward to the things to come.
SKEW SISKIN

SKEW SISKIN are a German Hard Rock band; their greatest success up to now was their 1992 song 'If the Walls Could Talk', which even was a minor hit on MTV. Fronted by Nina C. Alice, the formation has been through many line-up changes over their career, with Jim Voxx being the only other consistent member. SKEW SISKIN have released six studio albums and one compilation album in their fifteen year career, the latest one being this year's 'Peace Breaker'. Lemmy from MOTÖRHEAD has often contributed to SKEW SISKIN albums, and the group has contributed to his in progress solo album.
http://www.skewsiskin.net/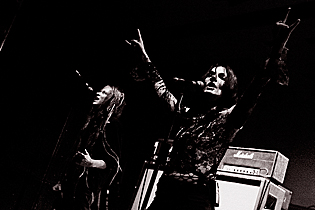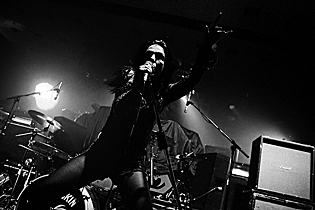 Music

The band from Berlin plays Hard Rock, and one could easily assume MOTÖRHEAD as one of their main influences. Dirty and mangy, very powerful, and with Nina C. Alice's special voice and her band mates' skilful playing, SKEW SISKIN are a nice experience on stage. Their latest output, 'Peace Breaker', does not need to fear the comparison with genre classics and received very positive critics from the music press.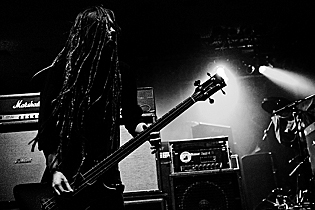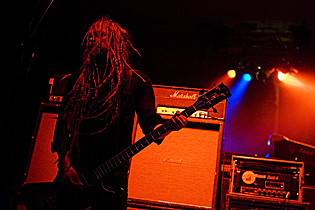 Performance

SKEW SISKIN managed to prepare the audience quite well for the rest of this evening. Nina came on stage with a hat, sunglasses and some kind of uniform jacket on. The band delivered a very energetic, though quite short performance. Unfortunately the guy responsible for the light show still was not willing to turn it up, so most of the time during their set the band could hardly be seen. But they made the best out of it and earned the audience's reward.
Rating

Music: 7
Performance: 7
Light: 2
Sound: 7
Total: 6.3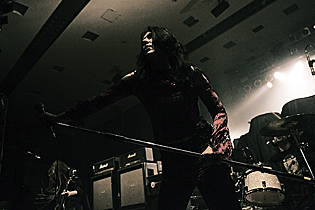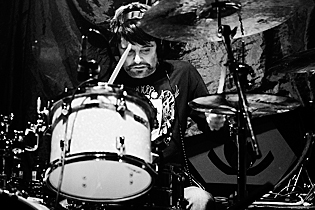 OVERKILL

OVERKILL has been formed in 1980 from the remnants of the Punk band THE LUBRICUNTS, featuring D.D. Verni and Rat Skates (real names Carlo Verni and Lee Kundrat). D.D. wanted to quickly form a new band, so he put out a classified ad which was answered by vocalist Bobby Ellsworth. Bobby was mainly a bass player at the time, but in the new band he would concentrate solely on vocals. He brought with him a guitarist from his former Punk/Classic Rock cover band, and after rejecting several names, including 'Virgin Killer', the band finally settled on OVERKILL, naming themselves after the legendary MOTÖRHEAD album of the same name - so some circle was closed with this tour. The American Thrash Metal heroes from New Jersey have released 15 studio albums, 2 EPs, 2 live albums and a "covers" album to date; their latest sign of life is the 2007 album 'Immortalis' (Bodog).
http://www.wreckingcrew.com/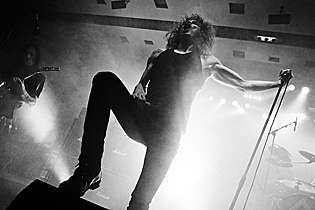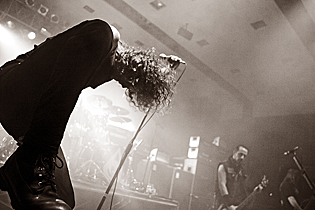 Music

There are some bands in music business that are rejoicing their fans with continuous activity for many years to date. OVERKILL definitely is one of them. They are delivering Thrash Metal albums since 1985, some rather ordinary ones are among them, but also fantastic, powerful stuff. The band has been through hard and turbulent times during their long history, but they still sound fresh and aggressive, especially when playing live on stage, managing to drag along the audience and really rocking the venue. Well-known songs like 'In Union We Stand' or the SUBHUMANS cover 'Fuck You' were wildly celebrated by the fans.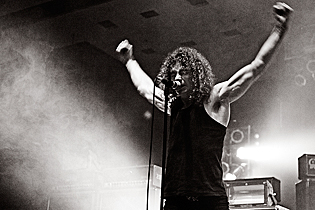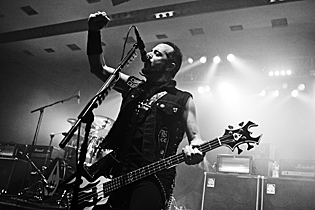 Performance

Although the guys from OVERKILL are getting a bit long in the tooth, their show still is unbelievably energetic, and many of the young bands out there can surely learn a thing or two from them. Especially vocalist "Bobby" Blitz with his unique voice and strong stage presence carried away the fans with ease. Luckily the light show finally was quite nice now, and together with some fog on the stage and the audience joining in the performance, this concert's atmosphere was really great, and OVERKILL were, as always, well worth being seen and heard.
Rating

Music: 7
Performance: 9
Light: 8
Sound: 8
Total: 7.9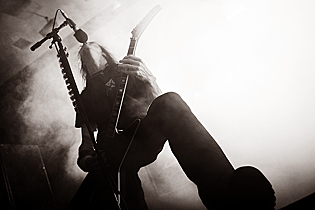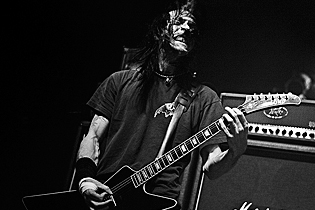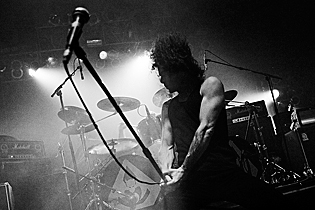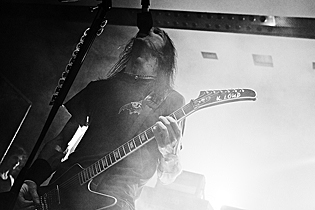 MOTÖRHEAD

MOTÖRHEAD are a British Hard Rock/Heavy Metal band formed in 1975 by bassist, singer and songwriter Ian "Lemmy" Kilmister, who has remained the only constant member. Usually a power trio, MOTÖRHEAD had particular success in the early 1980s with several successful singles in the UK Top 40. The albums 'Overkill', 'Bomber', 'Ace of Spades', and particularly 'No Sleep 'til Hammersmith', cemented the group's reputation as one of Britain's foremost Heavy Metal formations. MOTÖRHEAD's approach has remained the same over the band's career, preferring to play what they enjoy and do best, their like for the early Rock`n`Roll is reflected in some of their occasional cover songs. The band's lyrics typically cover such topics as war, good versus evil, abuse of power, promiscuous sex, substance abuse, and "life on the road". Their latest release is the live album 'Better Motörhead than Dead: Live at Hammersmith' (SPV, 2007).
http://www.imotorhead.com/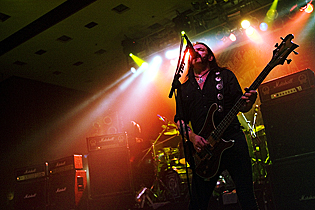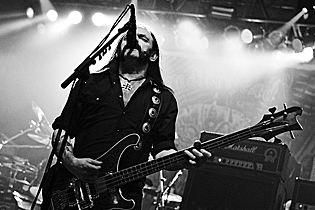 Music

As always, Mr. Kilmister started the show with the very well-known words "We are Motörhead and we play Rock 'n' Roll". While MOTÖRHEAD are typically classified as Heavy Metal, Speed Metal or Thrash Metal (and often regarded as a foundational influence on the latter two styles), Lemmy dislikes such labels, preferring to describe the band's music simply as "Rock and Roll". The three guys have a huge repertory of great songs, and they granted their fans about 100 minutes of them, occasionally interrupted by Lemmy's comments.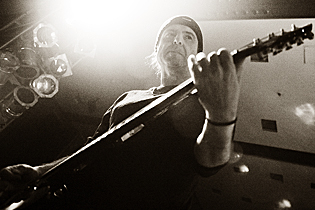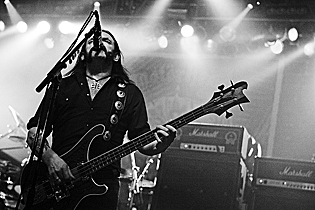 Performance

First I must say that I was really surprised about all the young fans standing in front of the stage, I had expected a somewhat older audience. Standing also is not the right word, crowding would be more fitting, there was such an immense verve. MOTÖRHEAD, as always, didn't have much of a show, they know that their songs work quite well with the audience; they do not need to do tricks. Lemmy stood behind his microphone most of the time, guitarist Wizzo walked around from one side of the stage to the other, and Mikkey Dee, well, he could hardly be seen, only his hair could be spotted behind his huge drum set. The light show was not the best, though with really nice colours. All in all I can say, MOTÖRHEAD really know to convince with their songs, and the fans had a fantastic time rocking and partying with their heroes.
Rating

Music: 7
Performance: 5
Light: 5
Sound: 8
Total: 6.3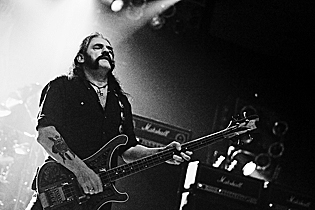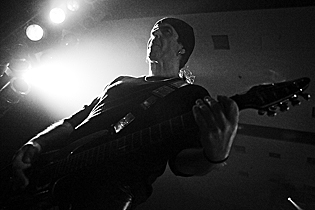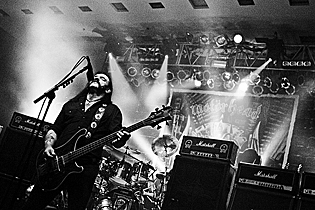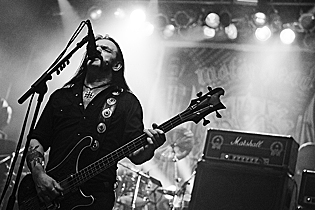 All pictures by Ruth Gräbeldinger
{jos_sb_discuss:17}