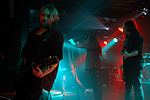 Cotton Club- Kammgarn, Kaiserslautern, Germany
21st May 2005
Lacrimas Profundere

On the same day at which In Extremo played outdoors, Lacrimas Profundere played on their "Ave End" - tour live in the Cotton Club in Kaiserslautern. But they had one big advantage….they played inside in the comfy Cotton Club at the Kammgarn Area, while it rained outside. Before the show began, Thomas Adorff (http://www.adorff.de) presented some of his gothic & concert photos in a slide show. An appropiate start to this evening. Only about 100 people turned up to see the show, thus, it wasn´t really packed.
Music

The most songs they played were from their new album "Ave End". Unfortunately Christopher -the front man- was ill and they had to look for an adequate replacement. For this reason we listened today to Daniel Pharos. Normally he is the singer of "Beyond the void". He came in with some pages of lyrics, he could read from. I assume not enough time was given to him to memorize alle the lyrics. But what they presented today was really good. A short tracklist and a little bit more than one hour programm, and that´s all. But they brought some goth-rock groves in the club. They reminded me of "HIM" but they where not as lugubrious as the Finish goth rockers. The sound in the Cotton Club was good as usual. 2 Guitars, 1 Bass, Drums and Keyboards are enough to invoke some gothic rock tunes in the club.
Performance
Black clothes, black shirts and cowboy hats… that´s what real goth rockers wear on stage… The performance this evening was pretty simple. They were rocking and playing their songs. The performance consisted of headbanging guitar players and that was about it. But it was fine, and the fans appreciated it and joined into most songs.
Setlist
01. Intro
02. Black
03. Under your
04. Sarah lou
05. Testified
06. Adorer and Somebody
07. To bleed
08. I did it
09. Amber girl
10. Lastdance
11. Without
12. For bad times
13. One hopes evening
14. Ave End
-----------------------
15. Liquid
16. Nothingship
Rating

Music 8
Performance 6
Sound 7
Light 6
Total 7 (6.75)