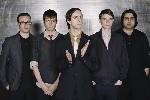 Gleis 22, Münster, Germany
31st May 2005
Maximo Park and Gods of Blitz

Over the last couple of years a new wave of bands entered the scene who are swayed by an era of (British) Pop music which was rather overlooked or even dismissed before: The Post Punk and New Wave era of the early 1980s. Bands like 2004's breakthrough of the year, Franz Ferdinand, or Bloc Party, Interpol, The Killers and many others pay their tribute to almost forgotten heroes like The Sound, Echo & The Bunnymen, The Chameleons, House Of Love, The Go-Betweens or not-so-forgotten legends like The Smiths, The Pixies, The Clash, and (especially in Interpol`s case) Joy Division or even Duran Duran. Maximo Park are the new hottest thing of this "New New Wave" and an excellent album and the announcement of a gig in my hometown at the high-reputated "Gleis22" made me feel like a kid before christmas.
Gods Of Blitz


Before Maximo Park entered the stage, a band from Berlin-Kreuzberg had the honour to do the support slot. Jens Giovanni Freudenberg (git.), Olli Wong (git.), Jakob Kiersch (drums) and Sebastian Gaebel (voc., bass) are the Gods Of Blitz – a band completely unknown to me before this evening, which is no surprise as the band was founded mere nine months ago in September 2004 and all they have out so far is a 4-Track demo EP. Gods Of Blitz just started to work on their debut album in May together with producer Torsten Otto (Beatsteaks, Tocotronic) and took a break from studio to play a few shows with Maximo Park.
http://www.godsofblitz.com
Music
I guess when Gods Of Blitz´s debut will hit the stores this autumn, they have a good chance for a national breakthrough. It becomes quite clear soon that these four guys are no beginners, despite the fact that band was founded just a few months ago. Gods Of Blitz offer good old Rock´n Roll with a good portion of Sixties Garage Punk and Post Punk melodies. During their show they reminded me on The Hives every now and then, and guitar player Jens Giovanni Freudenberg could easily be a member of the Swedish legend if he had a better suit…
Performance
Gods Of Blitz offered a confident 40-minute set which made clear that this may be a young band but obviously not the first band for the members. In which bands they played before – no idea! Unfortunately their homepage doesn´t tell us much about it. Gods Of Blitz played despite a few minor technical problems with a lot of energy and got a pretty good reaction from the audience and let some people watch out for Gods Of Blitz CDs at the merchandise stall. Singer Sebastian Gaebel did a self-confident job and tried to be Mr. Cool during his comments between songs – a bit over the top at times for an unknown support band, but hey, this is Rock´n Roll after all!
Rating

Music: 7
Performance: 7
Sound: 6
Light: 4
Total: 6 (6.4)
Maximo Park

Hysteria hit the provincial town of Münster in the West of Germany! The gig of Maximo Park at the legendary "Gleis22" was booked, and announced, quite early. The "Gleis 2"2 was voted as Germany´s best club two years in a row by the readers of Germany´s Indie magazine no.1, "Spex", and I can tell you this is not because of a beautiful interior but rather because of the great, courageous and profitient booking which results in an awesome agendal of live shows which even outclasses the programmes of some clubs in cities like Berlin or Hamburg. Besides a myriad of underground acts which have to struggle to get gigs elsewhere and local newcomers, there are many big names who played at the Gleis 22 in Münster before they have hit the stages of the big venues and festivals as well as the headlines and covers of the major magazines. For example Adam Green, Interpol, Turbonegro, Bright Eyes, just to name a few. And some living legends happily did a stop at the Gleis22, like The Fall, The Bollock Brothers or Lemonhead's Evan Dando.
With Maximo Park it was just slightly different. The gig was booked when the band from Newcastle just had a couple of vinyl singles out in the UK. Local and insiders murmured in excitement that Münster will see some sort of sensation and probably the concert of the year. Meanwhile Maximo Park made their breakthrough with their Top 20 UK single "Apply Some Pressure" and got cover stories and enthusiastic reviews for their debut album "A Certain Trigger", quaintly released on Warp Records, the label known for top-of-the-notch experimental electronic acts like Aphex Twin. It is needless to say that the show at the "Gleis 22" was sold out weeks before. At the time of the concert Maximo Park could easily pack venues five times as big as the rather livingroom-sized "Gleis22" and could have easily relocated their gig to the next big club or even to the next bigger city. They simply didn't.
http://www.maximopark.com

Music
Maximo Park are Tom English (drums), Duncan Lloyd (guitars), Archis Tiku (bass guitar), Lukas Wooller (keyboards) and the excellent vocalist Paul Smith. One could argue that Maximo Park are just the little brothers of 2004`s sensation Franz Ferdinand, and in fact their music follows a similar vein like Glasgow's finest. However, Maximo Park were founded years before Franz Ferdinand conquered European stages, music television and tabloids, with vocalist Paul joining two years ago as the final piece of the puzzle.
In contrast to Franz Ferdinand's art school guitar Pop, Maximo Park just "write pop songs about real life" and "have no desire to mythologise our existance", as they say in their own words. The music of Maximo Park is pretty straight forward, simple and effective but nevertheless varied. They manage to combine the best elements of early Post Punk like catchy melodies and a melancholic feel that still is upbeat and has a sense of euphoria. Maximo Park have the energy of The Jam or the The Clash and charming stylishness of Roxy Music, and although their lyrics may be about everyday life the music transports an indication of rebellion.
Performance
Maximo got a lot of advanced praise and raving reviews – live on stage is the best situation to check out if an up-and-coming band is worth all the praise. It took me an intro and 30 seconds into the first song to pinpoint: Yes, they are! Maximo Park entered the stage with a short instrumental version of "Acrobat", the most unusual and most electronic track on the album and the only ballad, as a playback intro. And then they kickstarted with the album opener "Signal And Sign"! They immediately had their audience on their side and the charismatic Paul Smith, dressed in a suit like a dandy-esque Wave-Mod, was eye-candy for all the ladies. Their first single "The Coast Is Always Changing" followed and it provided a climax that should last for the next 60 minutes. There was a lot of movement in front of the small and low stage and the band obviously enjoyed being so close to an audience that freaks out. Maximo Park delivered an energetic set with all songs from their album and singles plus a yet unreleased song and even a world premier for a song they had just written and never performed before!
Frontman Smith, who is like a maniac during the songs and a humble and thankful next-door-guy inbetween, provided a flawless vocal performance despite technical problems with his microphone (for which he apologized many times). He is a very charismatic guy whose fantastic voice is one of Maximo Park's trademarks. After an encore featuring the final song of the album, "Kiss You Better", the band took a leave with may thank you's and promised to come back to Münster, if possible. Well, I guess it was the last time to see Maximo Park at a small club like the "Gleis 22". Next time it will be bigger stages, bigger venues, bigger audiences in, most probably, bigger cites, I´m afraid. But bloody hell, Maximo Park deserves it!
Rating

Music: 9
Performance: 9
Sound: 8
Light: 4
Total: 8 (8.1)
Because we didn´t plan a review on that concert before and were just overwhelmed by the good concert, unfortunately we cannot present you some pictures here. But anyway, this band is worth some further attention!