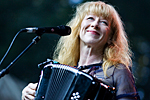 Freilichtbühne Killesberg, Stuttgart, Germany
10th July 2008
Loreena McKennitt


This summer evening was just the perfect time for a LOREENA McKENNITT concert. The weather was nice and enjoyable, and a warm sunlight lay all over the park, in the middle of which LOREENA McKENNITT was going to appear. Quite a lot of people of all kinds and ages had made their way to the Freilichtbühne Killesberg, which is some sort of amphitheatre surrounded by the remnants of a forest. The audience seemed to be in a relaxed, though expectant mood, and if one ignored the few signs of modern civilization, one could easily feel taken back to some ancient, magical times.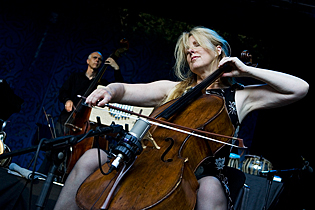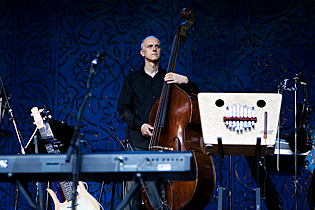 LOREENA McKENNITT is a Canadian singer, composer, harpist and pianist most famous for writing, recording and performing world music with Celtic music and Middle Eastern themes. She released her first album, 'Elemental', in 1985, which brought her some worldwide attention. Some more albums followed, all of which are published via her own label, Quinlan Road. Her latest regular studio album is 'An Ancient Muse' from 2006; her last publication is 'Nights from the Alhambra', showing her performance at the famous Spanish monument on a three-disc DVD/CD set. In November, 'A Midwinter Night's Dream', an extended version of 'A Winter Garden' (1995), will presumably be published.
http://www.quinlanroad.com/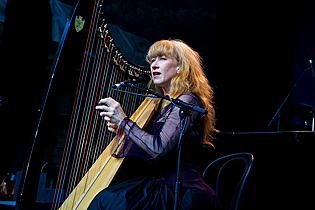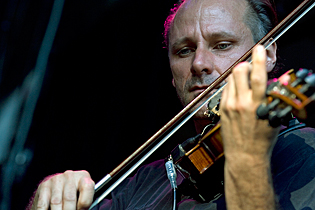 Music

To me, the most impressive thing during this concert evening was LOREENA McKENNITT's fantastic and special voice and vocal performance. She has the ability of immediately carrying you away once you hear her, and you could sit there for hours and listen to her and the stories her songs are telling. These songs are much diversified; you find sad and dreamy ballads as well as pieces strongly influenced by folk music, but also strong and energetic ones, and some simply inviting you to dance. What is also very interesting about her song material is that the composition and writing process is always preceded by a time of intense research on a subject, be it a country, culture or legend. During her performances, LOREENA McKENNITT gathers a small band around her. The instruments played are often traditional ones, like the harp, the accordion, the bass, or some percussion instruments. This night he started out playing the harp, which was a very nice beginning for her appearance, and immediately captured the audience. As she plays various instruments, she later on switched to the keyboard and accordion.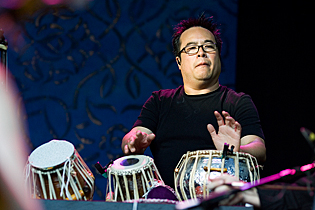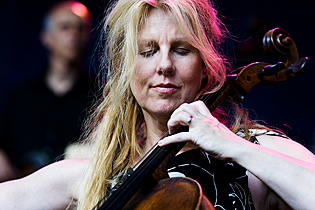 Performance

While other musicians or bands try to impress their audience with some wild stage performance, LOREENA McKENNITT completely relies on her song material and her charismatic stage presence, and this is truly enough to leave her fans happy and impressed. She came on stage in a beautiful dress in dark violet, her light red hair glowing in the evening sun and directly making her the centre of the stage. The band played in perfect harmony, and you could see the fun and pleasure all of them were experiencing while performing for their fans. You could see happy and enchanted faces everywhere in the audience, and I was no exception. Wonderful music, a very likeable singer and perfect weather made this concert an unforgettable one.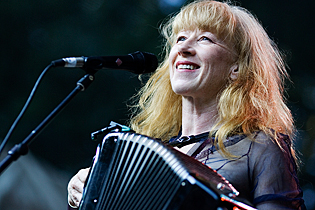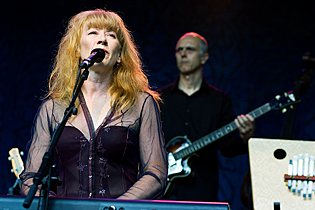 Setlist

SET ONE
01. She Moved Through the Fair
02. The Gates of Istanbul
03. The Mummer's Dance
04. Bonny Portmore
05. Marco Polo
06. The Highwayman
07. Dante's Prayer
08. The Bonny Swans
09. Caravanserai
---
SET TWO
10. Raglan Road
11. The Mystic's Dream
12. Santiago
13. The Lady of Shalott
14. Beneath A Phrygian Sky
15. The Old Ways
16. Never Ending Road
---
ENCORE
17. Huron Beltane Firedance
18. Cymbeline
Rating

Music: 10
Performance: 8
Sound: 9
Light: - (daylight)
Total: 9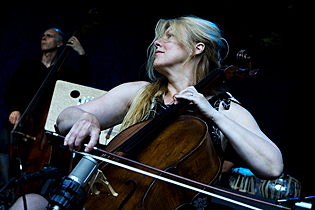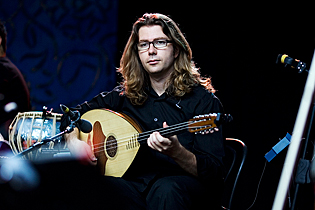 All pictures by Ruth Gräbeldinger (
http://www.alpha-photography.net/
)
{jos_sb_discuss:17}