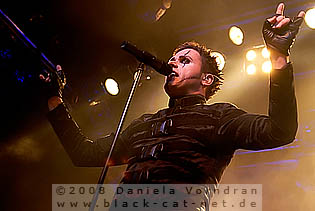 Bochum, Zeche, Germany
23rd November 2008
Oomph!, All Ends, Mina Harker


The monsters from Wolfsburg returned to Bochum. The Zeche was totally sold out, no wonder after the success of the new album and second single 'Labyrinth'. The audience was mixed with younger and older fans but not so many very young girls anymore which became quite normal after the success of 'Augen auf'. But before it was time for OOMPH! at about 9.15 pm there were MINA HARKER and the Swedish band ALL ENDS with not only one but two front women to kick your ass. ALL ENDS have been already in the top ten of the Swedish charts and they were supporting OOMPH! on their latest tour.



Mina Harker

Since the beginning of time, mankind has dreamt up, conceived and often feared the dark worlds, mysterious myths, folklore and utopias, due to their inconceivable and menacing nature. The dark of night, with its myriad creatures, often hard to spot for those that do not listen or watch attentively, holds a similar fascination. It is from these spheres that MINA HARKER gathers the inspiration for her tales, which are oh so surreal, outstanding and passionate. This is also reflected in the duo's musical basis which seems to have spawned from similar twilit worlds, though slightly easier to grasp with its gloomy digital aesthetics, elaborate song writing, hard guitar sounds, opulent electronics and the often powerful and sometimes heavenly voice of MINA HARKER. 'Tiefer' is irresistible and already stirring up velvety, yet sweeping waves long before the release of the album of the same title.
http://www.myspace.com/minaharkerband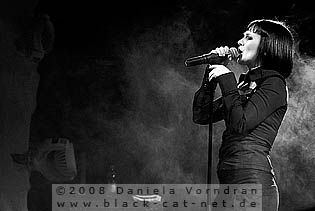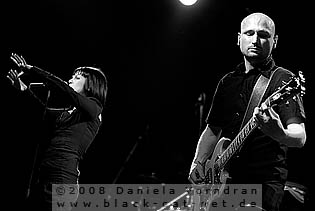 Music/Performance

MINA HARKER is a band with nice Gothic pop; songs easy to sing along with when you have heard them two or three times. Mina herself has a nice voice and no one else than OOMPH! drummer Leo and Alexander Gorodezki on guitar gave the songs their power. But all in all their music isn't really something new and has a little bit of everything you have heard in the German Gothic scene before.
Setlist

01. Letzter Kuss
02. Bis zum Tod
03. Wie im Traum
04. Nacht
05. Gefallener Engel
06. Tränen
07. Ohne dich
08. Tiefer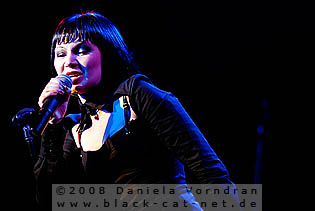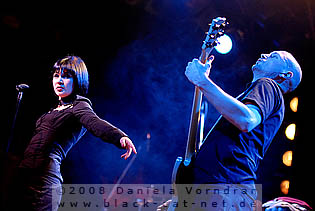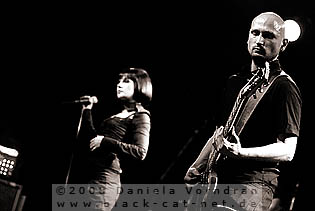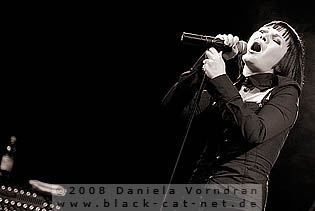 All Ends

Gothenburg is Sweden's metal heart, with 30 musicians for every 100 residents.
There aren't quite as many as that, but the scene is pretty impressive
, laughs singer Tinna Karlsdotter, who worked in "Diamond Dogs", the city's most well-known rock bar, and knows virtually every musician in the city.
In Stockholm, things are very competitive, but here in Gothenburg the bands help each other out
, she says.
We're all happy to see the others succeed, and everyone lends support wherever they can
. ALL ENDS also experienced this support as the two IN FLAMES guitarists Jesper Strömblad and Björn Gelotte, who incidentally is also the brother of the other ALL ENDS singer Emma Gelotte, lent a helping hand with the song writing for the debut 'Wasting Life' EP, released in May of this year. The band hadn't been together for very long at this stage, and as newcomers they were happy to accept the creative input from experienced hands.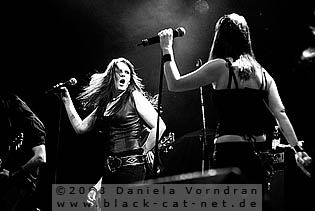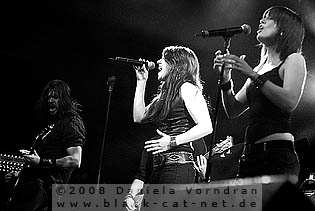 ALL ENDS have taken their time with their album pre-production to try out their numerous ideas. Fredrik emphasizes the helpful role played by experienced producer Christian Wolff (previous work with Within Temptation, Rage & Lingua Mortis). He directed our overflow of enthusiasm down the right paths and was a special help with arrangements. And the results are indisputable. The self-titled debut album doesn't sound like NIGHTWISH or WITHIN TEMPTATION or EVANESCENCE; instead it sounds like nothing other than ALL ENDS! Is there a bigger compliment that can be paid to a newcomer?
http://www.allends.com/
/
http://www.myspace.com/allends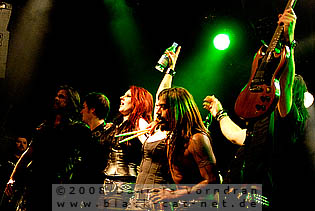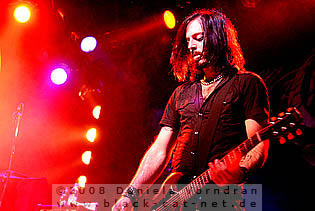 Music Performance

What a change in the set. All I thought was "wow" when the set started. Two female singers and guys who just knew what they are doing there on stage. The sound, this passion just blew you away at once. The two ladies at the front had everything. They looked fantastic and their voices fitted so well to the sound: not high as NIGHTWISH, not soft like EVANESCENCE - just two great rock voices. The drummer was like an animal beating his drums. This powerful rock music woke up everyone. The audience must felt the same, because the enthusiasm was growing from song to song. Though I liked their own songs more, but I have to say that they have recorded an amazing cover version of ONE REPUBLIC's 'Apologize'. Their CD was available at the merchandise and they are back in Germany in January. So watch out for them. You won't regret it.
Setlist

01. Still Believe
02. Walk Away
03. Regrets
04. Apologize (One Republic Cover)
05. We Are Through
06. Just a Friend
07. Close My Eyes
08. Pretty Words
09. Wasting Life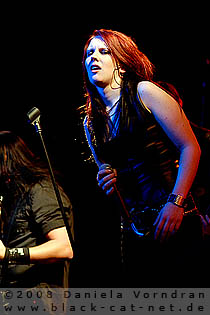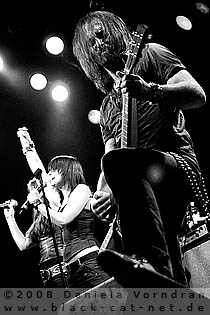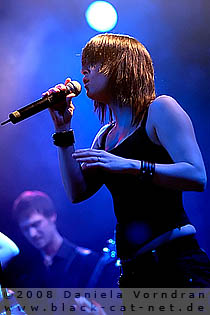 Oomph!

OOMPH! know how to combine the cool electronic world with earthy Rock: a kind of human music machine with powerful and extremely varied arrangements. Already in 1989 the career of Dero, Flux and Crap began. They were touring, released great albums but it was not before 2004 that they had the mainstream breakthrough with 'Augen auf'. In Germany and Austria it reached No. 1 of the single charts and it had reached the platinum status as well. The new album 'monster' is out in the record shops and no surprise with No. 1 of the German alternative charts.
http://www.oomph.de/
/
http://www.myspace.com/oomph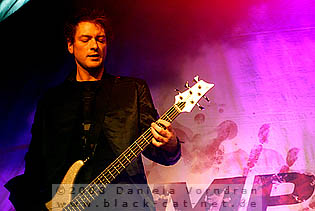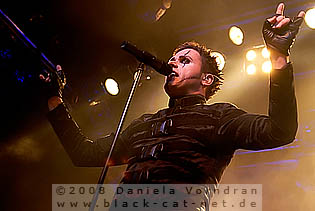 Music/Performance

The lights went out and you could see only the shadows of Dero, Flux and Crap behind the curtain, but this was enough to let the audience freak out completely. This time their outfits weren't in white or in red - no, everyone was wearing black. The crowd was singing along from the first song. Dero liked to introduce the songs with questions that you could guessed which the next song was. Just like he was asking "Are you hot"? The next song was 'Fieber' (Fever)... or remembering Obama's "Yes we can" which was the introduction for 'Revolution'. Dero was asking "Is somebody pregnant here?" What could be next? Of course 'Lass mich raus' (Let me out). The introduction for 'Sex' was the question "Bochum would you fuck yourself"?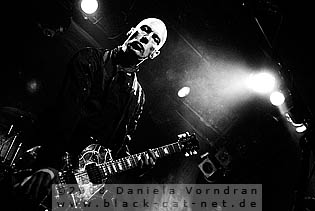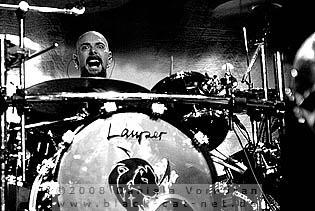 Dero liked the crowd that much that he changed the lyrics of Bochum's famous singer Herbert Grönemeyer from "Bochum ich komm aus Dir" (Bochum I come from you) into "Bochum ich komm in Dir" (Bochum I come in you). During 'Mitten ins Herz' (Straight to the heart) Dero was jumping into the crowd, what he was doing once more later. As partner for 'Bis zum Schluss' (Until the end) there was Mina Harker who was singing with Dero in duet. The final was as we know it: Dero singing an a cappella version of a song. This time it was nothing from Frank Sinatra, but it was 'The Power Of Love' from FRANKIE GOES TO HOLLYWOOD. This a cappella version was so much better than the version OOMPH released on CD.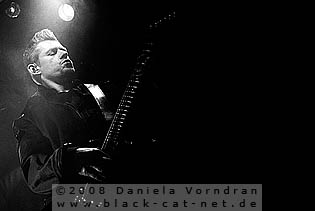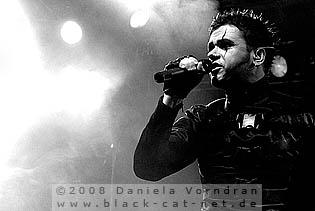 You don't have to wait long for some new stuff from OOMPH! because the Sandman is coming - to a viewing screen near you! But not as a figure from your childhood; instead as the brand new OOMPH! single entitled 'Sandmann'. As previously announced, 'Sandmann' is a song so new that it's not even on their latest album 'Monster'. Catch your first glimpse and first listen to the song and video in the trailer. And that's all the advance listening and viewing you'll get to do with 'Sandmann' until the video celebrates its world premiere on January 9th, 2009 on the OOMPH! myspace page. Before that you can see the band on the RTL 2 New Year's Eve Sylvester Show starting at 8:15 p.m. (CET). OOMPH! hit the stage then at around 10:30 p.m.
Setlist

01. Beim ersten Mal tut's immer weh
02. Träumst Du
03. Unsere Rettung
04. Fieber
05. Wer schön sein will muss leiden
06. Du willst es doch auch
07. Wach auf
08. Das letzte Streichholz
09. Das weiße Licht
10. Sex
11. Mitten ins Herz
12. Bis zum Schluss (Duet with Mina Harker)
13. Revolution
14. Sex hat keine Macht
15. Mein Schatz
16. Lass mich raus
17. Die Schlinge
18. Niemand
19. Gekreuzigt
20. Labyrinth
---
21. Gott ist ein Popstar
22. Augen auf!
---
23. Mensch sein
24. Die Leiter
25. Power of Love (a cappella)
Rating

Music: 9
Performance: 10
Sound: 8
Light: 7
Total: 8 / 10