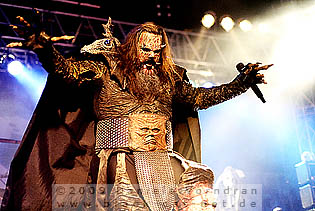 Turbinenhalle, Oberhausen, Germany
31st January 2009
Lordi, Silverlane, Fatal Smile


The monsters are back in town. In support of their most recent album 'Deadache', the Finnish monster rockers LORDI travel through the countries to put the fear of god into the humans attending their shows. You can read a lot about LORDI and what a show they're laying down on stage, but those texts can't prepare you for what's in store for you when wanting to experience a show yourself…



Fatal Smile

The band was formed in 1995 by guitarist Y, swiftly gathering some like-minded folks around him to complete the line-up. When relocating to Stockholm, he fired the rest of the members to start over again in the new city and with an all new line-up the recordings of the demo 'Beyond Reality' took place in 2000 and got a record deal with GMR Music Group. The 2002 debut release was also called 'Beyond Reality' and included most of the demo songs. After returning from a US Tour and some more live activities including a support gig for THIN LIZZY, works on the next album began. 'Neo Natural Freaks 'came out in 2006, directly followed by a tour through Europe and Japan. When the band returned to the scenery again in 2007, the line-up was a completely new one again. The new album 'World Domination' followed in February 2007. FATAL SMILE is Blade (vocals), Y (guitar), ALX (bass), and Zteff (drums).
http://www.fatalsmile.com/
/
http://www.myspace.com/fatalsmile1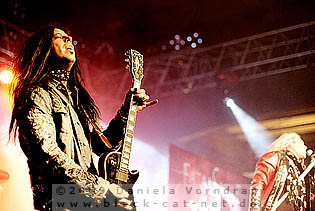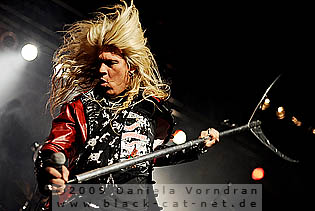 Music & Performance

This evening began just like the last one in Osnabrück: With a band from Sweden! And FATAL SMILE geared up fairly to be honest and it was definitely a band for the rock purists among us. No synths, keys whatsoever, just pure rock music for the masses, which couldn't seem to be very enthusiastic and singer Blade initially had a tough time getting anybody to clap along. Luckily, it didn't stay like this the whole time. After they did lots of persuasion work on stage with crunchy riffing and thundering drum work, people could eventually get themselves to throw their arms in the air to at least clap along, or nod their heads to the powerful music and I guess at the end the guys could convince a few more people of their music and as chance had it, they brought a few CDs which you could buy after the show at the merchandize booth.
Rating

Music: 7
Performance: 7
Sound: 6
Light: 6
Total: 6.8 / 10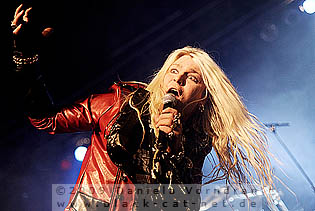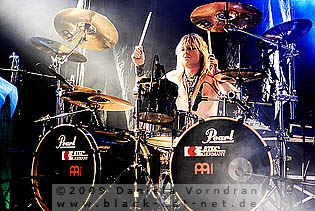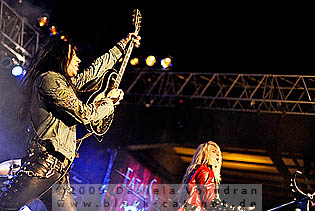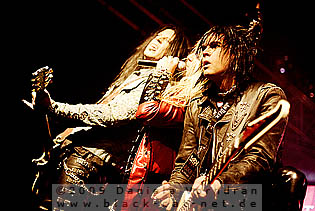 Silverlane

SILVERLANE already came to life in 1995, initiated by the future SUBWAY TO SALLY drummer Simon Michael to get first practice in mutual composing. The self-produced debut 'Legends of Safar' (2005) could be sold a 1,000 times without any promotion. Regardless of being busy with SUBWAY TO SALLY, Michael doesn't end SILVERLANE at all. Together with singer Ecki and guitarist Uli Holzheimer, he's simultaneously working on the follow-up 'My Inner Demon', which is now due for a release on 20th February 2009. SILVERLANE is Ecki Singer (vocals), Uli Holzheimer (lead guitar, backing vocals), Chris Alexander (guitar, backing vocals), Daniel Saffer (bass, backing vocals), Dodo Schmitt (keys, backing vocals), and Simon Michael (drums, percussions).
http://www.silverlane.org/
/
http://www.myspace.com/silverlanepowermetal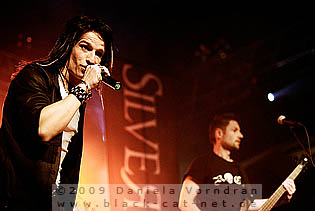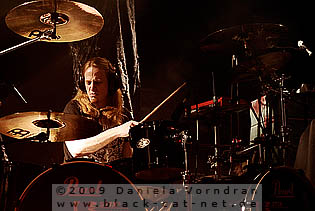 Music & Performance

Still one to go until the eagerly awaited moment would come. With SILVERLANE it was time for a German band to hit the stage. A classic intro theme with strings and stuff sounded and we could see all band members entering the stage almost simultaneously and taking their positions to demonstrate right with the first track that they love wide melodic textures like the grand piano lines of the opener 'Miracle' just as much as they love to unleash the fierce powers of Metal music. Vocalist Ecki Singer (No, I'm not kidding) displayed a remarkable bandwidth, ranging from deeper growls to higher pitches and could switch from one to another in no time.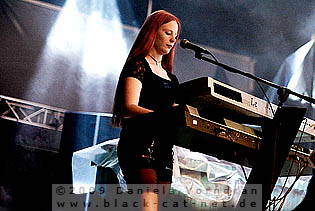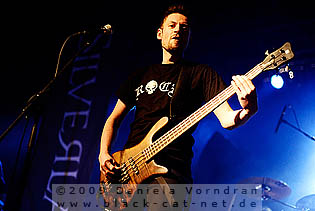 The audience overtly was much more comfortable with that kind of style, so it was no problem for Ecki to make them raise their arms to form the devil's horns for the third track 'Kingdom of Sand'. Faster tracks alternated with slower ones throughout the set and solo skills were presented while Ecki was extremely busy with roaming the stage and encouraging the people, additionally to his vocals duties. Surely not groundbreaking, but I felt well-entertained.
Rating

Music: 7
Performance: 8
Sound: 7
Light: 6
Total: 7.2 / 10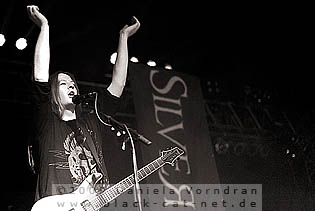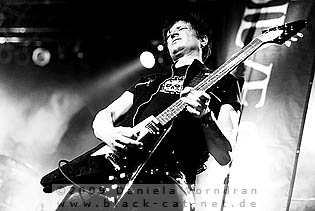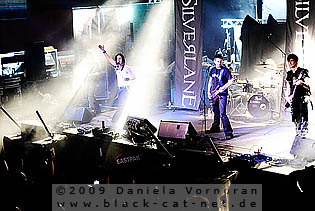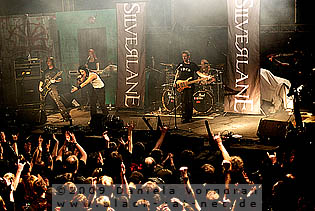 Lordi

Ever since they won the Eurovision Song Contest in 2006, Finnish Hard Rock band LORDI are talked about everywhere, however the concept of LORDI was already devised in 1992 while the band wasn't formed until 1996. Their first single 'Would you Love a Monsterman', became a hit in Finland, followed by the debut 'Get Heavy'. One more album, 'The Monsterican Dream' (2004), followed before their performance at the Eurovision Song Contest changed everything. Their third coup 'The Arockalypse', released that same year, went straight to the top of the Finnish albums charts and into the Top 10 in Germany (#7). Ever since, LORDI enjoyed a growing popularity. Following that, they played a lot of acclaimed concerts i.e. at Ozzfest 2007 or as support of TYPE O NEGATIVE. Their latest album 'Deadache' is available since October 2008. LORDI is Mr. Lordi (vocals), Amen (guitar), Ox (bass), Awa (keys), and Kita (drums, backing vocals).
http://www.lordi.fi/
/
http://www.myspace.com/lordi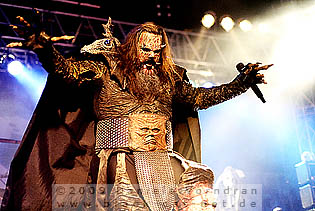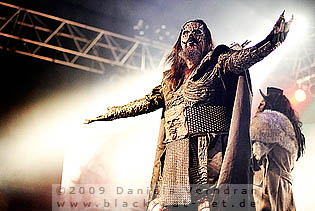 Music & Performance

Now came the moment everybody was waiting for. And for that moment the stage turned into a scenery from a horror movie. A mixture of slaughter house and creepy surgery with a table covered by a canvas, crash cymbals mounted to chain gallows. But the optically most impressing sings were the Finnish guys in their costumes after the first song of the night 'They only come out at Night' sounded and the crowd broke out in stormy cheers. Mr. Lordi himself, and that's still only an assumption, as I was wondering the whole time what he could be. In the end, I opted for a monstrous bat, as he folded out such bats in the later course of the show. The guitarist Amen was dressed like a mummy, while bass player ox looked like the grotesque, contorted reflection of a Viking. Drummer Kita reminded me of an unmasked predator and the only female member of the band Awa was the mean ghostly lady.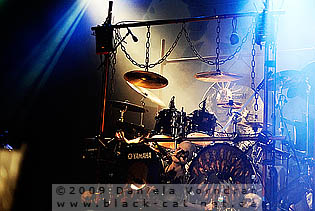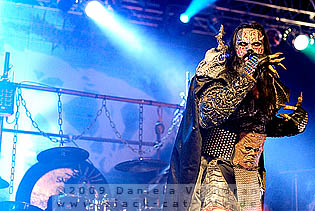 So much for the costumes and back to the action on stage and with "action" I don't mean the mere performance, which was as energetic as you could imagine with Amen and Ox not really standing still for the whole show, while Mr. Lordi enriches the very melodic songs with his raspy vocals. 'Raise Hell in Heaven', a faster track, excited the crowd just as much as a song like 'Who's your Daddy', a mid-tempo track with expanded organ sounds, did. In-between there was always a time, when certain or all band members disappeared from the stage. Need some examples? Ok, here they are. At one point, Ox brought a humped, deformed monster on a chain he held on stage. The thing didn't act like he wanted so he 'accidentally' tore out a part of its arm. Another time, we had two loving dead man dancing, while the woman hung flabby in his arms. Well, to get to the point, suddenly keyboardist Awa came on stage and drove a stake right through the two creatures, binding them together for eternity.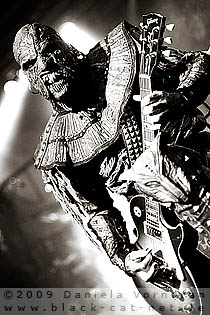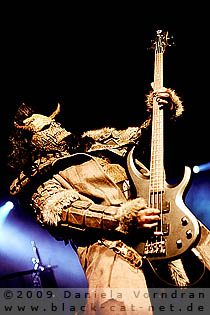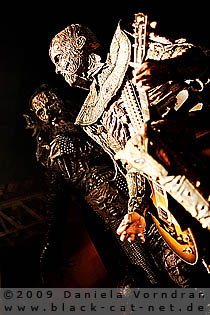 Of course, there were some other songs: 'Blood Red Sandman' was such a kick-ass track, softened by a chiming melody, or 'Man Skin Boots' that geared up a little more again and started with ominous whispering vocals by Mr. Lordi. A real special for the fans in Oberhausen came with the first ever live performance of 'Night of the Loving Dead' from the 2006 album 'The Arockalypse' but even such a show with so much fun and surprising moments for everybody must come to an end once. But not without an encore and that was nothing less like 'Hard Rock Hallelujah', the winning track of the Eurovision Song Contest 2.5 years ago, which made the Finnish guys famous after which the band left the stage under hearty applause and a concert that had many surprises for the attendees in stock eventually came to an end.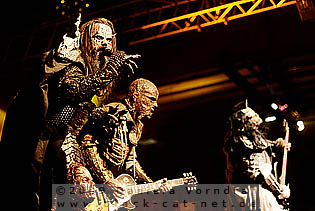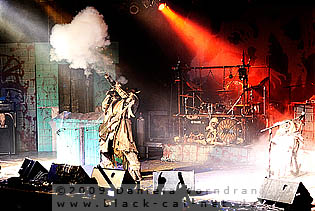 Setlist

01. Intro/chopping
02. They only come out at Night
03. Raise Hell in Heaven
04. Bite it like a Bulldog
05. Who's your Daddy?
06. Blood Red Sandman
07. Man Skin Boots
08. Night of the Loving Dead
09. Awa Solo
10. Deadache
11. Bringing back the Balls to Rock
12. Monster Monster
13. Evilyn
14. Wake the Snake
15. Doctor Sin is in
16. Missing Miss Charline
---
17. Would you love a Monsterman?
18. Devil is a looser
---
19. Hard Rock Hallelujah
20. Outro
Rating

Music: 8
Performance: 9
Sound: 8
Light: 8
Total: 8.2 / 10