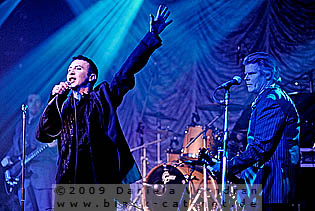 Zeche, Bochum, Germany
6th March 2009
Marc Almond


Growing up in the 80ies and being a lover of Synth Pop there was no other way than to love SOFT CELL's version of 'Tainted Love' in the early 80ies. From that moment I was also always interested in the solo stuff of MARC ALMOND, a man with a voice of many facets and so beautiful songs. So happy when I heard he will begin his tour in Bochum. And it was wonderful to see this man on stage again after all these years.


He was born in Southport, a seaside town in the north of England, in 1957. After an unsettled childhood of moving to Harrogate, Leeds and back to Southport, of illness and learning difficulties he finally left school at 17 with few qualifications. As a teen he worked in Southport Theatre and on Southport fairground while singing in a local band, covering hits of the day. In 1980, he founded together with David Ball the most successful English electric pop duet SOFT CELL. In 1981 they covered the GLORIA JONES Soul hit 'Tainted Love' and published a pop & wave hymn. In the years 1982 and 1984 he released two albums under the pseudonym "Marc and the Mambas" in which also Matt Johnson was involved. He was so successful with this music project that he was known everywhere for his pop music with orchestra influence. Although SOFT CELL disbanded in 1984 just before the release of fourth album, 'This Last Night In Sodom', the duo reunited in 2001 for live shows and in 2002 released a new album entitled 'Cruelty Without Beauty'. His biggest UK hits as a solo artist have been cover versions; the aforementioned 1989 number one duet with Gene Pitney and another near chart-topper in 1991 with David McWilliams' 'The Days of Pearly Spencer'. Almond's work runs the gamut from electronica and dance music to French chanson, traditional piano ballads, and Russian romance songs, as exhibited on his 2003 album 'Heart on Snow'. Influences include David Bowie, a childhood hero of his, as well as early 1960s Northern Soul and disco.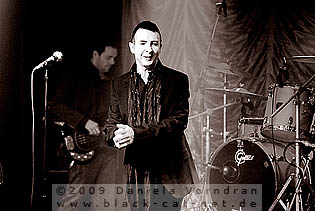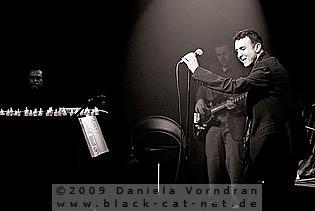 On 17 October 2004, Almond was badly injured in a motorbike accident in London, in which he was a pillion passenger. Although the initial prognosis was considered poor, he was discharged from Royal London Hospital on around 6th November 2004 and was said to be making a "remarkable" recovery. Two months later he was giving press and TV interviews saying he could not wait to get back on stage. In 2005, he continued his recovery, did some DJ gigs all over Europe and guested at the Meltdown Festival in London in June 2005, hosted by Patti Smith. Almond contributed two songs to this night of Brecht music, 'Bilbao Song' and 'What Keeps a Man Alive'. In October, November and December 2005, Almond went on tour with Jools Holland and his Rhythm & Blues Orchestra, singing two songs during the shows, 'Say Hello Wave Goodbye' and 'Tainted Love', which had a new arrangement done by Holland. His last album 'Stardom Road', was released on 4th June 2007, and features artists such as St Etienne's Sarah Cracknell and Antony from Antony and the Johnsons. Two of the cover versions included in this new album are Dusty Springfield's 'I Close My Eyes and Count to Ten', which he has recorded with Sarah Cracknell, and Gene Pitney's over the top 'Backstage (I'm Lonely)', as a tribute to the late crooner, featuring a guest appearance by Jools Holland.
http://www.marcalmond.co.uk/
/
www.myspace.com/marcalmondofficial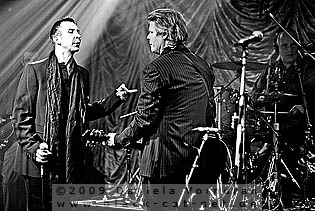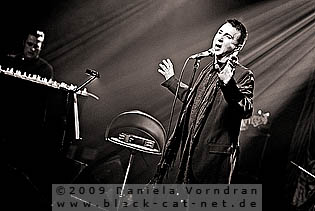 Music & Performance

Already the stage design brought a special and comfortable atmosphere with a big curtain like in theatres in the background. On the piano and the loudspeakers little electric lights like candles were placed and most of the time the stage was coloured in red, violet and blue lights. Marc wasn't on stage yet and the band had right at the start some technical problems. They started again and began the set with 'Glorious'. When Marc entered the stage he was welcomed like a long lost friend. It seemed he couldn't believe how glad the people were that he was there. It's not only the melodies of his songs, it's the way how he sings the songs and how he performs the songs. He is living each song. There were some other technical problems at the start of 'Tragedy', but everyone could just laugh about it and we just could agree with Marc: that's live music and especially at a tour start these things can happen. I don't think that anyone stood still when 'The idol' began. You just had to dance. With 'Variety', a new song was played. Marc said it is good to be back in Germany and he got such an overwhelming applause. To be honest, he got this applause after every song. Shivering when he said ''This next song is for Gene" and 'Something's gotten hold of my heart' began. Of he was talking about Gene Pitney with who he sang this song and I'm sure it's an all time favourite for everyone.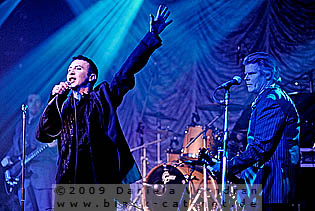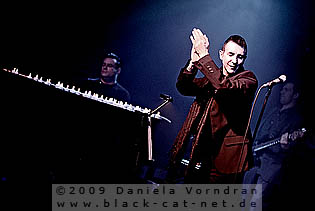 Another "must dance" song followed with 'The days of Pearly Spencer' which ended just with the piano and Marc's singing. After that Marc had his "solo" with playing the cymbal when he started with 'The Devil Ok'. At the start of 'Bluegate Fields', Marc was still out of breath so he had to start it again. He was laughing about himself. It was absolutely quiet in the hall when Marc was singing 'If you go away'. He was accompanied by the piano only. I found myself totally caught in the performance of Marc. It was like he was singing to the person who wants to go away. It was so dramatic and full of grief. It was like a shaking to come back into a funnier mood and an extreme change when he went over straight to 'Jacky'. Soon it was time for SOFT CELL with 'Bedsitter' and the whole hall was like a big party and just colourful lights everywhere; like Disco with a fantastic band on stage. The first part ended with his version of Dusty Springsfield's 'I close my eyes and count to ten'. Just SOFT CELL encores before we reached the end and with 'Say Hello wave goodbye' a nice way to leave the stage. I closed my eyes and counted to ten and when I open them he is still here... unfortunately he wasn't.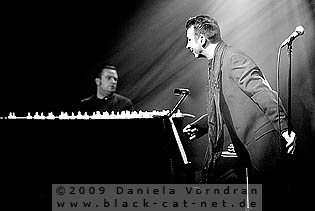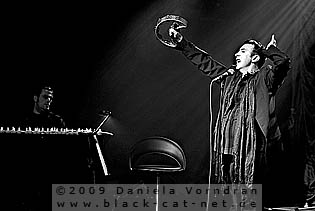 Setlist

01. Glorious
02. I Have Lived
03. Hand over my Heart
04. Tragedy
05. The Idol
06. Variety
07. Child Star
08. Something's Gotten Hold on My Heart
09. The Days of Pearly Spencer
10. The Devil OK
11. Bluegate Fields
12. Brilliant Creatures
13. Bitter Sweet
14. If You Go Away
15. Jacky
16. A Lover Spurned
17. Tears Run Rings
18. Ruby Red
19. Bedsitter
20. Down in the Subway
21. I Close My Eyes and Count to Ten
---
22. Tainted Love
23. What?
---
24. Say Hello Wave Goodbye
Rating

Music: 10
Performance: 10
Sound: 8
Light: 9
Total: 9.6 / 10