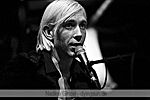 L.U.X., Berlin, Germany
3rd December 2009
My Name is Claude, Susanna Berivan

I arrived accurate at 8:00PM at Schlesische Str. 41. That area from Berlin is well known as an artistic place where you can find many different people and unique places. The L.U.X (long version: "Leiseste Unterhaltung Xberg"/ "Quietest entertainment Berlin Kreuzberg") is a small, but very atmospheric club. And like the name of the club, I was in pleasant anticipation of the music I expected. As I entered the hall, I was surprised because of the very familial spirit inside. There were a big u-formed bar, some padded benches where some people still were waiting for the gig, a little stage, a few instruments on it. I did know that it would be a small concert, but the nice and warm atmosphere caught me in seconds.
Susanna Berivan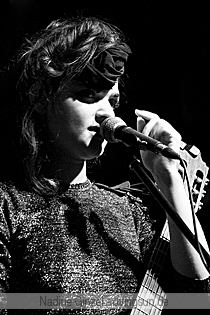 SUSANNA BERIVAN is a young and very talented singer from Berlin. She is born in Berlin Kreuzberg in 1985 and she already made music with her mom as she was a child. Aside from her solo project she is background singer of
LAING
and has another own project called
THE TINCAN SALLYS
. To describe SUSANNA BERIVAN's music she would say: "BluesChansonRockandrolljazzpunk". If you want to know more about her, read the interview on RoD.
http://www.myspace.com/susannaberivan
Join on one of her next shows
14. Dec. 2009, 20:00, LES CARIATIDES, PARIS, Ile-de-France
20. Dez. 2009, 19:30, FRÜHPERLE, Berlin Neukölln
13. Jan. 2010, 21:00, CAFE BURGER, Berlin Mitte
Music & Performance

Susanna came dressy on stage and took her acoustic guitar the same way. She was wearing a twinkling, short dress and after a few welcome words she started to swing with playing the guitar. Her hairstyle was really fancy and her long legs were breathtaking. All together she is a conspicuous personality. As she started to sing, everyone was quiet. Her beautiful voice filled the hall. For me it was amazing that she sings really clear and without any mistakes. (Or if there were some, I didn't recognize them.) SUSANNA BERIVAN performed some slow songs but also some danceable ones. She found some nice words for one of the faster songs: "You have 1 Minute 45 to dance, after that it will be melancholy again." A little laugh goes through the ranks and she starts to perform with bigger moves and gesture. Sadly no-one had the heart to dance. But the feeling at the audience was clear: They were under a charm.
Setlist

01. Who's the captain
02. Pigeon
03. I think
04. Louis
05. Shooting butterflies
06. Papa you ain't right
07. The meanest man
08. King
09. Messy apartment
10. Schoolgirl
11. The Reminder
12. When you are hungry
13. Cracked
14. Alora, Fiodora
Rating

Music: 7
Performance: 7
Sound: 7
Light: 6
Total: 6.8 / 10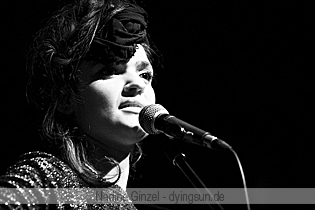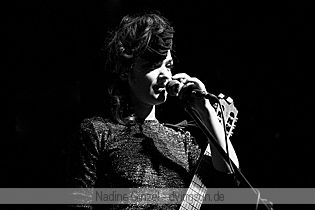 My Name is Claude

MY NAME IS CLAUDE is a duo from France and consisting of Steffen Illner (classical double bass) and Claude Ferland (piano, vocals). The band name is easy but special. Some of it operates, that you remember this band. Claude makes music since 1998. He was part of Montreal's electro pop band SAS-31 and composed material for the new wave / electro music project LOVELOVELOVE. After years of travelling around, he started to compose new material involving arrangements for a classical orchestra comprising 11 musicians. The very unique material of MY NAME IS CLAUDE was born. Later he created a solo-piano show, a very quiet and intimate concert in black and white, both intense and personal with a black sense of irony.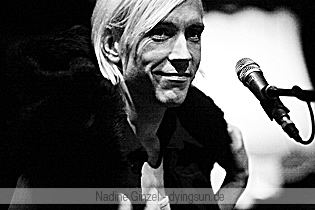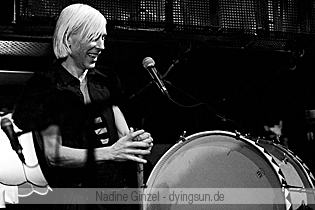 They released MY NAME IS CLAUDE - 'Always Lost Somewhere' (2008), 'Finally Finalised' on 'Berlin Insane' compilation, Pale music Rekords (2007) and LOVELOVELOVE - 'Reunion' (2006). The first music video to the song 'Airport' was filmed by Martin Mai at Tempelhof in Berlin and two other projects are in postproduction. Until the end of winter, they will be playing intimate venues in Berlin, London, Hamburg and Paris, collaborating with other artists and musicians and recording a small second album for the release of the 'Airport' single. A North American tour is scheduled for June/July 2010.
http://www.myspace.com/mynameisclaude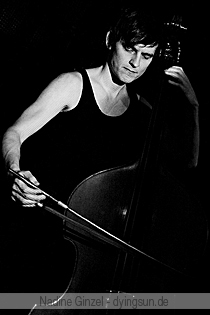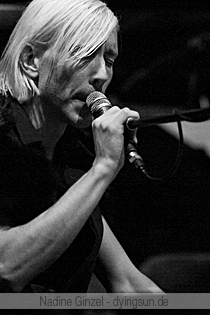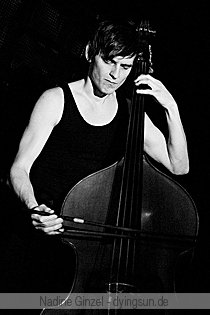 Music & Performance

"Hello, what is your name? My Name is Claude." That's the beginning of the song 'In the chatroom' with soft piano sound, classic bass and a quiet voice, something different after Susanna's show. The melodies of MY NAME IS CLAUDE sound a little bit like songs of Yann Tiersen (but more tragic) and people who like that style of piano music would begin to dream. I don't know what it was, but I had to think of Tim Burton, something was in the music and maybe something in the look of the band. Claude wore a black dress with pelt on the shoulder. He looks very androgyny. Steffen with his big instrument on the other hand looks very soft and gentle. The audience seemed to descent. It was so quiet that a little cough or a clanking bottle of beer seemed to destroy the atmosphere. There were moments that were funny, too, for example the song about Claude's bicycle. He told us, how much he likes it. The band seemed to be not only melancholic but also ironic. There were a few moments, where the audience was laughing. It was a particular evening with a warm feeling inside. A felicitous mix!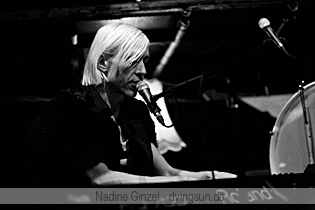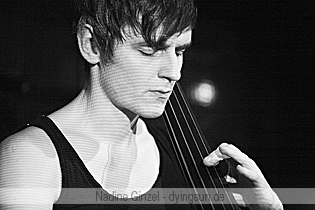 Setlist
01. Our
02. Hyperlove song
03. Vanished
04. White bicycle
05. King of nothing
06. Yoyo
07. Before i die
08. No love
09. Lullabye
10. Airport (for this sing theyhave just finished shooting their first music video, directed by Marin Mai
http://www.martinmai.com/
and filmed at Tempelhof!!!)
11. Berlin l'été
12. In the chatroom
Rating

Music: 7
Performance: 7
Sound: 7
Light: 6
Total: 6.8 / 10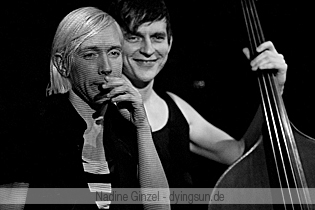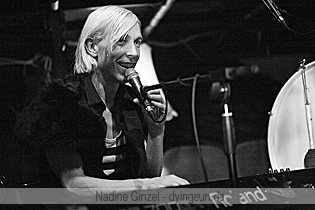 All pics by Nadine Ginzel
{jos_sb_discuss:17}