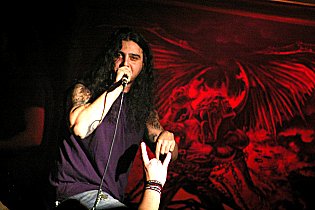 Batschkapp, Frankfurt, Germany
7th January 2010
European Massacre: Kataklysm, Belphegor, Darkest Hour, Suicidal Angels, Resistance

At a few minutes past five o'clock, Katrin and me arrived in front of the Batschkapp. The doors were meant to open at six o'clock, but due to the fact that today would be the first day of the whole tour, everything went rather slow and a nice guy from the crew informed us that, even though we were freezing, the entry would be postponed for another twenty minutes.
Until then, more and more fans gathered around the provided umbrella heater or brought their jackets to the coat rack. After having finally arrived in the warm inside and whilst waiting in the front row, we were entertained by a man, who proudly told us about his experiences during the Katy Perry concert. On this evening, the merchandise appeared rather poor, which was probably also related to the beginning of the tour and not all shirts having arrived yet.
Resistance

RESISTANCE were founded in Belgium in the year of 2003, at first veering into the hardcore direction. On their album 'Two Sides of a Modern World', a mixture of hardcore and Death Metal is heard, creating a unique brutal yet modern sound. After first successes in Belgium and nearby France, the band now also aims at conquering Europe. More information can be found at
http://www.myspace.com/resistance666
.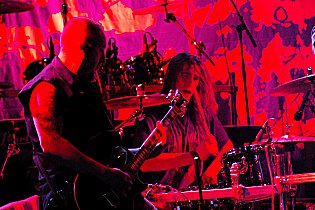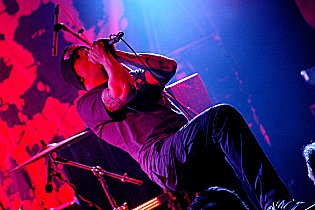 Music & Performance

RESISTANCE were the first band of the evening and opened up their set around a quarter before seven which again meant an earlier start. They played around twenty to twenty-five minutes. With the Batschkapp not being halfway filled, they had a pretty hard start. Still, a nice opening was presented and especially the singer exerted himself. Also, the first moving heads could be seen. Nevertheless, I found their music not too pleasant and in general, the first three bands had to fight with unhandy sound conditions, the vocals being way too low and the cable of the microphone dropping out at certain movements.
Setlist

01. Lords Of Torment
02. The Supreme Being
03. Requiem
04. Behind Your Eyes
05. Scars Never Die
06. Hail
07. Fuck You All
Rating

Music: 6
Performance: 7
Sound: 6
Light: 5
Total: 6.2 / 10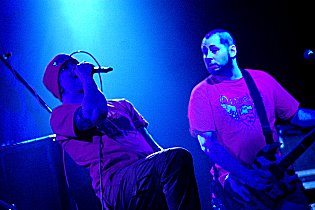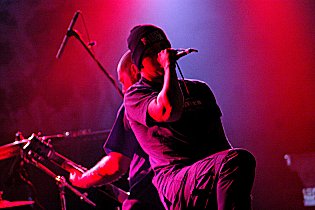 Suicidal Angels

Established in 2001 in Greece, SUICIDAL ANGELS attracted a lot of attention by winning the 'Rock The Nation Award' 2009. Due to this, the band, who before released two EPs and a full-length album called 'Eternal Domination', now is signed to the well-known label Nuclear Blast following the footsteps of SONIC SYNDICATE. Having gained experience before by touring with bands such as ROTTING CHRIST or MASSACRE, they are now ready to gather new fans in support of their newest record 'Sanctify The Darkness'. Samples are available through MySpace:
http://www.myspace.com/suicidalangels
.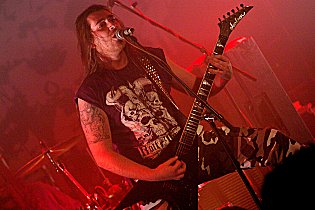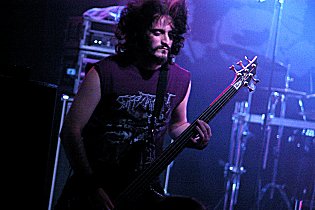 Music & Performance

The SUICIDAL ANGELS had to fight with technical and other problems, so after a pretty long break they had to start and cut their set short. This was a shame actually, since the first fans and supporters gathered in front of the stage and many old-school fans seemed to be pleased. Still, they really put a lot of effort into their performance and soon had the audience on their side. Even though there seems to be made a lot of hype, they are a promising band and their warming- up worked rather well.
Setlist

01. Bloodthirsty
02. The Pestilence of Saints
03. Inquisition
04. ...Lies
05. Apokathilosis
Rating

Music: 7
Performance: 7
Sound: 6
Light: 8
Total: 7 / 10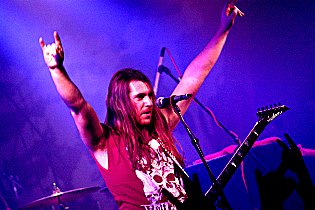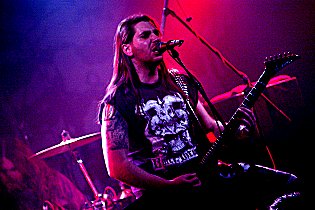 Darkest Hour

DARKEST HOURS are a metalcore band with melodic influences, who found their beginning back in 1995 in Washington DC, being strongly influenced by the local hardcore scene. In their words, they are combining hardcore and punk with death and speed metal elements. Until now, seven albums and two EPs were released, the newest record being named 'The Eternal Return'.
http://www.myspace.com/darkesthour
/
http://www.darkesthour.cc/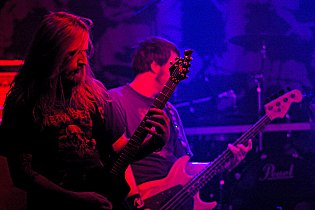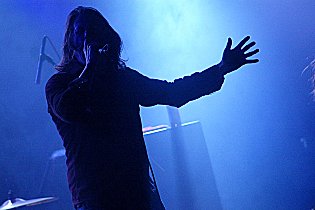 Music & Performance

DARKEST HOURS had thirty-five minutes to present their songs and really put on a nice show. The singer demanded quite often mosh-pits, circle-pits or such actions. They as well had some problems with the sound, for the bass appeared too loud, at least at the place where I stood. From other sides it was reported that the sound was very undifferentiated through ought the whole evening. The band really seemed to be enjoying the show. Still, I have to say that musically I found them rather boring, which is obviously a matter of taste. Yet the place in front of the stage got more crowded and most of the audience were pleased.
Setlist

01. The Sadist Nation
02. Sound The Surrender
03. The Tides
04. Demon(s)
05. No God
06. Convalescence
07. Deliver Us
Rating

Music: 7
Performance: 8
Sound: 7
Light: 8
Total: 7.5 / 10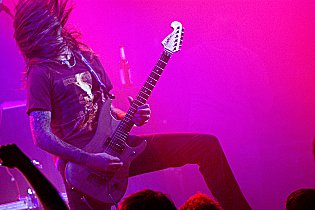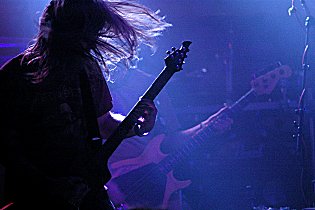 Belphegor

Formed in 1991 under the name BETRAYER in Austria, BELPHEGOR have established themselves as one of the most extreme bands in blackened death metal ever since 1993. Satanism and Blasphemy are main topics and the lyrics are drafted mostly in German or English but also some Latin elements are included. Over the years, seven studio records were put out as well as one live record from 2002. The newest output, 'Walpurgis Rites - Hexenwahn' was publicised in October 2009 and is the successor of 2008's creation 'Bondage Goat Zombie'.
http://www.myspace.com/belphegor
/
http://www.belphegor.at/
Music & Performance

Ten minutes after nine o'clock, BELPHEGOR entered the stage, and it was very visible that many attendees just came to see them - many people garnished with shirts and grim faces tried to find a good spot for the show. BELPHEGOR really put up a dark and energetic show with Helmuth being painted with dirt or coal and all members wearing heavy boots and ammunition belts. Before the song 'Justine: Soaked in Blood', the members showered themselves with blood. I am pretty sure that many people were disgusted, but in combination with their really fast and dark music, a fitting show was created.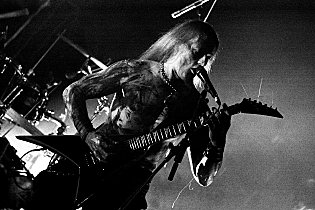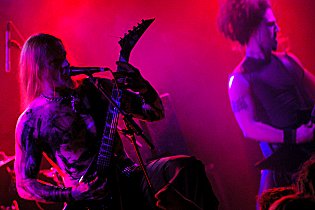 Yet one incident showed that photo and security pits are always more secured: at this evening, the Batschkapp did not provide such a pit, which at one hand meant being directly in the heat of things. On the other hand, crowd surfers really can be a problem. During the BELPHEGOR gig, a first one found his way to the stage. Yet he was thrown of stage into the audience and as far as I am concerned I saw that someone was knocked out by the thrown surfer. So, for the future, the organisers should think of a suitable solution for incidents like those. After 45 minutes, BELPHEGOR left the stage and an audience that chanted for more. Some hardcore fans were pleased to find some blood left, so they bathed themselves in blood as well.
Setlist

01. Bleeding Salvation
02. Stigma Diabolicum
03. Belphegor - Hell's Ambassador
04. Reichswehr in Blood
05. Veneratio Diaboli - I am Sin
06. Lucifer Incestus
07. Justine: Soaked in Blood
08. Bondage Goat Zombie
Rating

Music: 10
Performance: 9
Sound: 9
Light: 8
Total: 9.3 /10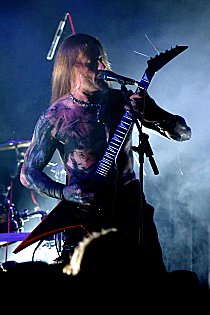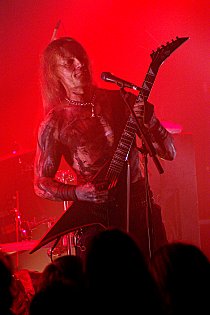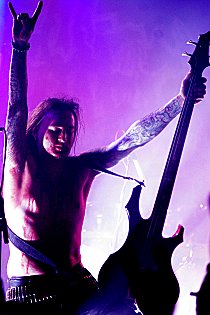 Kataklysm

KATAKLYSM was established 1991 in Québec, Canada and nowadays persists of Maurizio Iacono (vocals), Jean-Francois Dagenais (guitar), Stéphane Barbe (bass) and Max Duhamel (drums). Signed to Nuclear Blast since 1993, they have released nine studio records, amongst others 'Epic: The Poetry of War' (2001), 'Serenity in Fire' (2004) and the latest work 'Prevail' (2008). Stylistically, they describe themselves as 'Northern Hyperblast', due to their fast and aggressive drumming. In 2009, many of the members also participated in a side-project called 'Ex Deo', which dealt with roman themes.
http://www.myspace.com/kataklysm
/
http://www.kataklysm.swizcorp.com/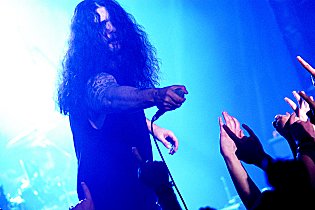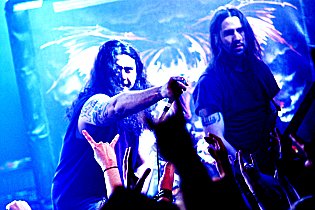 Music & Performance

After about half an hour of stage alteration, the headliner of the evening, KATAKLYSM entered the stage at 22:20. The space in front was now getting really crowded and taking pictures started getting impossible. A huge drum kit was presented as well as two side banners with the logo of the tour. The interaction with the crowd was very friendly, singer Maurizio told the audience of his shitty holidays and that this show would remark Christmas and New Year's Eve at the same time for him. During about half the set, people started to enter the stage, to head bang with the band. More and more people copied this idea, but the band reacted rather relaxed and friendly again.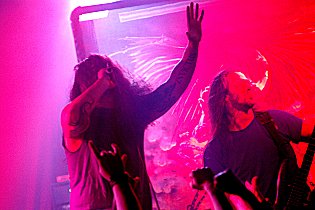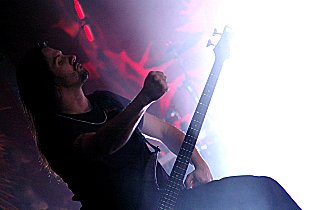 In the end, there could only be seen the same people over and over again, which started to get a bit annoying, since they surfed to the stage and back, so simply head banging and enjoying the show was not too easy, since one had to be careful of not getting hit by a heavy boot. During the song, 'The Resurrected', one of the earlier mentioned backdrops was damaged somehow. In general, KATAKLYSM really put on a great show, with a nice survey of their latest records and a good mixed setlist. After an encore and around 80 minutes, the show was finished and a very pleased audience left the venue. Truly a nice way to start a year!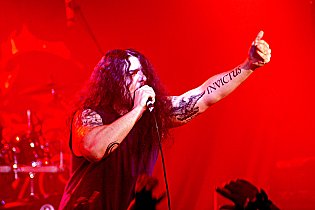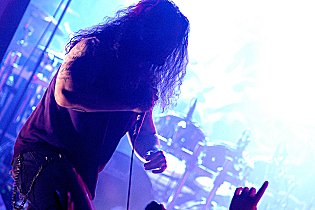 Setlist

01. Like Angels Weeping (The Dark)
02. Manipulator of Souls
03. Prevail
04. As I Slither
05. It Turns To Rust
06. Il Diavolo in Me
07. Centuries Beneath The Dark Waters
08. Ambassador of Pain
09. The Vultures Are Watching
10. Blood on the Swans
11. Crippled and Broken
12. Bound in Chains
13. Let Them Burn
14. The Resurrected
15. Blood in Heaven
---
16. In Shadows and Dust
17. Road To Devastation
Rating

Music: 9
Performance: 10
Sound: 9
Light: 10
Total: 9.5 / 10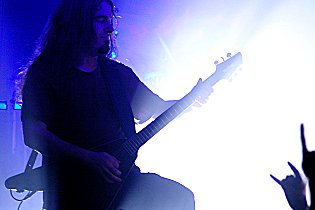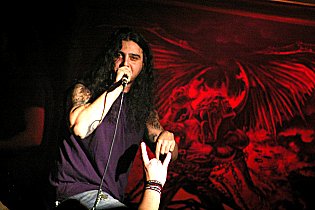 All pictures by Katrin Renner (
http://www.creavision-webdesign.de/
)
{jos_sb_discuss:17}