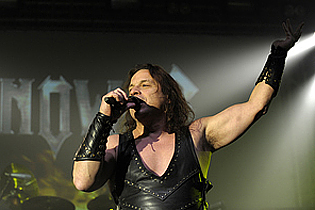 Friedrich-Ebert-Halle, Ludwigshafen, Germany
21th January 2010
Manowar, Holyhell & Metalforce

Bringing along METALFORCE and HOLYHELL, MANOWAR, self declared "Gods of Metal", graced Ludwigshafen with their presence... louder than necessary, but well – when has metal been a quiet thing? Those who had ear protection surely had a fun time, although even when MANOWAR started playing, the hall was far from being full. But the show was more than worth being there.
Metalforce

METALFORCE is a German Heavy Metal band formed in 1997, back than named MAJESTY, which they changed to METALFORCE in 2008. They have released six LPs and an EP so far, the most recent in September 2009. Their current Line-Up consist of Tarek Maghary (vocals), Tristan Visser (guitar), Josef Echter (guitar), Freddy Schartl (bass) and Jan Raddatz (drums).
http://www.metalforce.eu/
/
http://www.myspace.com/metalforceofficial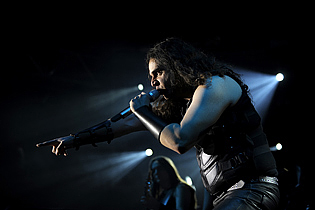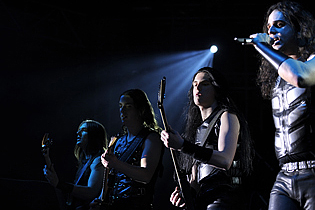 Music & Performance
METALFORCE's music is just what one would expect from a MANOWAR supporting band: Heavy Metal. Often you had the feeling, you've already heard it, but it still was very enjoyable, both music and vocals. Although METALFORCE only had an estimated stage time of about half an hour, they did a good job on warming up the audience and it was obvious, they have been on stage many times, for everything they did seemed rather experienced. And they gave the metal heads just what they wished for: loud guitars and even louder drums, here and there played with a little abounding enthusiasm, which surely isn't a negative thing. After their show, they were available for an autograph session at the merchandise stand.
Rating

Music: 7
Performance: 8
Sound: 6
Light: 6
Total: 7 / 10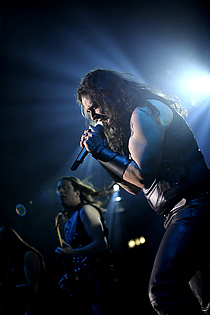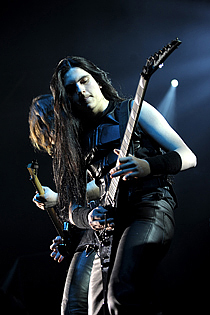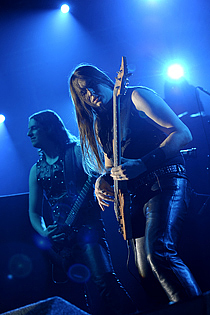 Holyhell

With only about five years of band history, HOLYHELL are a rather young band from the US. They were formed in 2005 and have supported MANOWAR twice so far. With only one single and one LP, their discography is yet little. The members are Maria Breon (vocals), Joe Stump (guitar), Jay Rigney (bass), Kenny "Rhino" Earl (drums / EX-Manowar) and Francisco Palomo (keyboard).
http://www.holyhell.com/
/
http://www.myspace.com/holyhellofficial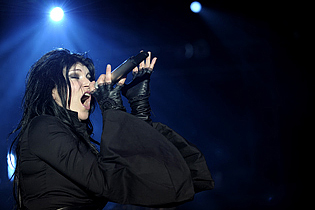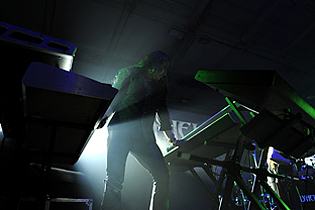 Music & Performance
One shouldn't compare that directly, but HOLYHELL sounded a lot like NIGHTWISH - or any other band of this genre. Their music surely wasn't bad, but it wasn't very spectacular either. And maybe the singer had a bad day, but her voice just didn't "sound". On stage HOLYHELL did lack the special "it". Again, they were not bad; it was just what one would have expected from any other band. They did have their special moments though, for example playing the guitar with its cable surely is something unusual and the keyboarder also seemed rather skilled. Unfortunately that just isn't enough for a good show, but they probably just had a bad day. And like METALFORCE, they were giving a signing session after their show.
Rating

Music: 4
Performance: 4
Sound: 6
Light: 6
Total: 4.6 / 10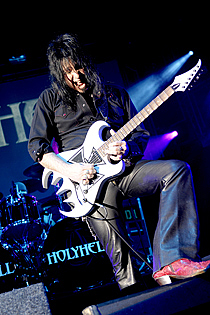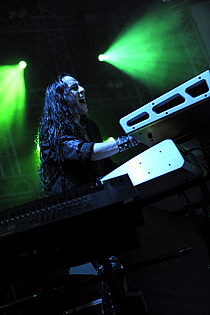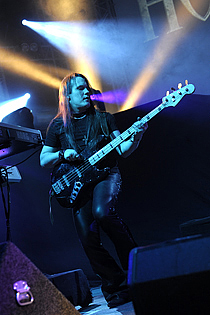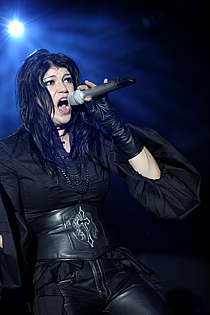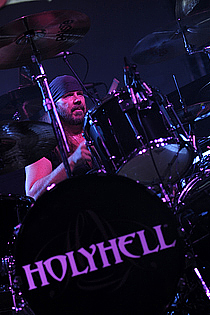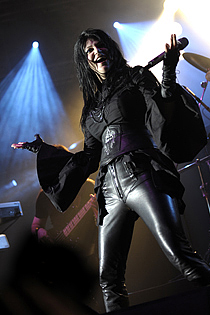 Manowar

Most people who know metal, know MANOWAR, so there shouldn't be much to say. Anyway: MANOWAR was formed in the US in 1980. Countless releases, awards and member reshuffles later, they are in their 30th year of existence, self-declared and celebrated "Gods of (true) Metal", loudest band worldwide and not at all tired. MANOWAR are Eric Adams (vocals), Karl Logan (guitar), Joey DeMaio (bass) and Donnie Hamzik (drums).
http://www.manowar.com/
/
http://www.myspace.com/manowarofficial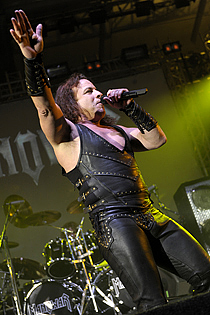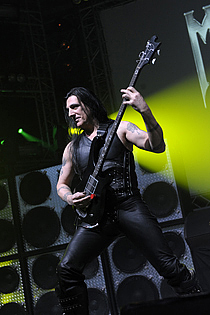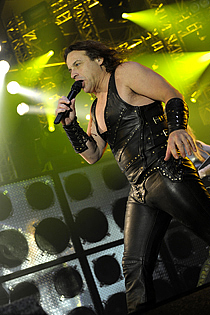 Music & Performance
One could describe MANOWAR's music with one word: MANOWAR. They have managed to form a very own style of music with catchy guitars, singing about the glory of metal and Norse mythology, always appealing for metal heads worldwide. At about half past ten it was time for MANOWAR to enter the stage. Behind the band, pictures were projected all the time, both, album covers as well as flames, matching the songs and giving more atmosphere to the rather simple stage.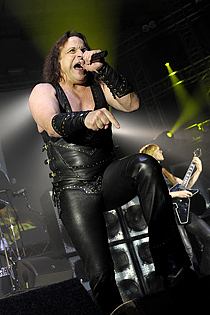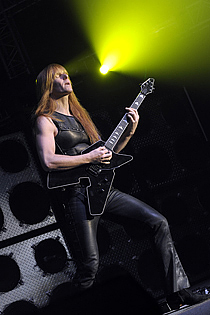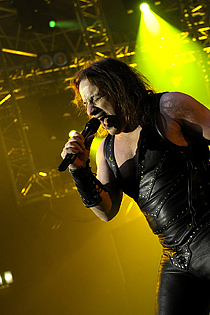 They were performing with both, passion and fun, something that seems rare for metal bands sometimes. They were using the time between songs to joke around a little or prove their German skills, introducing their new motto "Das Leben ist zu kurz für diese Scheiße" ("Life's too short for that kind of shit"). Also, they gave two fans probably the time of their lives, when they got a guy and a girl on stage: while the girl was dancing, the guy was given a guitar and allowed to accompany the band for a song.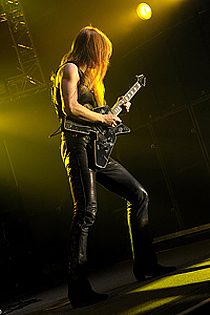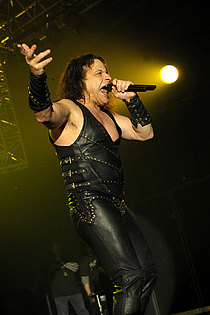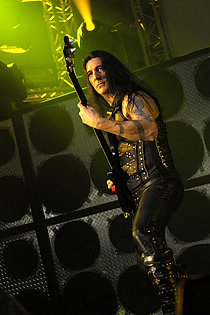 Of course the band itself was performing with such ease, as if they have never done anything else - one did truly notice their thirty years of experience. But the focus was not on a pompous show, they focused more on the music, a fact many fans seemed to approve very much. The biggest minus, and actually the only real one, was to overdone volume against which sometimes even the hearing protection did not help much and which made it hard to understand them.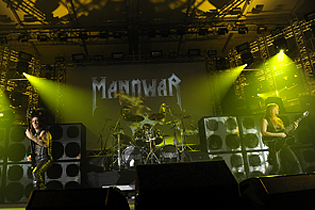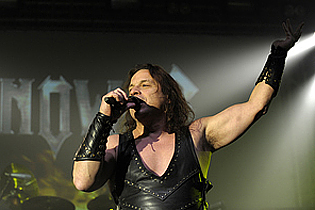 Of course the show seemed by far too short, but it was ended with the inevitable MANOWAR pose and left the audience hoping for their next tour.
Setlist

01. Call to Arms
02. Hand of Doom
03. Kings of Metal
04. God or Man
05. Swords in the Wind
06. Die for Metal
07. Die with Honor
08. Let the Gods Decide
09. The Sons of Odin
10. The Gods Made Heavy Metal
11. Sleipnir
12. Loki God of Fire
13. Thunder in the Sky
14. Warriors of the World
---
15. House of Death
16. Black Wind, Fire and Steel
17. The Crown and the Ring
Rating

Music: 9
Performance: 10
Sound: 6
Light: 8
Total: 8.7 7 10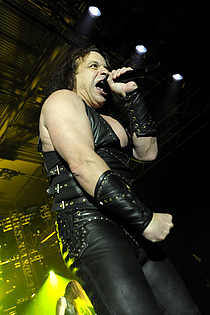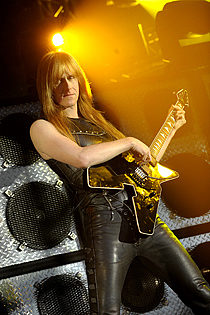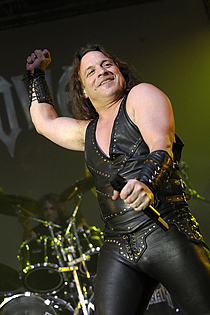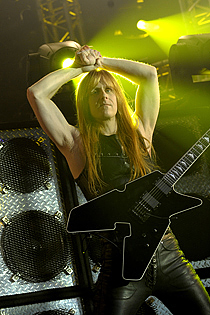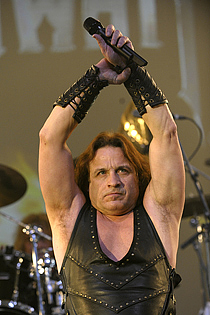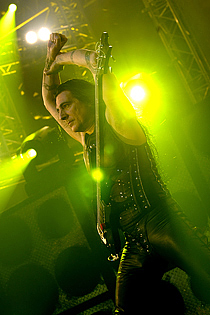 All pics by Marco Hammer
{jos_sb_discuss:17}