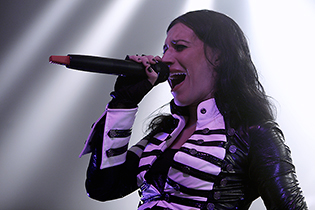 Essigfabrik, Cologne, Germany
24th February 2010
Lacuna Coil, Dommin, Deadlock

On a cold February evening, I made my way to the Essigfabrik in Cologne where Italian heavyweight LACUNA COIL was on schedule. The admission went by flawlessly and soon I got into the warmth of the cosy little club and waited for the things to come.
Deadlock
DEADLOCK has been founded in 1997 by Tobias Graf, Sebastian Reichl and Johannes Prem as pure Death Metal project. After a first, self-titled debut 7" the band found first recognition in the music press in 2000, following the release of their EP 'I'll Wake You When Spring Awakes'. The label Winter Recordings, who released that EP, also would go on to release the first full-length 'Arrival' in 2002. It showed significant improvement and evolution already from the EP and with every of their following albums that now would be released by Lifeforce Records, they kept true to that path. Their newest record is called 'Manifesto' and was released in 2008. DEADLOCK is Johannes Prem (harsh vocals), Sabine Weniger (clean vocals), Sebastian Reichl (lead and rhythm guitars, keyboards), Gert Rymen (rhythm guitar), John Gahlert (bass guitar) and Tobias Graf (drums).
http://www.myspace.com/deadlock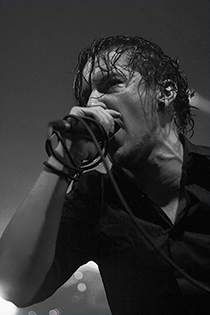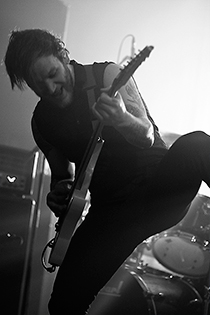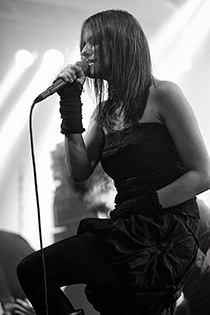 Music & Performance
Within the music they presented, the band fused the delicate guitar play of the classic Metal with rhythmic elements of rather extreme forms of Death Metal, always supported by synthetic melodic accentuation, created with the help of synths, keys etc. The design of the vocals tuned out quite diversified as well. The harsh growls of singer Johannes always alternated with clean, melodic chant by Sabine and catered for enough contrasts in that department. Unfortunately, the 6 on stage were extremely limited in their motion radius by the instruments of the other bands that would be playing tonight. Nevertheless, it was much fun watching and listening to them. The interaction between the audience and the band was already pretty good and there seemed to be some kind of chemistry between everyone. The show ended already after 30 minutes, much too early in my humble opinion.
Rating
Music: 9
Performance: 7
Sound: 8
Light: 6
Total: 7.8 / 10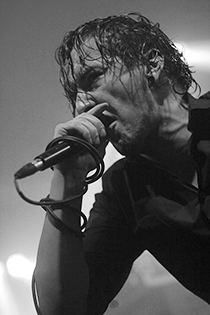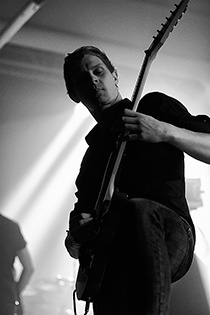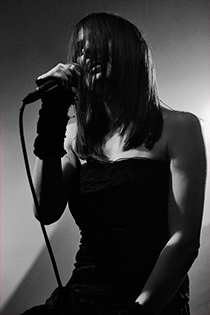 Dommin

The start of what was to become DOMMIN has been made already in the year 2000, when first songs were written. For a couple years it was a mere project, but with the addition of Billy James as keyboard player, a chain reaction had been started and over the following years, the project would grow to a real band. However, it was not before the present year that DOMMIN would be releasing their first official album with the title ' Love is Gone'. DOMMIN are Kristofer Dommin, Billy James, Konstantine and Cameron Morris.
http://www.dommin.com/
/
http://www.myspace.com/dommin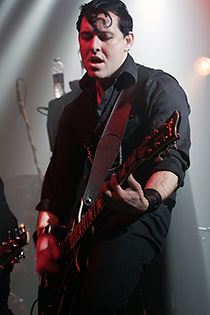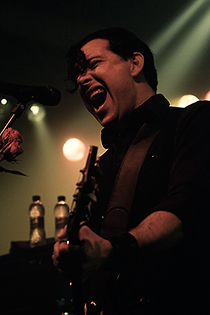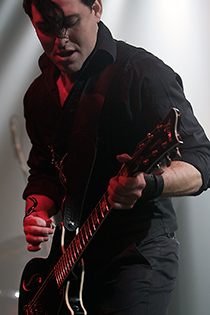 Music & Performance
The band not only convinced with their music, but also with their way of presenting it to the audience within their 30 minutes long set. I had the impression they've gathered lots of stage experience already, and I appreciate it very much if music is presented in a convincing way. I'm pretty sure this won't be the last time we've heard of DOMMIN. A band, able to stir an audience like that must have a bright future ahead of them. So here's my advice for you: Listen to them or even better, if you get the chance, attend a show if they're playing somewhere near you. If something is really good time flies, and it was like that with the DOMMIN performance. While the stage hands already rebuild the scenery for the main act, I thought it was a good idea to head over to the merchandize booth and look for a CD of them. Too bad my efforts were in vain as they've simply forgotten to bring some.
Rating

Music: 9
Performance: 8
Sound: 8
Light: 7
Total: 8.3 / 10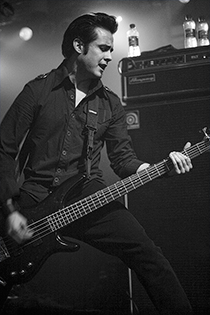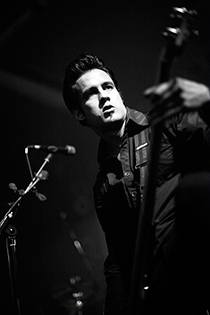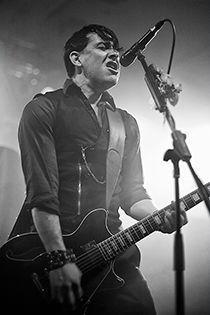 Lacuna Coil

Starting in 1994 under the name SLEEP OF RIGHT and one more name change, finally two years later the band name LACUNA COIL was found. At that time the band consisted of six members with singers Christina Scabbia and Andrea Ferro in front. Short time after the first two demo songs had sent out, label Century Media made the offer to sign them. The first live experiences weren't very good and during the first tour, half of the members left the band. Back in Milan they completed the band again and worked further on their career. 2000 was the year when the name LACUNA COIL appeared in the line-up of any big festival and some years later - in 2004 - they played US Ozzfest what brought them a big break through across the ocean. In April 2009, the most recent album 'Shallow Life' was released. LACUNA COIL are Cristina Scabbia (female vocals), Andrea Ferro (male vocals), Marco Coti Zelati (bass), Cristiano Migliore (lead guitars), Marco Emanuele Biazzi (lead guitars) and Cristiano Mozzati (drums & percussions).
www.lacunacoil.it/
/
www.myspace.com/lacunacoil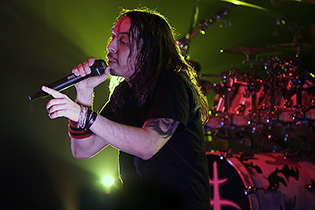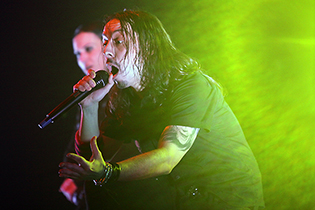 Music & Performance
At 9:30 PM, the time had finally come and LACUNA COIL entered the stage to an already excited crowd, waiting to get even more excited, and that they would definitely manage. They started the show with a couple songs from their most recent album 'Shallow Life', before playing one of their biggest hits with 'Closer', getting the crowd's mood to unknown spheres in unbelievable heights. The assembled setlist comprised a more than successful collection of tracks of the aforementioned record, as well as off 'Cornalies' and 'Karmacode'. It was highly impressing to see that a show like that with such good sound was possible in such a comparatively small club like the Essigfabrik.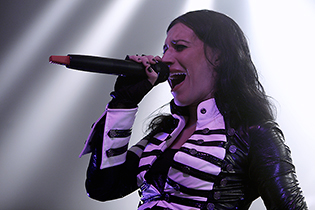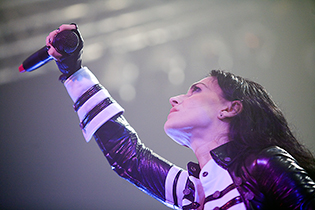 The audience showed their appreciation with swelling applause by which the band got visibly excited. In the midst of that admittedly impulsive show, Christina injected a serene moment with her solo performance of the short, soulful ballad 'Wide Awake', prior to which she disappeared to come back with a beautiful new dress. Afterwards, the show continued with 'On The Edge' and the complete line-up. One could get the impression that it would go on like that forever, and if they were granted more time than the 2 hours they've played I guess they'd have added another one. However, the show then ended at 11:15 PM after a triple encore. With a content smile, some ear worms and with the knowledge of having attended the shows of 3 really good bands, I headed back home. Many thanks to everyone at the Essigfabrik who helped making this a great evening by doing a great job.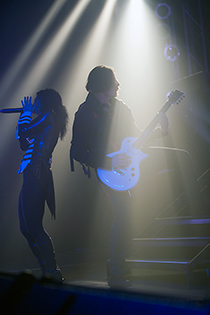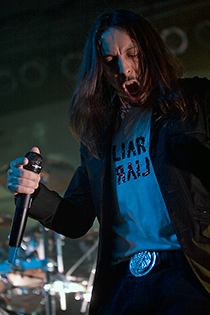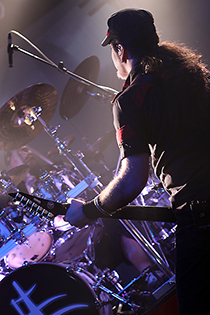 Setlist

01. Survive
02. Underdog
03. Closer
04. I'm not afraid
05. Fragments of Faith
06. Tight Rope
07. 1:19
08. I won't tell you
09. Heavens a lie
10. Fragile
11. Wide Awake
12. To the Edge
13. The Maze
14. Swamped
15. Enjoy the Silence
---
16. Not Enough
17. Spellbound
18. Our Truth
Rating

Music: 10
Performance: 9
Sound: 9
Light: 9
Total: 9.4 / 10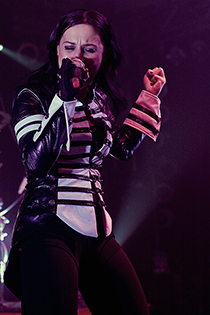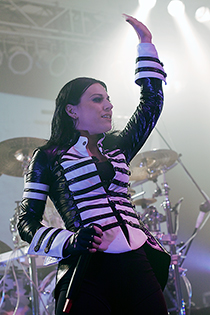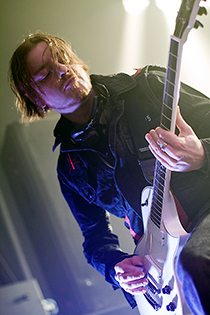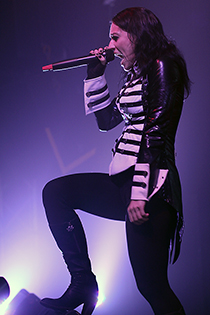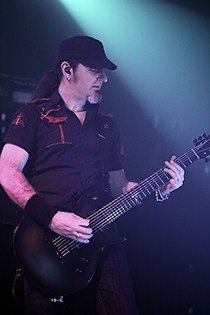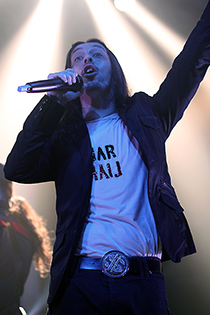 All pictures by Marcus Nathofer. Translations by Sebastian Huhn
{jos_sb_discuss:17}