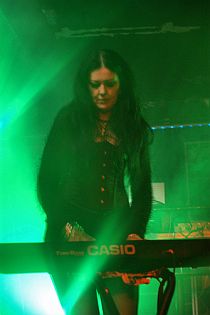 Electrowerkz, London, United Kingdom
6th March 2010
Midnight Configuration, Inertia, Deadfilmstar, Lupine

I've been waiting to see these bands for a few years now. Actually in the case of MIDNIGHT CONFIGURATION it's probably closer to a decade I've been waiting. Each one is either a veteran or soon to be firmly established name in the UK Goth scene. These four strong names are performing in the now legendary Electrowerkz in Islington, North London - the weekly home of one of the world's premier Goth clubs, Slimelight. Prior to the first band taking the stage Nightbreed Recordings head and MIDNIGHT CONFIGURATION front man Trevor Bamford excitedly tells me how good the sound is in the club, and how he can't remember when they sounded that good… in other words it's promising to be one of the years premier Goth gigs.
Lupine

LUPINE are the first band up. In a scene with such a rich and varied history of bands LUPINE are currently doing a good job of embodying thirty years of UK Gothic rock tradition in their darkly danceable style of Darkwave. The band has a twelve year history of giving great live performances and a catalogue of steadily improving recordings that have been well received by the UK scene at large. There forthcoming EP 'Undecided Suicide' and the next run of live dates looks to build on this already solid foundation.
www.myspace.com/lupinegothicrock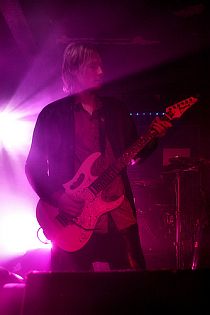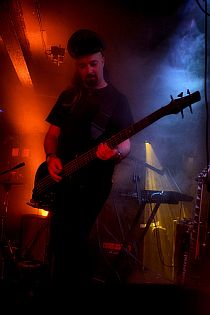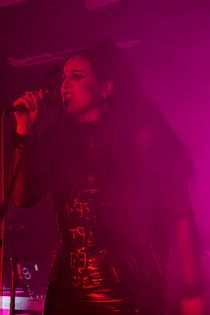 Music & Performance

The band emerged on stage to little pomp and circumstance and in true rock and roll style begin to hurtle through their set list. The music is tight, and the vocals pitch perfect with tracks such as 'Broken Wings' 'X' and 'Gothic-Techno' being performed with serious passion. I've often heard they sound just as they do on their records when they play live, so even those that may only have heard tracks on their MySpace profile would feel a certain sense of familiarity. Their between song banter is limited between songs as they try to cram as much music in as possible but what there is, is quite funny. The band is joined on stage by Trevor Bamford at one point to contribute his backing vocals to their performance which gave the proceedings a very communal feeling. They soon left the stage with the crowd buzzing for more.
Rating

Music: 7
Performance: 7
Sound: 9
Light: 8
Total: 7.5 / 10
Deadfilmstar

Next up was DEADFILMSTAR. They have been slithering their way through the scene for a few years and on the back of the abrasive debut album 'A.rtistic I.ntegrity' have been securing some great support slots with the likes of MORTIIS and KMFDM. Having discovered them a few years ago through their demos of 'Rockstar Dead' and 'Hello Cruel World' I waited for their debut album with baited breath only to be thrown a curveball by it's lo-fi cyber-industrial style instead of the familiar sleazy industrial rock. I liked the album a lot though, but was puzzled as to how those tracks would work live. But with the new album 'The Inevitable Rise & Fall of Fake White & The Ill Fated Tour' around the corner promising a return to what they do best it was going to be interesting to see which side of the fence they would be on.
http://www.deadfilmstar.co.uk/
/
www.myspace.com/deadfilmstar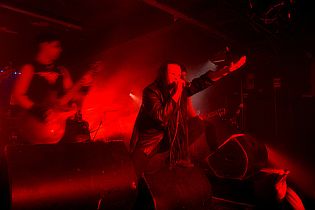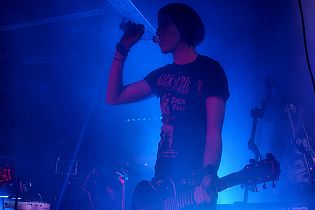 Music & Performance

The performance wasn't bamboozling in the slightest. The band gave the intensely introspective cyber-industrial a back seat and focussed on the rock 'n' roll style that had initially got me hooked. Front man Gary slithered about the stage like a cross between MORTIIS and "Antichrist…" era MANSON giving a wonderfully compelling performance. The band kept the music tight but in true rock styling looked as though they were courting anarchy at the same time throughout each thunderous track. One of the many song highlights had to be the gritty cover of DAVID BOWIE's 'Fashion' that the band handled in true Super Creep style. As the band retired back stage and I was left to wipe off the various fluids that rained down from the stage I felt that the band were on the cusp of something big.
Rating

Music: 8
Performance: 8
Sound: 9
Light: 8
Total: 8.2 / 10
Inertia

INERTIA is probably the most prolific EBM band that the UK has ever produced and who can count one GARY NUMAN as a fan. They're probably one of the hardest working bands in the UK electronic scene too with an impressive discography to their credit. Their long history has also afforded them a reputation to live up to on the live circuit that could, for a lot of bands be a tall order to measure up to on every outing. But I'm assured by one of their friends manning their merch desk that they always deliver.
http://www.inertia.gs/
/
www.myspace.com/inertia001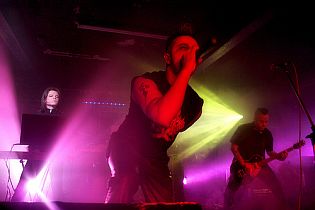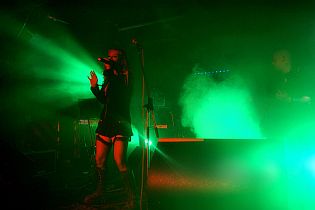 Music & Performance

Things get off to a shaky start for the band, which is a shame especially seeing as it isn't their fault. Their frustration visibly aimed at the mixing desk they seemed to have been struck with the old "Good sound check, bad show" curse. I've seen plenty of electronic bands drop the ball after two songs when the sound guy is screwing up, but to INERTIA's credit they persevere and the audience wins out with a fantastically energetic performance. Thoroughly in their stride the band mix up the dynamics with drummer Alexys taking over vocal duties for a few tracks. Also featuring was a couple of tracks from their latest all covers album including the excellent rendition of T-REX's 'Children of the Revolution' which provides a nice counterpoint to DEADFILMSTAR's earlier BOWIE cover. As they leave the stage the band's prowess as performers is beyond question and their well deserved reputation remains intact.
Rating

Music: 9
Performance: 8
Sound: 7
Light: 8
Total: 8.3 / 10
Midnight Configuration

If you didn't already know, MIDNIGHT CONFIGURATION are the musical vehicle of Nightbreed Recordings maestro Trevor Bamford and quite rightly enjoy a fearsome live reputation. Trevor Bamford's contributions to the UK Goth scene are unquestionable, and if the reaction to the latest Nightbreed Recordings compilation release is anything to go be it's certainly well appreciated. The band are looking forward to a busy year, as a post performance Trev confides in me, with the release of a new MIDNIGHT CONFIGURATION album entitled 'The Unquiet Void' as well as a possible release of a double disc best of 'Demons Are…' that was originally slated for release by a Russian record label last year.
www.myspace.com/midnightconfigurationofficialpage
Music & Performance

It's probably fair to say that everyone in attendance owns a few Mid Fig albums so no matter what era they pick from the reaction is always good. Included are a couple of tracks earmarked for the next album - the ferocious 'Something About England' and the infectious 'Unholy Beat' which may not be as familiar to a lot in attendance as say the bluegrass infused 'Devil Dance', or apocalyptic industrial of 'Lucifarian', but they never-the-less get the crowd going all the same. It's hard to not give the band top marks as they rip though a big set list and call upon their veteran experience to get the, by now, worn out crowd into their set and onto their feet. After the performance I was honestly kicking myself for not having made more effort to see them before hand, but honestly was left looking forward to seeing them again.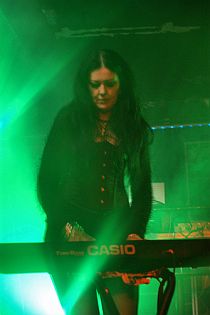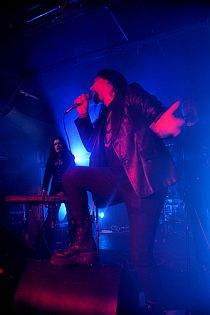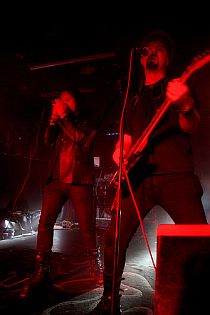 Setlist

01. Intro (Carnival of Souls)
02. Darkness Be thy Name
03. Resident Evil
04. Lucifarian
05. Sinister Sinister
06. Funeral Nation
07. The Fall of Marianne
08. Something about England
09. Unholy Beat
10. Voodoo for You
11. Demonize
12. Devil Dance
Rating

Music: 9
Performance: 9
Sound: 9
Light: 8
Total: 8.9 / 10
All pictures by Sean M. Palfrey/Imago Mortis Photography.
{jos_sb_discuss:17}