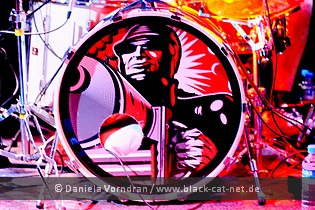 Bastard Club, Osnabrück, Germany
21st June 2010
KMFDM

KMFDM are doin' it again and again! In 2009, the self-proclaimed fathers of Industrial Rock released 'Blitz', their 26th album since 1984 when you count in compilations, live albums and remix albums as well! After touring North America and Europe with 'Blitz', KMFDM released the remix album 'Krieg' this year, followed by yet another tour. KMFDM was founded in 1984 as an art & performance act which soon evolved into a fully-fledged which combined Techno and EBM with Metal and Rock - back in the eighties a pretty odd combination but in the 1990s it brought KMFDM major success in the US, where KMFDM's founding father Sascha Konietzko lived from 1991 to 2007.


KMFDM sold over 2 million records in the USA alone, were spearheads of the American Industrial Rock movement along with MINISTRY and NINE INCH NAILS and played massive shows in the US throughout this decade. Konietzko neglected his home country Germany for quite a while, last but not least as KMFDM were never as successful here as in the Anglo-American countries. Over the last few years this has changed and KMFDM tours Germany and the rest of Europe a lot, in particular since Konietzko moved to Hamburg with his wife and fellow band-member Lucia Cifarelli in 2007. KMFDM live on stage are Sascha Konietzko (vocals / programming), Lucia Cifarelli (vocals, sound manipulation), Jules Hodgson (guitar), Andy Selway (drums), and Steve White (guitars). http://www.kmfdm.net/ / http://www.myspace.com/officialkmfdm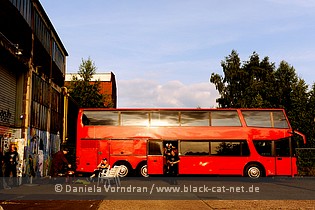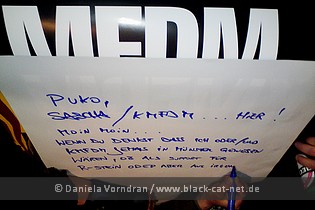 Music & Performance
Well, KMFDM's gig in Osnabrück, Germany, was truly under-promoted. Apart from being listed on the band's homepage I didn't notice any further promotion, and local media apparently didn't waste a single word to announce the event. Truly a shame! So many fans from this area rather bought tickets for the KMFDM show in Cologne as they never heard about a gig in Osnabrück. When we arrived at the Bastard Club, located in a suburban industrial estate, all was quiet and peaceful und there were less than a dozen fans on the pretty empty parking slot at the side of the club. When we went around the corner to head for the entrance of the club we actually caught the band having a little barbecue in front of the club! It was half past seven - thirty minutes after doors open - but Konietzko seemed to be surprised that some fans turned up already. No reason to stop the barbecue, though, so the band members enjoyed some steaks for lunch while some fans enjoyed some beers and a chit-chat with the band members. Never witnessed such a relaxed start of a concert night like this!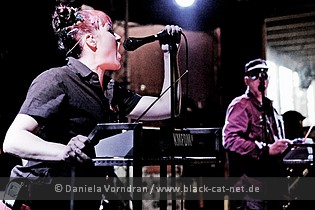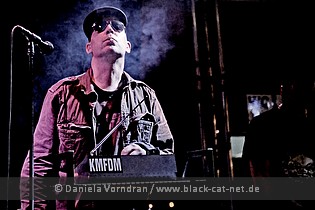 After his barbecue lunch Konietzko said "Okay guys, let's go inside" and while the band prepared themselves for the show the fans killed some time at the bar or at the merchandise stall, where you would get extra-long customer service simply because the friendly merchandiser had the time for it. The Bastard Club is probably twice the size of a living room and still it was quite empty - I counted 27 (in words: twenty-seven!) attendees, and this included my humble self and our photographer! KMFDM, however, would drift off their course just because of the low attendance and after Lucia Cifarelli welcomed everybody "to a very intimate KMFDM show", they started with the roaring classic 'D.I.Y.'. The sound was very loud and sharp and while Cifarelli invited people to come closer to the stage, Konietzko refuted "No, the sound is much better in the back!" But no matter where you stood at this show, you were never more than five meters away from the stage. A very small club indeed! And a stark contrast to the last time I saw KMFDM live, which was in front of a 2,000+ audience at the second stage of the Amphi Festival last year.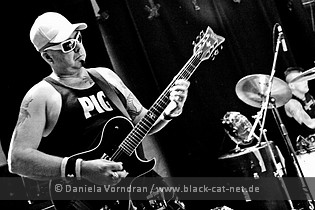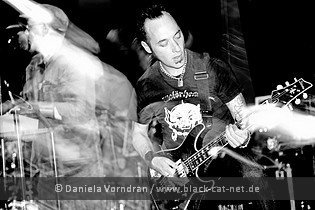 That Monday night in Osnabrück was a totally different experience, and I have to say it was even more enjoyable and simply… better! Enjoying such an intimate show by a great band like KMFDM is a rare thing, and it was quite fun-filled. This night's setlist was pretty similar to the one from last year but I didn't mind this at all, we got almost all the KMFDM tunes we wanted to hear. 'Bait & Switch' and 'Potz Blitz' from the last studio full-length, 'Hau Ruck' from the 2005 album of the same name, 'Looking For Strange' from 2008's 'Tohuvabohu', 'Son Of A Gun' from 'Xtort' (1996), and so on and so forth. The performance itself was powerful and impressive, and especially Lucia Cifarelli wowed me with her great voice and her peppy and dynamic stage presence. Konietzko on the right hand played Mr. Cool, as usual, and his vocals were at times a bit too low in the sound mix. The only complaint regarding sound and performance this night!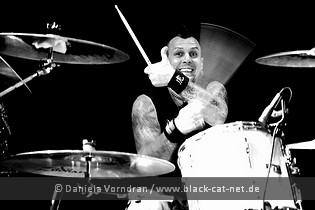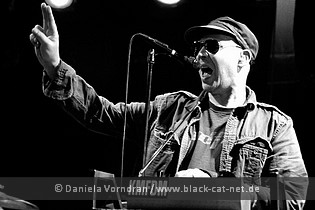 Of course there is no KMFDM show without the big 1990s classics 'Megalomaniac', 'Light' and the high-speed 'A Drug Against War', which made the not-so-big "crowd" dance a bit more. KMFDM left the stage and came back after a minute to blast the noisy 'WWIII' through the PA, which even caused some pogo dancing among the few fans. 80% of the audience in the mosh pit, "Sitting room Pogo" as Konietzko stated. Not too bad! But in this case it just meant that 20 people found some joy in jumping around in the silliest ways. Well, it was fun! KMFDM finished their show with 'Godlike', their first big club hit from 1990, and left the stage. About ten fans insisted on hearing more, especially when they discovered that the song 'Adios' was on the playlist but not played, but the band rather continued their barbecue in front of the club and invited everyone to join in. But Konietzko asked to "be silent please, my young daughter is sleeping in the bus!" Erm, okay, if the KMFDM gig didn't wake her up a dozen people having barbecue including some fans getting stuff signed won't, either!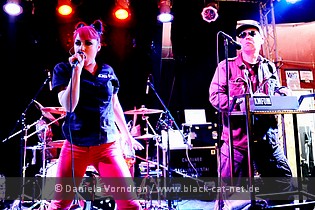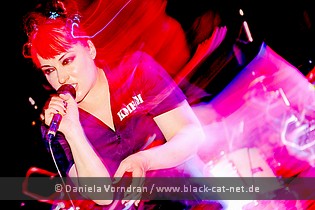 A very strange, very intimate and very funny night with KMFDM! The first time I saw them live was in 1990, about eight or nine KMFDM shows followed for me, and this strange Monday night in Osnabrück, Germany, is probably one of the best KMFDM shows I had the pleasure to witness. And it's the only show which included a barbecue!

Setlist
01. D.I.Y.
02. Bait & Switch
03. Tohuvabohu
04. Son Of A Gun
05. Hau Ruck
06. Looking For Strange
07. Potz Blitz!
08. Attak / Reload
09. Saft + Kraft
10. Megalomaniac
11. Light
12. Free your Hate
13. A Drug against War
---
14. WWIII
15. Godlike

Rating
Music: 9
Performance: 9
Sound: 8
Light: 7
Total: 8.6 / 10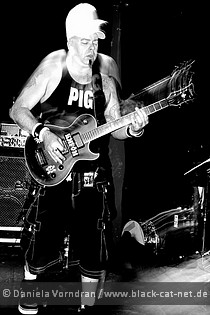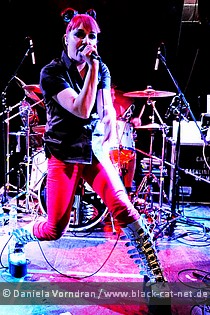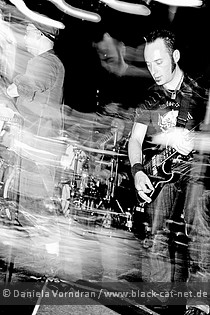 All pictures by Daniela Vorndran (http://www.vorndranphotography.com/ / http://www.black-cat-net.de/ / www.myspace.com/vorndranphotography)

{jos_sb_discuss:17}