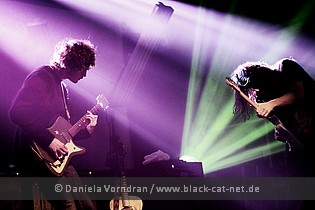 Stahlwerk, Düsseldorf, Germany
29th November 2010
MGMT, Smith Westerns
Snow, snow, everywhere snow… best conditions for everything to be late. But quite the contrary happened and earlier than expected I reached the venue where the doors hadn't opened yet with a string of eager fans, waiting to finally get in.
Smith Westerns
The SMITH WESTERNS have been founded in 2007and have this far put out one self-titled album in June 2009. The next one, going by the name of 'Dye It Blonde' is scheduled for an early January 2011 release. SMITH WESTERNS are Cullen Omori, Cameron Omori, Max Kakacek and Colby.
http://www.myspace.com/smithwesterns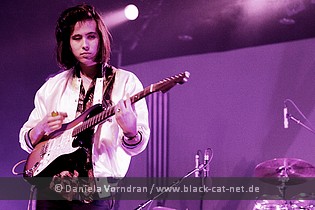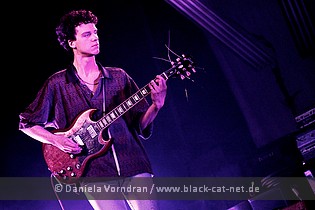 Music & Performance
Quite early after getting into the warmth, the support band of the evening SMITH WESTERN were entering to an expectant crowd. The young guys started it with a lightly melancholic 'Tonight' that reminded extremely of soft rock by its sound, but also showed the guys are good with their instruments. Unfortunately, that's it already concerning spectacular things about this performance. Ranging from melancholy tunes to rather upbeat and driving; rocking tracks the band presented a mixed bag of moods, just as a potpourri of older and new songs from the upcoming album. The audience requited nearly everything with a constantly increasing cocktail of screams and clapping. Thus, it's still been a successful performance for four-piece.
Rating
Music: 5
Performance: 5
Sound: 6
Light: 7
Total: 5.5 / 10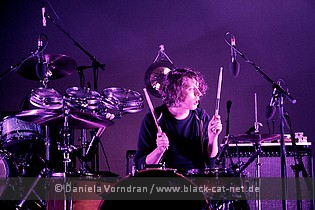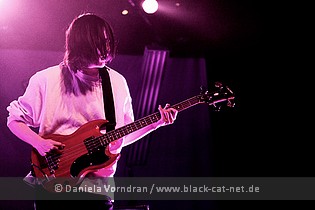 MGMT
MGMT began their career as THE MANAGEMENT in 2002 before shortening their name. The band is composed of Ben Goldwasser and Andrew VanWyngarden who met while studying experimental music in Connecticut. The debut 'Oracular Spectacular' became a spectacular success and spawned hit singles such as 'Kids' or 'Electric Feel', gaining the band widespread acclaim both from critics and music fans. In April 2010 then, the duo let loose their sophomore 'Congratulations' which has gotten a fairly different, psychedelic adventure compared to their second one.
http://www.whoismgmt.com/de/home
/
http://www.myspace.com/mgmt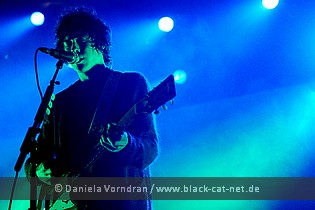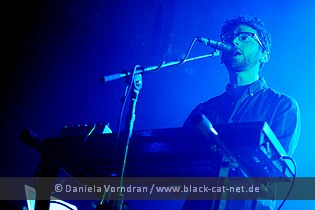 Music & Performance
A long tome of waiting followed, which people used widely to get a better view on the stage that would remain empty for some time still. A psychedelic, flute intro then marked the coming of MGMT and preceded the first track 'Of Moons, Birds And Monsters' that had a lot of rhythmic shifts and terrific solos for the fans, breaking into sheer rupture and screaming after the song ended as they would do with every of the following songs. With the second song 'Flash Delirium' coming up, the mood went off the scale. A mostly calm adventure followed with only occasional rock bursts. Third one this evening was 'Weekend Wars' and turned down the tempo eve more, emphasizing freaky vocal windings even more. After 'I Found A Whistle' brought more acoustic flourishes into the venue, 'Time To Pretend' came as a really enjoyable crowd pleaser that had everyone chanting along the lofty synth melody.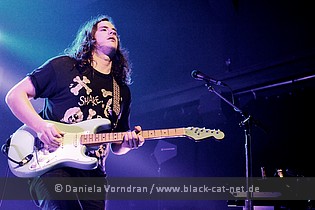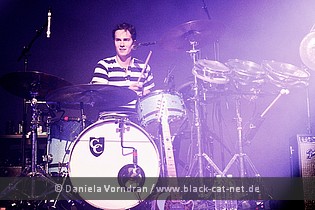 The later played 'Electric Feel', really brought that feeling to the table with its entwined, playful rhythms and head nodding was just one reaction coming back. If there's one particular track that you could call a super hit in the set of MGMT that evening, I'm pretty sure 'Kids' is be it. These melodies and the chorus wouldn't leave anybody stand still there. The fast paced 'Brian Eno' then ended the main part of the program which of course couldn't be the end of the night already, so the band was coming back to play two more tracks. The evening came to its end eventually with 'Congratulations', and that's a compliment you can make the band as well for presenting a cool show in Düsseldorf.
Rating
Music: 8
Performance: 8
Sound: 7
Light: 8
Total: 7.9 / 10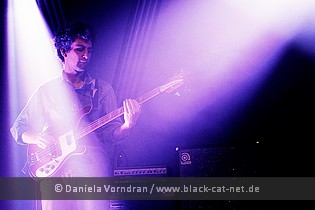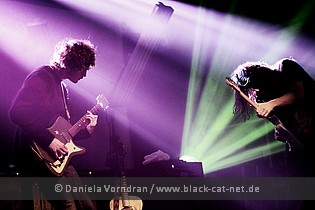 All pictures by Daniela Vorndran (
http://www.vorndranphotography.com/
/
http://www.black-cat-net.de/
/
www.myspace.com/vorndranphotography
)
{jos_sb_discuss:17}