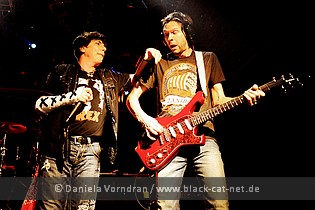 Matrix, Bochum, Germany
4th June 2011
Mr. Big, Andy Brings

MR. BIG were back already last year with a new album called 'What if' with the original members and now they are presenting the album live around the world. The expectations were high after the Live CD and DVD 'Back to Bukodan' (2009). MR. BIG in best form and you can't enough of them. The Matrix wasn't sold out, but for sure not far away from this point. It was loud and hot and the guys just rocked the house and should know that they are still really welcome. German rocker ANDY BRINGS was responsible to warm up the audience.



Andy Brings

Once and for all ANDY BRINGS has nothing to do with the German group BRINGS from Cologne. He was guitarist and songwriter in the German trash metal group SODOM from 1991 until 1994, touring with them through Germany, Europe and Japan. Since 2007 he is doing his own thing. The first single 'Wildes Mädchen' was produced by Uwe Hoffmann and went up at once into the Top 100. In his band, there are great musicians like guitarist Peter Fischer, Drummer Tim Husung, Ex-BANAROO Steffy Dreyer and the dark angel at the keyboard Leandra Ophelia Dax (Apoptygma Berzerk, Jesus on Extasy among others). Andy says: "I'm only interested in two things in life - people and music! Nothing is more important to me! It doesn't matter what kind of rock music, I just want to have the best possible song at the end and the coolest performance. This is what I'm working for! With myself, with other musicians in the studio or in the rehearsal room. It doesn't matter in which stadium the band is, you can always make something with the arrangement, song structure and how it all comes together. I'm there where music is happening and then we are making the best of it." www.andybrings.de / http://www.myspace.com/bringsandy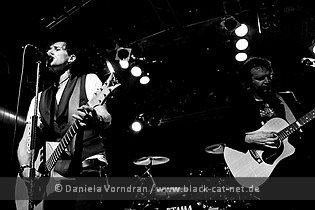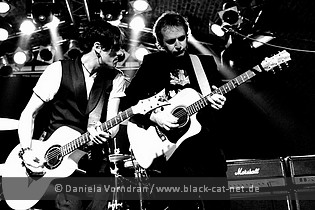 Music & Performance
Normally, ANDY BRINGS plays concerts with his full band, back ground singers and dancers. This time as support for MR. BIG he came just with his guitarist Peter Fischer and they played an acoustic set. They started the set with 'Schlaflos'. Those who knew Andy's music were singing along, though it seemed this were not too many. It's always hard to be the opener. Some people enjoyed what he was playing and supported him, some people let him know that they want just MR. BIG right now. ANDY BRINGS was always a fighter and he enjoys what he is doing, you can see and hear it. He was making his jokes and preferred to have "all the hot girls in front of him instead of any guitarists". Andy played a German set, but ended it with his version of 'C'mon and love me'. For those people who thought his set was too slow or whatever I can say give Andy another chance and join his concerts when he is playing with his band. I'm sure you will enjoy it and have your fun. Andy lives music from head to toe.

Setlist
01.Schlaflos
02.Tut mir leid
03.Nur meinen Körper
04.Lass das Licht noch an
05.Wildes Mädchen
06.Vögelarten
07.C'mon and love me (Kiss)

Rating
Music: 8
Performance: 8
Sound: 7
Light: 6
Total: 7.5 / 10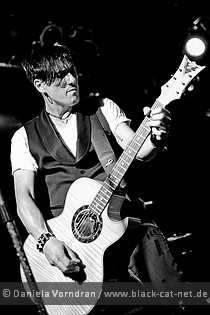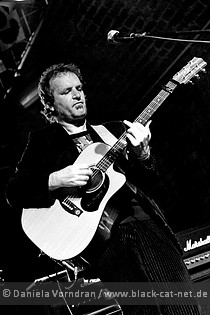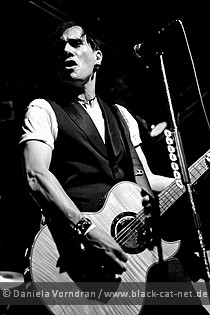 Mr. Big

MR. BIG are back with their first studio album in 14 years by the original members. The new album entitled 'What If...' was produced by Kevin Shirley (Aerosmith, Rush, Iron Maiden). The album was released in early 2011 on Frontiers Records and is now followed by a World Tour beginning in South America in March. 'What If...' is the follow-up to 2009's highly successful 'Back To Budokan' CD/DVD which marked the band's triumphant return to Japan with a sold out show at legendary Budokan! Formed in 1988, MR. BIG forged its place in hard rock history by combining trademark "shredding" musicianship with awesome vocal harmonies. The original line-up is vocalist Eric Martin, guitarist Paul Gilbert, bassist Billy Sheehan, and drummer Pat Torpey. MR. BIG produced numerous hit songs that ranged across a wide array of rock genres, be it ballads, heavy metal, or blues rock.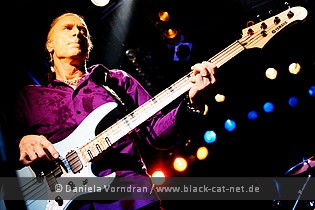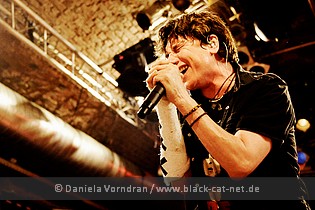 Their hits included 'To Be With You' (Billboard Hot 100 number one single in 15 countries for weeks, in 1991, propelling the band the band to huge international success and record sales in the multi-millions), 'Wild World', 'Just Take My Heart', and a host of heavy metal songs that were played mostly during their live performances: 'Daddy, Brother, Lover, Little Boy', 'Addicted to that Rush', 'Colorado Bulldog', and 'Take Cover'. Each of the members of MR. BIG is also a reputable virtuoso in the music industry. Billy Sheehan has won dozens of "Best Bass Player" awards in numerous magazines, including an unprecedented 14 years in a row from Player Magazine, Japan's number-one music magazine. Paul Gilbert is recognized as one of the top guitarists of this generation. Aside from the tons of albums he released since his departure from MR. BIG, he frequently holds clinics and designs guitars for Ibanez. Pat Torpey has been conducting clinics for Tama drums and has been releasing instructional albums as well. www.mrbigsite.com / http://www.myspace.com/mrbigmusic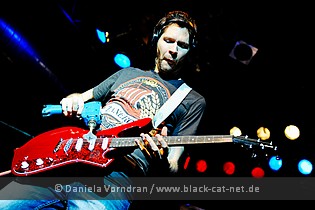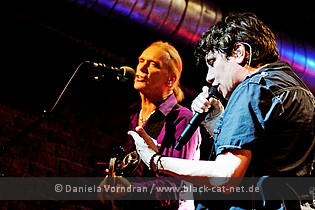 Music & Performance
Last time I've seen MR. BIG was as support for AEROSMITH in 1993 - long time ago and great to have them back. The band performed in the original line-up and came to blow us all away right from the start. They started the set with the first single from the new album and the audience went mad directly. Eric Martin had his right arm in gypsum, which wasn't a handicap for him at all, but the temperature in the Matrix was disgusting. The sound in the Matrix is never quite good and it was really loud, but due to additional speakers quite good this time. On the other hand you must hear this kind of music as loud as possible. Paul Gilbert must know this place already well. He had played a few times in the Matrix on his own in the last years. Eric was jumping around and he is still one of the great voices. He was always in contact with the audience, talking to the fans or with sign language. The guys were sweating like their fans and sometimes I was scared that Eric will just collapse, so hot it was. Well, what can I tell you about Paul and Billy what you don't know already? Both are famous for a special way to use a guitar and bass. It's just a joy to listen to them and see them perform. Of course also this time the Makita cordless drill was used by them during 'Daddy, Brother, Lover, Little Boy'. Paul was also playing with his teeth from time to time. While playing 'Price you gotta pay' one of the roadies stood behind Bill to keep on playing bass while Bill was playing the mouth organ. Eric Martin has done the part of the roadie before, but it was not possible at all with his broken arm. Also when Billy and Paul were jamming together it was just amazing. Don't want to forget Pat Torpey who has done a great and fantastic job as well behind the drums.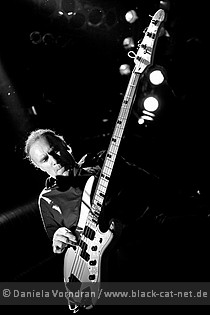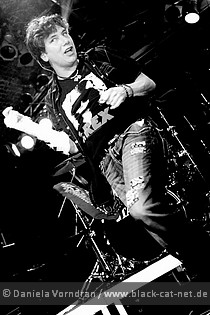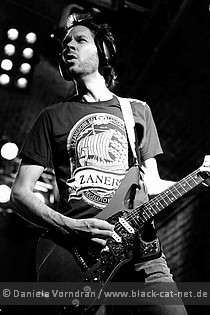 Eric tried to arrange a big singing choir with the audience, but that hasn't work out well. He asked the audience if they are glad that MR. BIG is back and received a storm of enthusiasm. Eric said he is glad as well. 'Addicted to rush' was the end of part one. 'Wild word' was the beginning of the encores and the audience was singing along with Eric, especially at the following song 'To be with you'. The fans kept on singing while the song was already over. The end came too soon and the last song was 'Shy Boy', a song from Billy's first band TALAS. I was hoping for 'Just take my heart'; I always loved this song more than 'To be with you'. But you can't have it all and it wasn't the No. 1 song. So guys when you finished touring around the world just start again and come back. You are no strangers in our lives.

Setlist
01. Undertow
02. American Beauty
03. Daddy, Brother, Lover, Little Boy (The Electric Drill Song)
04.Green-Tinted Sixties Mind
05. Take Cover
06. I Won't Get in My Way
07. Stranger in My Life
08. Once Upon a Time
09. Little To Lose
10. Road To Ruin
11. Price You Gotta Pay
12. Merciless
13. Paul Gilbert solo
14. Still Ain't Enough for Me
15. Around the World
16. As Far as I Can See
17. Billy Sheehan solo
18. Addicted To That Rush
---
19. Wild World
20. To Be With You
21. Colorado Bulldog
22. Alive And Kicking
23. Shy Boy (Talas)

Rating
Music: 10
Performance: 10
Sound: 8
Light: 8
Total: 9 / 10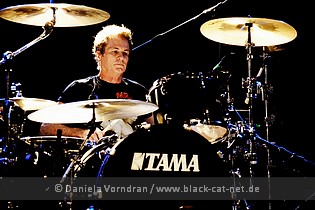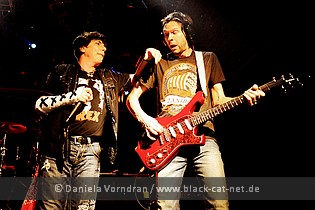 All pictures by Daniela Vorndran (http://www.vorndranphotography.com / http://www.black-cat-net.de/ / www.myspace.com/vorndranphotography / www.facebook.com/blackcatnet)