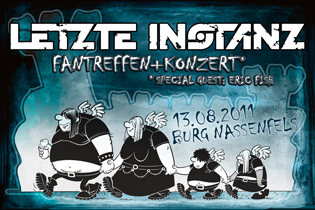 Castle Nassenfels, Nassenfels, Germany
13th August 2011
Letzte Instanz & Eric Fish

During their 'Heilig' tour, Dresden based rock band LETZTE INSTANZ came to Nassenfels on 13th of August 2011 for a special fan concert. The old castle Burg Nassenfels is in private possession and a perfect backdrop for a medieval spectacle. At the afternoon, there already was a meeting with fan club members: listen the sound check, playing Viking chess and drinking coffee with cake - organized by the fan club of LETZTE INSTANZ. www.vr-li.de



Eric Fish

Eric Fish, front man of SUBWAY TO SALLY, was standing on stage with his solo performance tonight. He received support from Uwe Nordwig (guitar, vocals), Rainer Michalek (guitar, harmonica, vocals), Gerit Hecht (piano, sound) and B. Deutung (cello). Anyone was looking forward to the show and greeted him loudly. Most friends of LETZTE INSTANZ know Eric Fish already: in 2006, he went as guest vocalist into the studio together with the LETZTE INSTANZ to record the song 'Das Stimmlein'. Uninhibited, honestly and romantically, Eric Fish places his soul, sings about his views and beliefs in head and heart, which in our current musical landscape looks like in vain.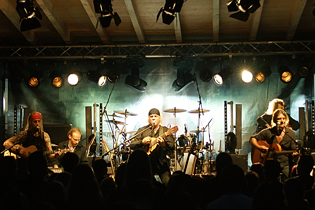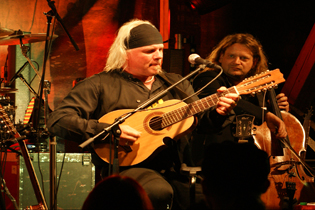 A very good mix of songs from his solo albums was received very well by the audience. All people listened carefully - whether he played or sang, and when he told stories. Slowly, it was time to lighten up the candles, but sadly, his show was quickly coming to an end. www.myspace.com/ericfishandfriends

Rating
Music: 8
Performance: 8
Sound: 7
Light: 7
Total: 7.7 / 10


Letzte Instanz

Fan concerts are always something special. Now after a long afternoon, fans were already very excited to meet their heroes and watch them later in concert. When Holly Loose (vocals), M. Stolz (violin), B. Cellini (cello), Oli (guitar), Holly D. (guitar), David (drums) and Micha (bass) entered the stage there was a long applause. http://www.letzte-instanz.de/ / www.myspace.com/letzteinstanz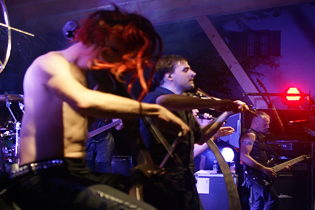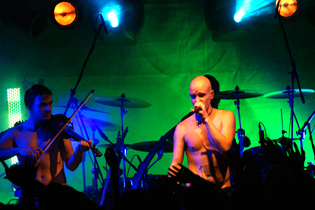 Music & Performance
After the intro, front man Holly welcomed the audience and told them that they all will be 'Heilig' (holy). He promised a mix of old and new songs and a big surprise. 'Tanz' (Dance!) was the right call and suddenly in front of the stage was a great atmosphere. The announcement of the next track was very formal: a selected fan in particular was called to the stage. Together with the complete band he performed 'Flucht ins Glück' as the singer - minutes of applause was his salary. In the warm summer night, the band was in full swing and the fans thanked them with loud vocal support to all songs. One of the highlights for me was the performance of 'Kopfkino' in an acoustic version. Over us watched the full moon through the clouds - really a great moment. After many additional songs that concert ended shortly before midnight. The last two quiet songs rounded off a great day.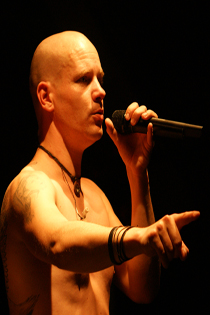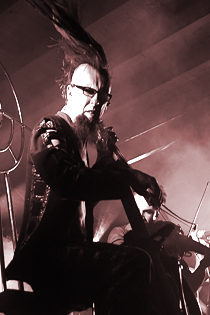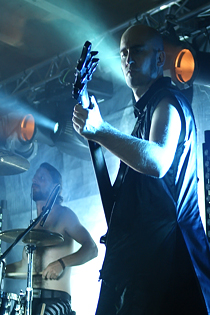 Setlist
01. Intro & Dein Gott
02. Neue Helden
03. Atme!
04. Der Garten
05. Unsichtbar
06. Tanz
07. Kalter Glanz
08. Für immer und ewig
09. Mein Todestag
10. Flucht ins Glück
11. Dein Licht
12. Monument der Stille
13. Schlaf, Schlaf!
14. Ohne dich
15. Eismeer
16. Der letzte Tag
17. Komm!
18. Finsternis
---
19. Kopfkino (acoustic)
20. Das Stimmlein
21. Rapunzel
22. Wir sind allein
---
23. Wann
24. Winterträne

Rating
Music: 9
Performance: 9
Sound: 8
Light: 10
Total: 9 / 10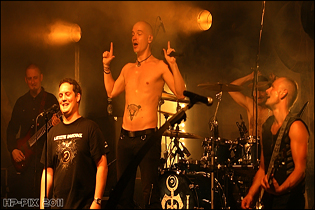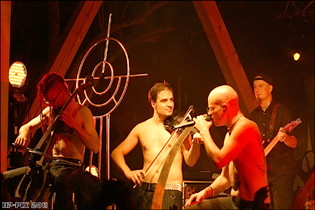 All pics by Holm Pajung