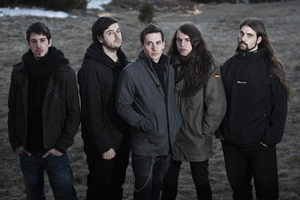 Interview with

Ricard Tolosa (bass) and Bernat Argemi (guitars) from Nami

Reflections of Darkness had a great opportunity to interview a very interesting Progressive Metal band NAMI and who just released their impressive and excellent debut 'Fragile Alignments'. Read on what they had to say…


Reflections Of Darkness (RoD): Can you take us through the band's history? How did you get together?
Ricard Tolosa & Bernat Argemi (RT & BA): Well, it was on 2007 when Sergi, Jonathan and Ricard met for the first time and started playing together. They started the main idea of what will be some years later NAMI, but anyway, it was not a long time before Bernat and Roger joined the band and offered a new perspective. Jonathan left and Filipe finally completed the line-up… We all were strangers but through those 4 years we became best friends and that is the main point.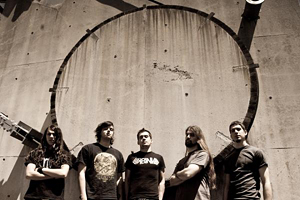 RoD: What stands behind your band's name, what can you tell us about the meaning behind it?
RT & BA: We always want things to have a meaning; the name NAMI appeared when we finally got our identity. "Nami" is a Japanese word that means wave; we wanted the name to somehow define our point of view; the different dynamics that it offers or even the fact that music (or energy) is transmitted by waves, where two of the several reasons why we finally decided for NAMI. But it's also true that we didn't think too much about the name, it came from a fairly natural way.

RoD: Your album speaks of a great attention to detail, a lot of thought and skills put into it, can you describe the creative process that went into it? I know you say freedom, optimism and sincerity, going beyond limits etc. play major role, but can you describe it in a closer detail?
RT & BA: The creative process of Fragile Alignments was long, due to the creating process of the band: we first had to know each other. The process had different stages, we spent a lot of time improvising or sometimes someone came up with an idea and then we developed it together. Anyway we first defined NAMI, its identity, we defined what we wanted to "tell", and Fragile Alignments was the result of that process.

We try to be open-minded to any kind of idea. We don't like to limit our music to one single musical style, we play what we feel, and that's the freedom, sincerity and emotion we are talking about. We see things in a positive way, and this idea is reflected in our music. We see music like a "living entity" that deserves the same treatment as a human being.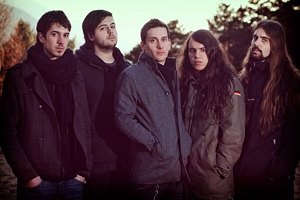 RoD: The album has its philosophy in what it has to say, could you outline it for those who might not yet be familiar with your album please?
RT & BA: Sure, there is a story that links all the songs in Fragile Alignments; it's a story of a man (that represents the human mankind) who, throughout the different songs or parts of the story, interacts somehow with the Elements (which represents Nature or "God"). Anyway, from those contacts the man will have its conclusion for an inner fight that is destroying him, and was, actually the reason of his story.

All along Fragile Alignments the man will have to choose his way, take several decisions and finally understand that he has to finish with his inner conflict. Always seen from the optimism, in Fragile Alignments we talk about the true and natural freedom of the human being. Another main point in Fragile Alignments is the importance of the Elements in the story, the fact that the man gets the understanding from (or by) them.

RoD: Can you tell us what stands as your inspiration for it, philosophically, musically and lyrically?
RT & BA: Inevitably there are lots of influences in Fragile Alignments. We are really open-minded, so our musical influences go from metal to pop, even electronic or Hardcore… bands such as GOJIRA, CYNIC, RUSSIAN CIRCLES or PERSEFONE are some examples. Anyway, we never tried to define our inspirations; actually we tried (and are trying now) to rise up our identity as a band, so we don't really like talking about inspirations or classifications.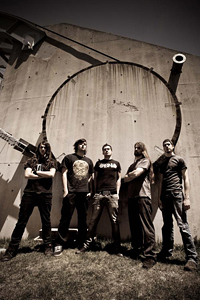 RoD: Jens Bogren [who produced also OPETH, KATATONIA, AMON AMARTH etc.] produced your album what was your experience with working with him on it like?
RT & BA: Sure it was a great experience; some of our favourite albums were mixed there… The truth is that was an honour for us being with such a great person and professional. We'll love to work together again.

RoD: Work on this took you three years if I'm not mistaken, how does it feel now it's finally out? What are your hopes for it? Your reactions to its reception so far?
RT & BA: We are more than excited for how things are going… The process was really long but the result is what we dreamed. We had some incredible comments about our work, and every one of them gave us a reason to continue sharing our work with the world. We trust in the band and work hard for things to come. We only hope that people who listen to 'Fragile Alignments' enjoy it as much as we do.

RoD: Have you any plans to make a video in future to represent your band/music visually also? What would you go for if that was the case?
RT & BA: Well we already have a video from our song 'Awakening from Lethargy'. It was directed by our friend Guillem Casal and we are planning to shoot another one where we will also perform very soon. Meanwhile, we will be posting several video blogs and updates as much as we can. You can check everything on our YouTube channel or on Facebook.

RoD: Andorra is quite an unexpected and unusual place to hear a Metal band to come from. Is there anyone comparable that hasn't just had a chance to get heard beyond the borders? What is music scene like over there?
RT & BA: The most representative metal band in Andorra is PERSEFONE; they toured with OBITUARY last year and are now recording their 4th studio album. They are very good friends of us, so check it out, you won't lose your time! You may think that Andorra is a little place without any musical scene, but the truth is that there are lots of bands doing their best to bring their music out of the boundaries of our land.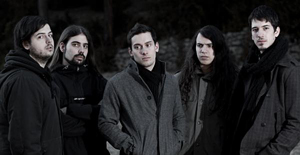 RoD: Have you already ideas for your next album, what it might be like?
RT & BA: We have plenty of ideas for the next album, anyway we are still starting the project so we can't really tell, but it's true that we try to learn every day, we change every day and so our music does. We are not planning to do a 'Fragile Alignments' version 2.

RoD: What are your plans regarding touring?
RT & BA: We just signed with a Spanish booking and management agency called Sobry Music and we are already trying to close some dates before the end of the year. We are also looking for a support tour in Europe and maybe visit Canada next year. We'll be updating our website and Facebook pages so keep tuned guys!

RoD: What would you like to say to your fans, listeners at this parting point? And on behalf of Reflections of Darkness, thank you for taking time to answer these questions.
RT & BA: First of all we would like to thank Reflection Of Darkness for making this interview and all the people who took time to read it. We would like to thank as well our friends and listeners for their support, it really means a lot to us. Thank you guys!!!



See also (all categories):