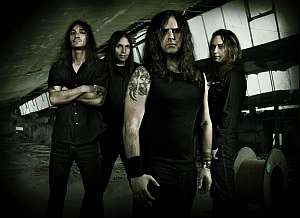 Interview with

Mille Petrozza (vocals) of Kreator

German thrash metal legends KREATOR will release their 13th studio album 'Phantom Antichrist' on Nuclear Blast June 1st. In anticipation of the release, we interviewed KREATOR front-man Mille Petrozza.


Mille Petrozza (KREATOR): Our fans are clever enough to respect our privacy.

Reflections of Darkness (RoD): Has the name 'Phantom Antichrist' anything to do with the prediction of the supposed end of the world in 2012? Or is it more of a statement about the current situation of the planet?
Mille Petrozza (Mille): I'd say a statement of the current world situation.

RoD: Is 'Phantom Antichrist' a concept album?
Mille: No, it's not.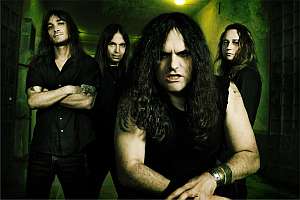 RoD: Why did you choose to cover IRON MAIDEN's 'The Number of the Beast' as a B-side for your single?
Mille: It was a spontaneous decision. A German magazine asked us to do something, then that fell apart and we had already rehearsed the song.

RoD: How would you compare 'Phantom Antichrist' to 'Hordes of Chaos'? What differences and similarities are there?
Mille: Hard to say. Maybe 'Phantom Antichrist' is more epic/ melodic?!

RoD: The limited edition of 'Phantom Antichrist' will be released with another cover. What do you have to say about the artwork on that one?
Mille: It's a great artwork which was made by a German artist. It shows the KREATOR demon destroying decadence.

RoD: What made you decide to work with Jan Meininghaus?
Mille: He's from my home town and I really like some of his stuff.

RoD: 'Phantom Antichrist' was produced by Jens Bogren. Who initiated that cooperation?
Mille: I was looking for a new producer and Jens was nice on the phone. It was a very easy gut-decision.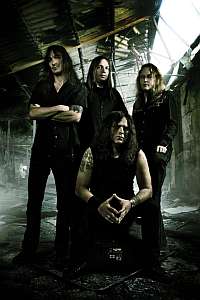 RoD: Tell us something about the recording sessions in Sweden.
Mille: It was very cold, but we really enjoyed being in Sweden. People there are very nice.

RoD: Many metal bands like to include orchestral arrangements in their music. Would you ever be interested in doing something like that with KREATOR?
Mille: NO!!!!!

RoD: What was it like working with children on the video shoot for 'Phantom Antichrist'?
Mille: The kids came in later, so we were not really working at the same time. They seemed very cool, though.

RoD: Do you plan to shoot more videos for other songs off 'Phantom Antichrist'?
Mille: Yeah!

RoD: Tell us about the Metal Fest. What was the reaction of the audience when you played 'Phantom Antichrist' live for the very first time in South America?
Mille: It was amazing! It went down much better than expected, especially since we have never played that song live.

RoD: What do you think about the current development of the music industry?
Mille: I really don't care, to be honest. We want to make music for our fans. Of course we need money to produce great albums, but it's not the most important thing to us.

RoD: You are now officially, according to Metal Hammer, the God of Riffs. Congratulations! So who do you think is the demon prince of riffs? What do you think about, for example, David Sanchez from Havok?
Mille: Thank you! David is cool, but I also like John from WARBRINGER a lot.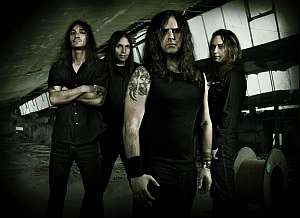 RoD: In a recent interview you talked about what kind of books you like to read. Do you think you will ever write a novel yourself?
Mille: Hehehe. I don't have the time yet. Maybe that's something for when I'm 70.

RoD: Are you a cat or a dog person?
Mille: Animal person in general.

RoD: At the end of 'Violent Evolution', there's a long list of all your concerts from 1984 up to today. Would you say that list is almost complete?
Mille: Not at all!

RoD: The Internet has become a means for musicians and bands to get closer to their fans. Is this good or bad in your opinion? Do your fans bother you through the social networks?
Mille: No, we like to talk to fans. Our fans are clever enough to respect our privacy.

RoD: Speaking of fans - we've started an international fan club for ladies on Facebook, called the Mille Militia, as a tribute to you! Have you seen it - and does it make you feel proud or just embarrassed?
Mille: Both.

RoD: Please tell us something about your tattoos.
Mille: No. I'm not a tattoo-person anymore and I've lost interest a long time ago. I think there are only very few artists out there, that are outstanding.

RoD: And finally: Name the three best releases of 2011/2012!
Mille: GHOST, OFF and the last MACHINE HEAD were good.

Our thanks go to Emma Ostman and over to all KREATOR fans
The interview is published in Russian language at km.ru.