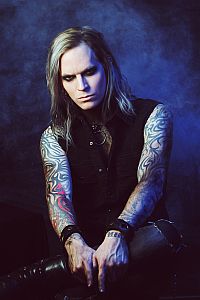 Interview with

Chris Harms (vocals) from Lord of the Lost

Before starting his own band with LORD OF THE LOST in 2008, initiator Chris Harms has been involved in various musical activities already. He started as vocalist for PHILLIAE, played live guitar for BIG BOY and worked with THE PLEASURES as well. Nearly instantly after its inception, LORD OF THE LOST locked themselves up in the studio, spending most of 2008 working on their debut album. The album's called 'Fears' and has been released in February 2010, followed by the sophomore 'Antagony' in April 2011 via Out of Line. The latest album 'Die Tomorrow' was out at the end of August 2012. Now, the band was releasing a fan edition of the album and also will be on tour again. Reason enough to ask front man Chris Harms a few questions…


Reflections of Darkness (RoD): You've been frequent guest in Russia in the past and this year. What is a reason of such love to this country? How does it happen that the only Release Party of a new Single will be in St. Petersburg?
Chris Harms (Chris): Touring in Russia does not really have anything to do with the country itself, as we never have time for sightseeing. It is mostly about the people that live in this country. There are lots of Russian girls and boys that love our music and we love to give them what they want.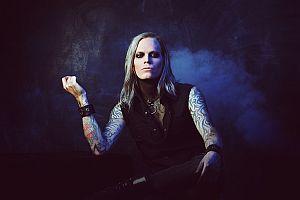 That is the most important thing about it. Actually we did not plan any release party for 'See You Soon' at all, but I have been invited for a DJ set in St. Pete, so we thought that it might be a good idea to combine that. Having a release party in a country far away feels quite cool by the way ;)

RoD: Why have you chosen 'See you soon' as a new single? Both the song and the video differs a lot from your previous singles, these ones are full of sadness and melancholy.
Chris: LORD OF THE LOST has always been standing for contrasts and stylistic diversities. It would be boring for as, as well as for our fans, if we did not change or go over borders from time to time. 'See You Soon' reveals its beauty in its silence, the song is reduced to its core, so people can listen to what I am saying. And in this song the lyrics might be more important than in all the other songs we have released so far.

RoD: The album 'Die Tomorrow' was released as a limited fan edition. Who was the author of this idea with wooden box and its total content?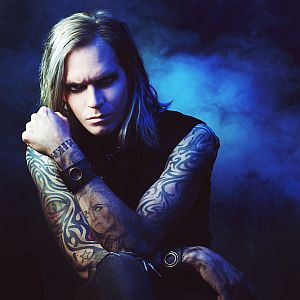 Chris: It was our idea. We had like 100 ideas what we would like to put in that box, but most of them would have been too obscure, too big or too expensive. So we concentrated on things that everybody likes and that have been affordable.

RoD: The band spends a lot of time on tour - it's a big pressure and stress. How do you deal with this?
Chris: This is actually not as hard as it is always written by the press. We had about 60 shows last year, not so many in my opinion. Writing and producing songs, promoting the band, rehearsing for the shows, booking, management, advertisements, social networks, graphic designs and, and, and... AND having regular 40 hour jobs plus trying to have something like a private life: THIS is stressful. Being on tour is like being on vacation.

RoD: In autumn I had the pleasure to attend a few concerts of your tour with LETZTE INSTANZ. What are your impressions of this tour? Do you plan some other projects together with LETZTE INSTANZ?
Chris: Being on tour with those guys equals having 7 more friends now. It was great and we hope to tour with them again one day.

RoD: LETZTE INSTANZ were on Tour with their album 'Ewig' - the final part of the trilogy. Have you thought to do a series of albums or singles connected with one idea?
Chris: Yes, I have. But so far my ideas vary from album to album, that it would not make sense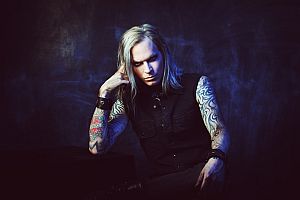 at the moment to make a decision that would characterise our style and lyrical content for 3 future albums. If you begin something like that you also have to finish it. and I do not want to end up sitting there and not even wanting to begin part 3 of a Trilogy that felt right to me a couple of years before. Maybe later but not now.

RoD: Have you had some funny situations on the tour 2012 that you remembered most of all?
Chris: Many. And most of them are not made for the public ;) On tour we are like a bunch on silly boys. And when this bunch of silly boys is touring with bands like EISBRECHER or LETZTE INSTANZ, it ends up in mayhem. Search for "TV Of The Lost" on YouTube and you will be see.

RoD: Tell us about your other musical projects. I remember that some time ago there was a panic because of the rumours that you want to leave LORD OF THE LOST. You wrote that it was not true, but you really tried to do some other stuff. Can you tell more about this.
Chris: First of all: I cannot leave LORD OF THE LOST because in some ways I AM LORD OF THE LOST. The only way this band might end up one day is a split when we decide not to take it any further. But this is absolutely out of sight at the moment.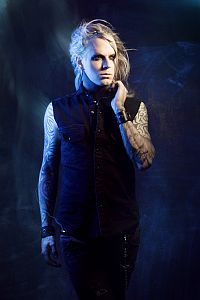 Regarding other musical projects: I am not the kind of guy that can be artistically and musically satisfied by giving all my creativity to just one genre, but I have so many ideas that just would not fit into LORD OF THE LOST, and also I do not want to sing in German for LORD OF THE LOST. So, together with my Co-Producer Benjamin Lawrenz and my studio drummer Tobias Mertens I started 2 new projects:
1. Harms & Kapelle: I will sing in German, the music might remind some people of Cash, Cave or even Amy MacDonald. Further members are my co-songwriter Corvin Bahn that has also worked intensively on all LOTL-Albums and Thilo Weging, known as the guitarist for the rock n roll band Pfeffer.
2. Over The Jordan: Metalcore! Hard, fast and brutal, with English lyrics, completed by The Pleasures' guitarist Neo Patra.
Both bands will release the first songs this year.

RoD: In one interview you said that the band was working on a new album, and maybe it would be released in 2014. Can you tell us a bit more about what is planned?
Chris: The next album will be released in early 2014, it will be harder than the last one, at least this is the plan so far... this is all I can say for now. I don't want to reveal to much before like I did last time.

RoD: The last album was very successful for the band, which goals you set for yourself now? For that time you have shown a very good quality of music and sound and I think it will be very difficult to correspond them again and not to disappoint your fans and yourself.
Chris: Well, the more albums a band has released, the more pressure to not fail. I think if it comes from the heart it can't be wrong. So all we have to concentrate on is to create something that feels right to us. If people will be disappointed anyway,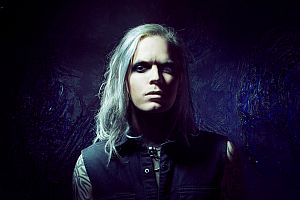 we can still split up, re-unite the day after, release a best-of album and go on tour until no one wants to see us anymore ;)

RoD: Are there any bands or musicians you would like to collaborate with? Or as in the case of Ulrike Goldmann and 'Never let you go' it will depend on how you feel the songs?
Chris: I'd really, really like to sing together with Ragnar Solberg from Sign, a brilliant band from Iceland.

RoD: Do band members like to play computer games or Play Station? If yes, what is the most favourite game?
Chris: Not really.

RoD: All musicians in LORD OF THE LOST are very active in social networks. Does such openness disturb you? In our time you can find almost all the info about people in Internet. With all this, how do you manage to keep your private space?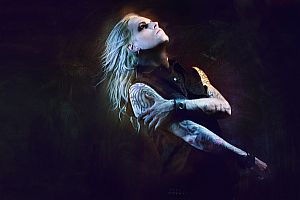 Chris: Well, actually there is no openness at all. We never reveal things that concern our private lives, only things concerning the band or general topics. And we will keep it like that.

RoD: You have a lot of tattoos. For example, I've chosen pictures for my tattoos according to what is important for me in my life and what I would like to remember. And how have you chosen yours?
Chris: Exactly like that.

RoD: Which countries would you like to visit with concerts or just as a tourist? Is Ukraine in this list too?
Chris: I don't like travelling, but I like being on tour. So travelling is only a necessity to make touring possible. Sure, there are places in the world, that I'd love to see, but I am not the kind of guy that wants to explore the whole world. I like to be at home, touring and my production works are enough action for me.


Written by Daria Tessa (Ukrainian Gothic Portal - www.gothic.com.ua)
Foto: Lia Koltyrin (http://www.lia.koltyrin.ru/ / http://full-frame.ru/index.html)
Special thanks to concert agency KULTPRODUKT for organizing this Interview.
The Russian version of the article with some additional extras will be available at spring issue of Ukrainian print magazine "Gothica".