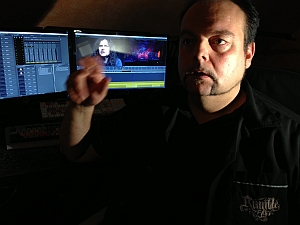 Interview with

Matthias Kollek (Director of KREATOR DVD "Dying Alive")

The legend of German Thrash Metal, KREATOR, has released a new live DVD, 'Dying Alive', in the end of August. This release has gotten many positive reviews from all over the world. The video fully captures the feel of KREATOR live gigs. About how work was conducted out on this DVD, we have talked with director of this video, Matthias Kollek.


Reflections of Darkness (RoD): Hi Matthias! Once again, I would like to congratulate you for a really great success of the new KREATOR DVD 'Dying Alive'. Did you think that it will be able to enter the top 10?
Matthias: Thank you, Natalia. No, this was a very big surprise for me. Though KREATOR are doing very well in Germany these days (and the last album 'Phantom Antichrist' entered the German charts on position #5), a Live-DVD usually is something to please the fan-base and not the masses, especially when you deal with genre-music like Thrash-Metal.

RoD: Mille in his interviews said that the idea to make this DVD was completely spontaneous. So, how did you invent the concept for this record so fast? After all, between a gig in Berlin and a gig in Oberhausen was not much time…
Matthias: Oh yes, this was a very busy time. I was already delayed with editing the 'Civilization Collapse' video when Mille asked me to join the Euro-Tour for a few dates to film some documentary stuff and to advise a TV production team that wanted to film the Berlin show for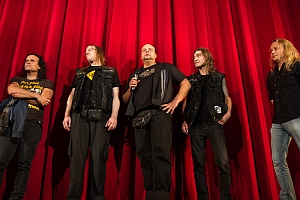 an internet streaming. So once I had finished the 'Civilization Collapse' postproduction, I jumped on the tour bus somewhere in South Germany and did some test shootings. Through the following days, Mille, Margarida Moreira (the light-designer) and me were discussing necessary changes in the light show because it was way too dark for a TV recording. That was the time when Mille decided to get a BluRay produced at the end of the tour in Oberhausen. And it was perfect to already have me on the bus because so we could work out the concept directly in practice. Of course time was short until Oberhausen and it was a little difficult to get such a big, experienced team together, especially two days before Christmas, but I am used to work like this and all went well.

RoD: Yes... when I watched this video, it seemed to me that the scene is illuminated brighter than it usually happens at KREATOR gigs, and the smoke did not close the musicians, and walked into the crowd...
Matthias: As I said before, Margarida had to adjust the whole light design for the Oberhausen show. Filming is always a big pain for a show's light designer, since their aim is to do a perfect light for the audience and not for the cameras. And you always get into trouble because of it. But since we had the time for a pre-production, we could find a good consent without brawling.

RoD: 24 cameras for gig in club... some people can think that it's very much... so why you decided to use so many cameras? It was your idea or Mille's?
Matthias: Mille's first words were: "I want something very big, other ways it makes no sense at all". He wanted to have 15 cameras. I just thought great. Usually I have to convince my customers that we need more cameras and then it ends up with 8 or 10. So, for me a little dream came true. And this large stage design needs a lot of cameras to cover everything from the front to the back. Then I generally think that the audience makes at least one third of a good live show. And this is very rarely shown on most concert films. In my productions, I always try to cover a lot of the crowd's action but usually there are simply not enough cameras. Mille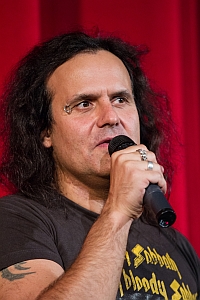 agreed. Next idea was to add the subjective angle of the musicians and finally we ended up with 24 cameras. Our main aim was to create a very authentic concert film that makes you feel like being in right in the middle of it.

RoD: How did you come up with the idea to shoot video from the mosh pit? It can be quite dangerous, especially for cameras…
Matthias: Well, when I tried my first mosh pit shots more than 20 years ago, it really was dangerous since cameras were big, heavy and expensive. Today we have Gopros for this kind of action shots. The Gopro picture is not really professional but you can do a lot of crazy stuff with it. If you only use short sequences, it adds a lot of brutality without destroying the general quality of the production. The most important thing was to have some guys who are used to be in the middle of the mosh pit and are not afraid of crowd surfing and everything. Flo and Martin (good friends of the band) and Ventor's son Gerome, did a perfect job.

RoD: Tell us about the cameras that were on the musicians... As far I understand, they have to be small, so as not to interfere with the musicians during the playing, on the other hand cameras must have the necessary quality for image recording…
Matthias: Again, the Gopro makes it possible. But it is also a bit experimental, since you do not really know what you will get. I like this kind of working when you have a certain part of the production that is unpredictable beside all the sure shots. It is always enriching.

RoD: Can you remember the most funny moment at the shooting this gig?
Matthias: Yes I remember, but Mille would kill me if I tell you :)

RoD: Did Mille get involved in post-production of this DVD or did you show him a final version, and has he added his changes?
Matthias: As far as I know him, Mille likes people to evolve their creativity. But since he is living only a few blocks away from my studio he passed by once in a while during the long post-production process to check and discuss the editing rhythm and most of all the finishing. As you might know from earlier releases he likes to stylize the picture very intense but this is a pretty dangerous thing which can easily destroy the whole atmosphere. Knowing that he is a big fan of 70ies Indie-Horror movies, we agreed that this model might be a perfect scheme for the finishing. Like a very used celluloid copy of a disgusting splatter movie produced on color-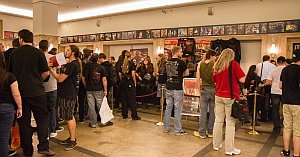 reversal-16mm-film shown on a beaten down projector in a grubby small sex theatre in 1976, where smoking is not prohibited.

RoD: Whose idea was it to do the 'Dying Alive' theatrical premiere? It's very unusual place for showing live DVD...
Matthias: Oh yes, I think Mille already had this in mind for quite a long time, but when he told me I was a little bit shocked. I asked him if we should celebrate a little public premiere in a cool bar somewhere around, for example in the "Endzeit" (which is owned by Speesy). Mille just grimly looked at me "Fuck that, we'll take the Lichtburg!" OK, the Lichtburg is the biggest movie theatre of whole Germany and it is located in our hometown Essen. Of cause every small German film maker dreams of premiering his stuff there, but I became pretty afraid because this production was made for home use. I said "yes, cool!" but immediately checked if this would be possible at all. Well, after a few phone calls and Googling I got the confidence that it would not necessarily lead into a big disaster and started working on a DCP (the common digital theatre-copy format today). Though I was nervous like shit, the premiere then was very nice, the Lichtburg was packed with metal heads and everybody had a great time. An unforgettable experience to see your stuff on this gigantic screen. Hopefully this will become a trend.

RoD: Is this your first experience of shooting such a large concert video? Or... Google knows not too much about you…
Matthias: No, I am doing this since more than 20 years now. My debut full length concert video was the first BAD RELIGION video 'Along The Way', produced in 1989. I did more than 30 since then as a producer/ director/ editor and joined as a team member on a lot more. I am simply too lazy to advertise myself (except right now) and when you do music videos nobody cares about the director. It is all about the band. I don't have a problem with it as long as I stay busy, get paid and have fun.

RoD: When you were working on this DVD, were you following your intuition or maybe you found inspiration in the works of your favourite directors?
Matthias: A little secret: I personally very rarely watch concert DVDs because I prefer to see bands live in a club. Being creative at a show and editing it afterwards is my passion. Of course I am honestly very happy that there are still a lot of people who think different enjoying my work. Other directors? Once I see a DVD of another director I immediately start criticizing. Not the best character attribute but I can't help myself.

RoD: When we talk about directors... who's your favourite director or maybe clip maker?
Matthias: For music videos I like the old Spike Jonze stuff a lot, but for movies it is Martin Scorsese, Terry Gilliam, Werner Herzog, Peter Jackson and Reiner Werner Fassbinder.

RoD: As far as I understand, you are familiar with KREATOR for a long time... you took a great video for one of my favourite songs of them, 'Endorama'. But after that one you did not cooperate with them for a long time and then returned to the work with KREATOR for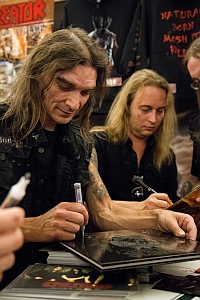 'Phantom Antichrist'. Why?
Matthias: I don't know, you better ask Mille. I think he likes to change producers and directors and this is a clever thing in order to progress, though I always love to work for this band. My return to KREATOR was more or less an accident: I met Mille at a supermarket just when he needed someone to produce the making-of documentary for the album production of 'Phantom Antichrist'. I was available and a few weeks later I took the plane to Sweden. Probably he liked my work on this cause he hired me for all following video jobs. Fun time!

RoD: You took the latest KREATOR video 'Civilization Collapse'. In my opinion, it's one of the best music video of the last time... but many fans think that it's very strange. So, could you tell us about this work? Who was the author of the idea of this video? Why you decided to use photos by Marios Lolos?
Matthias: Thanks again, Natalia. I always try to do new things and not to repeat myself or even other people's stuff. So for me it is quite usual that people are irritated because that is my purpose. The idea for the 'Civilization Collapse' video came when I was editing the 'Phantom Antichrist' "making-of" where I was dubbing some press photos of the Greek riots on Mille's explanations about the song. I was wondering if it could be possible to produce a whole music video like this. A few month later, Mille asked me about my Ideas for producing a video to 'Civilization Collapse'. I convinced him that it would be boring to just edit some stolen TV shots of riots somewhere, because that has been done a 1,000 times before (and still is). The Idea was to key him and the band into newspaper pictures and then let the pictures start to come alive. We needed pictures of the Greek riots because the song is based on it and at that time there was a very evil argumentation against the Greece people going on in German mass-media that was nothing but unfair and totally incorrect.

We wanted to take a stand against that shit in showing solidarity to the Greek. And we were convinced that we had to get these pictures legally. My production manager Steffi Inspektorek had connections to some Greek immigrants living in Germany who forwarded us to Marios Lolos, the president of the Greek union of photo journalists. Marios is politically very active and just hardly survived a very brutal police attack against himself. He loved the concept of the video and offered us his huge archive. The next step was to find a framework for all this, so I asked Jan Meininghaus (who did the cover artwork for 'Phantom Antichrist' and 'Dying Alive') to design a newspaper called "The Final Truth" in the style of "The Financial Times" to give a hint towards the background of the whole misery and as well showing an homage to the dying print-media in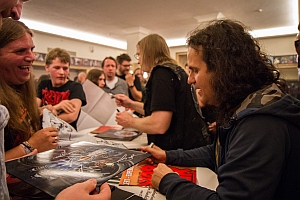 general. I thought the whole postproduction would be done within 7 days, but finally it took me more than three weeks.

RoD: You know, many artists think that making music video is not profitable now because TV doesn't want to show them and clips will only stay on YouTube... How do you evaluate this situation? Has the music video future in heavy music or will it be only for pop music?
Matthias: At the beginning of this century the whole music video business broke down (at least in Germany) because MTV and VIVA decided to make themselves useless. At that time I was already working a lot for different TV stations producing news and features so personally I did not have an economical breakdown but after a few years I decided to quit that boring TV shit and get back to music. I suddenly became aware how much times had change. Especially if you are into genre music. But along with the growth of YouTube the whole sector became alive again, I would say more vivid and interesting than ever before. Especially genre music videos today have a circulation that they never had before because they reach the addressees directly around the globe now and the music industry is willing to invest again. Production-wise, the technical development made it possible to evolve your creativity nearly unlimited even with a lower budget. Of cause the golden 90ies are gone, but though there is a lower financial income, work is more fun today and who knows what will come...

RoD: I don't like to ask such trivial questions, but… How did you begin to shoot video? Which video was your first work?
Matthias: In 1986, me and a few friends started a music video magazine called "Tribal Area". It was distributed on VHS tapes and since it was the very first project of this kind in Europe it soon became pretty popular around the alternative music scene of those days. First thing was the idea and then we started doing followed by learning. It was mainly covering the music and art of the uprising Hardcore scene, following it's over all dogma: "Do It!"

RoD: Do you shoot only music videos? Or maybe short movies for example? Or something else?
Matthias: Today as a producer or director I mainly do genre music videos for passion as well as alternative commercials and corporate films for money (though it's also fun). But if there is time in-between I still do all kind of shit as a camera dude or cutter. Beside that right now I am writing on a script for a documentation/ fiction about the network of the early European Hardcore scene of the early 80ies.

RoD: What do you think about the idea of METALLICA - combining a live video with professional actors? Are you planning to see this movie at the cinema?
Matthias: Hmmm, the preview clips that I have seen are not really promising (according to my personal taste). Too many casted flat faces and not much reality. But I don't like to judge anything before I have seen it. Yes I think I should go to a theatre to watch it and be able to talk about it, but I don't expect that much.

Photos from premiere of 'Dying Alive' in Essen by Sandra Kunze. Intro photo of Matthias Kollek from his archive.