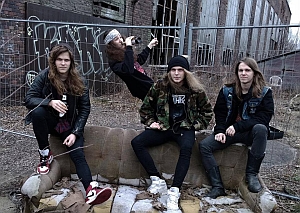 Interview with
Samy Elbanna (guitar, vocals) from Lost Society


LOST SOCIETY is a young and upcoming Thrash Metal band from Finland. On April 4th, they are going to release their second album 'Terror Hungry' via Nuclear Blast. Front man Samy took some time to answer a couple of questions regarding the new album and some other topics.
Reflections Of Darkness [RoD]:
You just returned from your European tour with FUELED BY FIRE, SUICIDAL ANGELS and EXARSIS. How did you experience the tour?
Samy:
It was actually amazing, I was really surprised how smoothly it went, the crowds in Europe were just awesome. We really had a good time and I hope we can go back quickly.
RoD:
Did you expect the tour to go that well or was it rather a pleasant surprise?
Samy
:
Well, at first we were a little worried if all would go well and if no one would get sick. In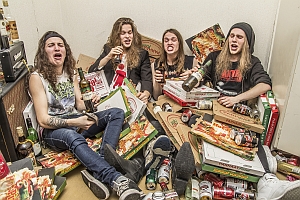 the end, it all went well although two of us got sick. I guess none of us though before that it was going to be this awesome, but in the end it was.
[laughs].
RoD:
Was this your first tour in Europe or did you play some concerts outside from Finland before?
Samy:
We played two gigs in Germany prior to the tour and one in Italy, but other than that this was our first real tour in Europe.
RoD:
I also prepared some questions regarding your new album 'Terror Hungry'. Could you tell me a little bit how you worked on that album?
Samy:
Well, after 'Fast Loud Death' had been recorded last year, or was it two years ago? I don't remember. We had some ideas left over, that we couldn't fit in on the previous album or that we had just written. So we just started working on new material and it worked very naturally. We didn't have to make up our minds on how we wanted to sound or if we needed to change anything, so, after a while we had thirteen songs ready. So we thought "What The Hell"? and went to record them, so that we could give our fans some new and brutal music to listen to.
RoD:
Do you see any differences regarding your previous album?
Samy:
Well, you can definitely notice it's a LOST SOCIETY album. But we put some cool and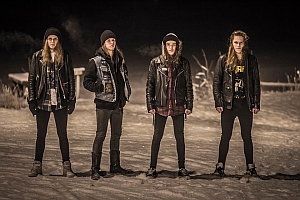 new elements into it, to make it more interesting – we don't want to do the same album twice. So, you can definitely hear some more groove and crossover elements on the album, and the overall mood and theme is somewhat darker than on 'Fast Loud Death'.
RoD:
You produced and recorded the album at Sonic Pump studios with Nino Laurenne – how did you get into contact with him and why did you chose to work with him?
Samy:
We already recorded our first album 'Fast Loud Death' with him. Our label, Nuclear Blast, suggested that we should work with him again. And our first recording sessions already went very well, because Nino could also give us a lot of good input on how to make the songs more interesting. So we agreed to work with him again, and this time it was even better, because he knew more what we need and how we should sound like. I think we did a really good job with him, again.
RoD
: What is important for you regarding the production and sound of your music?
Samy:
It is really important, especially with our music. You somehow have to have the live aspect in it, so that not everything is played completely perfect but that you realize someone actually played it and not some computer. Our live experience is very important to us and we wanted to transfer this to the album, so that the listener gets the same kick out of it like during a live situation.
RoD:
Do you have a main songwriter or do you jam together in the rehearsal room to write songs?
Samy:
Well, we practice a lot, so we prefer it to play together. Either Ossi (drums) or I bring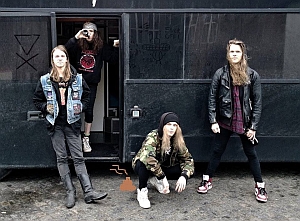 in some riffs, but of course the others add ideas as well. Then we start jamming, new riffs come about and one thing leads to another. Then we arrange it, so it's entirely teamwork and not one main songwriter.
RoD:
Concerning your lyrics: do you, as a singer write them, or do the others add ideas as well?
Samy:
They give ideas once in a while, but I am the one who writes them.
RoD:
Do you have a main message you want to convey with your lyrics or do they just need to fit the music?
Samy:
We don't have to have any special stories we need to tell every time. When we did a song, I like to listen to it afterwards and something always comes to my mind that I write down. We have all kinds of subjects in our lyrics, but we do not have a political edge to it, as you might have noticed. We have a lot of songs about having a good time, or giving the middle-finger to the whole world.
RoD:
You already said that you are signed to Nuclear Blast. Could you tell me how you got into contact with them?
Samy:
We took part in a band contest in Finland, which also took place in our hometown, and we made it to the finals in Helsinki. The gig got filmed and ended up on YouTube. A friend of us had sent the link to the guys from Nuclear Blast, because he knows them. After a week they contacted us via E-Mail and we all were pretty stunned. It is still unbelievable to us, I mean, we knew the label before since some of our favourite bands are signed to them. The working with them is really amazing and they are also very nice guys.
RoD:
Do you already have some plans for the future?
Samy:
It would be just awesome if I still could be doing the same thing with the same people in ten or twenty years. For right now, we are releasing the album, we will be touring Finland, do some summer festivals and all of that. It's pretty much living the dream right now and we'll see what the future brings.
RoD:
Do you have any last words or something really important that still needs to be mentioned?
Samy:
I would like to give a huge thank you to all fans and supporters. And go out and check out our album!