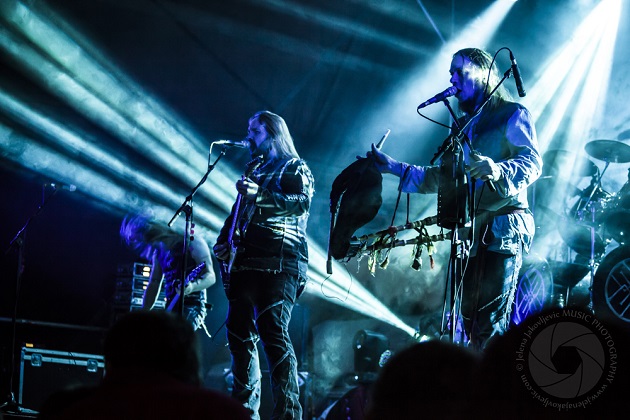 Video-Interview with
Markus "Rabapagan" Teeäär (lead vocals, rhythm guitar) & Raivo "KuriRaivo" Piirsalu (bass, backing vocals, contrabass) of METSATÖLL at RoundSound Studio (Tallinn, Estonia) 2016

Estonia has special place in my heart, with untouched woodland and many bogs, it is definitely place where magic can happen, and wolves can talk! The best known among them all are the ones of powerful epic metal band METSATÖLL. While hitting charts and winning music awards, with songs in archaic Estonian language, they are proving the great match of Heavy Metal with traditional instruments and runo songs.
As a huge fan of METSATÖLL, I visited almost all of their summer concerts, made a nice photo collection, and here specially for you I made an interview in English at their home in RoundSound Studio in Tallinn. The interview is made in two parts, nicely to intertwine. The first part is focused on early days, song-writing and video-making. While second part tells stories from ancient times and lifestyle while touring around. The latest news are the music video 'Vimm' (small clip is included in the interview part1), and the compilation 'Vana jutuvestja laulud' which will be promoted with a special concert on 18th November in Rock Cafe, Tallinn. //
http://www.metsatoll.ee
/
https://www.facebook.com/Metsatoll
In addition, we have some photos for you.
METSATÖLL concert 11th June 2016

METSATÖLL concert 23rd June 2016

All pictures by Jelena Jakovljevic