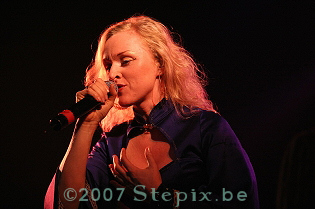 Interview with:
Liv Kristine
She is the former singer of Theater of Tragedy and singer of Leave's Eyes actually touring across Europe with Kamelot. We met her right after the gig in the tour bus parked in front of Hof ter Lo in Antwerpen, Belgium. After a tour of Europe followed by a tour in North America, Leave's Eyes will be back in Belgium on October 20th as headliner of the Metal Female Voices Festival. Liv promises it will be a fantastic event.
How are you after your first non-stop week of the 2007 tour?
'I am fine! That's no problem... Actually I like to have a concert every day. I don't like having days off to be honest. So, when we are touring with bands who are taking days off, we plan little concerts ourselves in between.'
How is it for you to tour with Kamelot?
'Very nice because the singer of Kamelot is also from Norway so there is somebody with whom I can speak Norwegian. That's very nice, but also the guys from Kamelot are very sweet. I think it's a good thing to mix audiences. Fans from Kamelot and fans from Leaves' Eyes coming together and some, you know, they open their eyes for other bands and say "hey I didn't know them before", but they know them now. I think it's a nice combination of the two music styles like the gothic metal we do and the style Kamelot is doing.'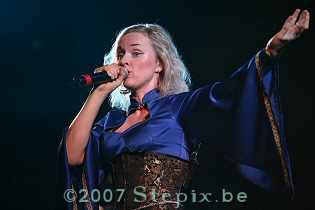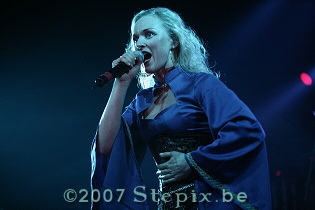 What is different in the 2007 tour from the 2006 tour?
'In the beginning of 2006 we started touring South America and now we are starting with Europe. We will also end with Europe, I think this year. In between there will be the States, like we did the States last year too. Maybe there will be space enough for China. So, this year, Europe, America and a couple of places where we haven't played before.'

You seemed to have had a lot of success in America so how is Leave's Eyes perceived over the Atlantic? And how is the audience in the America's compared to Europe?
'The audience in America is not that spoiled with bands like here in Europe. Here in Europe we have a very long tradition of female voices in metal and also gothic metal, but in America this is something there are just about to discover and open up their eyes for… It's interesting to get new fans and a new audience on another continent too. But of course we will never forget old Europe because this is the place where everything started. So that's why we also started 2007 with a very big tour here in Europe.'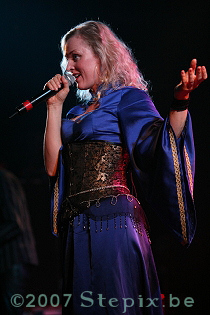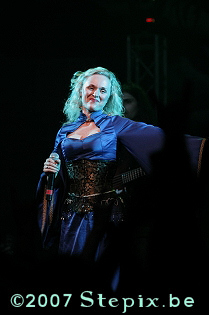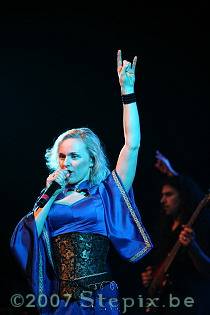 We will have the pleasure to see you back in Belgium after your American tour in October at the Metal Female Voices Festival. Can you tell a bit more about "En Saga I Belgia"?
'Oh that will be an amazing event because we are collecting material for the DVD which will be out in the beginning of 2008. The highlight of this DVD will be that festival. It will be a huge event. We will build something very large. We will have a lot of effects. We will have guest singers. It will be a fantastic show and everything will be filmed. So this event will on the DVD together with all the little shots throughout the last two years band tour. So maybe you will see yourself.'
Yes, I have read on your website that you will build a full scale drakkar and saw the pictures of the small scale model.
Napalm Records recently announced a contest where fans can win an exclusive Meet & Greet with all the members of the band at the Metal Female Voices Festival, including two tickets for the festival. In what will that be different form the traditional meet and greet that the fans are already used to, like today. What will be special for the winners of this contest?
'That's a good question… We always make something special when we have meets and greets. I even had meets and greets while eating. I had meets and greets where I was giving singing lessons. I had meets and greets at home in my house... It depends where it takes place but it will always be something special we prepare for the fans. It will be a surprise...'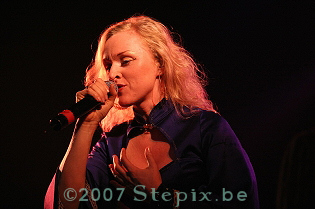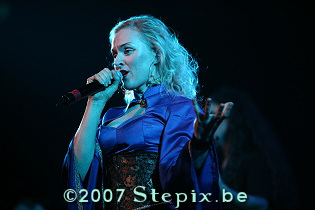 As soon as Leaves' Eyes was announced on the headline of the Metal Female Voices Festival, Theater of Tragedy was cancelled. Is there a correlation?
'I don't think so and if there would be, that would be very childish and stupid… I mean that's very unprofessional. They cancelled last year and they cancel this year. I guess probably they just don't want to take the stress. I think it has nothing to do with Leaves' Eyes because I would be happy to see "some" of the band members of Theater of Tragedy. I would be happy to see them again and I also received messages from Raymond, the senior of ToT "Hey! Finally we will meet at the festival, that's very good" and then they cancel… So I don't know what's up. That is very unprofessional.'
What else can we expect from Leave's Eyes in the near future?
'Ha ha… You will see us travelling around. So be aware of the dates and where we are so you can come and watch us. We are collecting material for our DVD. So you will probably see your face on the DVD. I would be very happy to see everybody at the festival here in Belgium again. I heard many people are coming and it will be a fantastic event. Also Delain is playing, which is a very good choice.'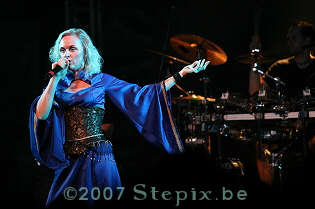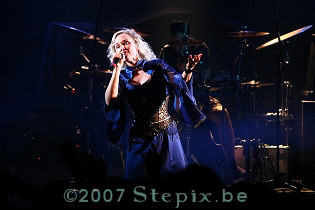 Do you have time left for your solo project?
'I always have time for something! Right now I am trying to write new songs and also some lyrics. When I am on tour I have some time. But I also have a family at home. Sometimes I take my family with me on tour. So I'm always very busy but that's good for me. I really like it, to have things to do, to be creative. So, as soon as I have a minute free, I start being creative. When we get home I have some more time to sit down and also to be together with my son again. And then I have a lot of ideas. So it's always going on.'
You are actually introducing my last question: How is Leon, he must be 3 years now? 'Yes, you're right! Thank you. He's fine. The only reason why he is not on this tour is because he just entered kindergarten and in the beginning you should not take the children out of the kindergarten. It has to be a continuous process and see how the child develops, how he likes it, how he adapts… It's amazing to see what kind of a huge step in a child's life is this kindergarten. In nine days I will see him again. It's a good thing for my son he learned how to count at a very young age, so now he can count to 20, so he knows that every day is one less. That's very practical. '
It was a pleasure talking with you and I will leave it to you for the last word and conclusion.
'Thank you very much. The pleasure is on my side. I just want to say that the concert tonight in Antwerpen was absolutely fantastic and I hope to see everybody later this year at the huge festival for female voices and I really hope that you will come to see the special show. I promise you it will be fantastic. So take care everybody and take care you too. It was a pleasure to talk to you.'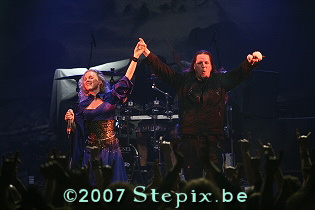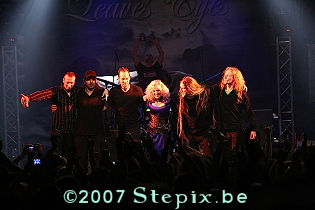 {jos_sb_discuss:17}