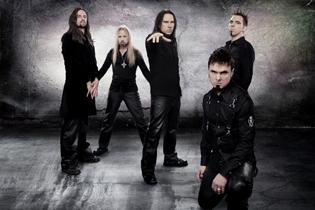 Interview with:
Roy Khan and Thomas Youngblood
The writer duo behind Kamelot
Always growing and developing…
Kamelot: when you haven't heard of them,you missed a lot in the metal scene. With every new album, they come up with something totally new and earthshaking. The chemistry between guitarist Thomas Youngblood and vocalst Roy Khan is a very successfull one. Finally the chance to talk with the other side of this amazing duo. Days before I had Khan on the phone, there was the chance to talk with Thomas as well after their gig at Zoetermeer. The result is a mixed interview to get an impression about their new upcoming album 'Ghost Opera.'
Before their gig in Zoetermeer Thomas Youngblood takes some time for an update before he needs to go on stage. When I come up with some critic about the light on the live-dvd 'One Cold Winters Night' he understands it:

"It was a bit dark in some spots I agree, but the overall atmosphere is really nice. It is funny that you have critics about the recording also, because we had some great reviews. There were things we had no control over like there were some problems with the lights that even the Lighttech could not avoid. That is why they call it LIVE."
They recorded a dvd in Oslo, last weekend they were back. When Roy Khan calls, he sounds a bit tired, but very happy: "Oslo was fenominal, it was great. It was special again, unless we tried to do something like the people saw on the dvd before."
Busy times coming up?

Khan: "Yes the promotion of the new record starts and I have many interviews coming up. I am very happy with this new record, so it is no problem. I have the feeling that the band is moving forward and that gives a lot of energy and can reload the battery with that."
Last Tour
Thomas: "We have been to Holland a lot, the fans are great so we come back. We try to bring new songs and a new setlist every time. It is growing a lot since we came here four years ago. We love the fans here."
You still want to tour as much as you can?

"As long as we can make a good production and we are getting to a point where we want to make sure that we put on a certain standard every time: a good quality level. Next time when we come back we want to make sure that the venue and stage are big enough for the things we want to do. (The concerts at Zoetermeer and Helmond were totally sold-out-SD). "
The new tour has just started, how are you doing right now?

"Yes you have to get into it a little bit: the rythm and the routine. We have been busy with the new record and just shot a real high production video for the song 'Ghost Opera.' Probably in a week it will come out. We do an other video before the release of the album. To get the interest for the new record. Also we give away free singles during this tour: there are 50.000 printed to give away."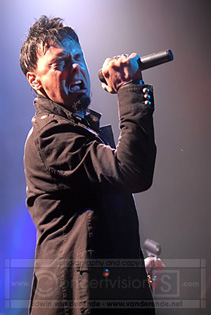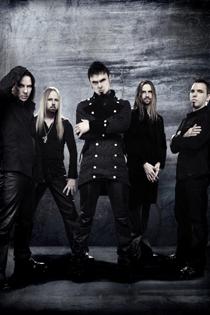 New Sound
'Ghost Opera', the new album will be released in June. The video from the titletrack is released and makes me wonder if it is again a conceptalbum?
Khan: "There are ten songs and an intro on the new album. Lyrically there is no connextion or one red line, so it is not a concept album like 'Epica' and 'The Black Halo' were. Of course there is a certain phylosophy, angle, feeling or something we want to question. There is a lot of melancholy in the songs, because many of them are written in the same time periode. Some songs are a bit faster, but this time the music inspirated the lyrics. On 'The Black Halo' the lyrics inpired the music, so that was totally different."
The last time when I spoke Thomas Youngblood he told me that he wanted to make a totally different album, so in April he gave this answer concerning the new sound:

"It is maybe darker and at some spots it is even heavier. Not many double bass songs, so less powermetal and more straight maybe. You have a certain amount time to work on it and we try to do the best we can within that timeperiode. We don't want to wait for four years to releases records."
I remember you wanted to do more like 'March Of Mephisto': is that what you mean with darker and heavier?

Thomas: "Maybe at some aspects. It is hard to say, but we wanted to do more straight kind of songs. There are still progressive songs on it, balades and fast songs. 'Ghost Opera' still has the double bass. It still has that mix that we think is important. When we talk about the feelling, I think this album is much darker and melancholic."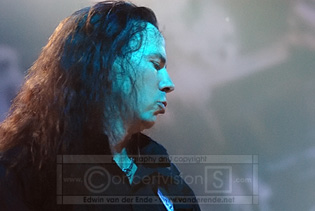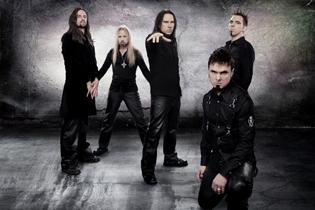 Meaning of the songs
Isn't it harder to write after listening to a melody and figger out what the words will be?

Khan sounds very sure and straight when he answers with a loud:
"No. We sat down with everything we had and of course there were shitty ideas we haven't used, but eights songs were written in a twelve-day periode. Let me give you an example, like 'Ghost Opera' you have that theme in the chorus."
Khan starts to sing: "naaa naaaa naa..- the assocation gave the melody to us. Thomas and I, we both had a spooky feeling: it was dark and melancholic. So we wrote the story behind it and came with the idea from the album title.
An other example is 'Blücher' where you hear the trombone with the ochestra. When I heard that I had to think about a steaming ship. So I wrote the lyrics about a German ship on his way to Norway during the World War II. Torpedos made the ship sink before it could enter Oslo. The story is about a young soldier who realises what's happening, trying to tell his fiancé that he loves her. It is a darker and more realistic song on the album."
Khan is an easy talker and even faster he continues his story: "Many songs are about desperation, hopeless love, and all the other things I mentioned before.
Like 'Anthem' that is only a song with my voice and the ochestra. It has that melancholy and it's a very personal song: it is about my fears when I became a father for the first time. I wrote this song earlier, six weeks before my son was born. That is the only song on the album what is not about failed love or death."
When you tell me about all those emotions I get the feeling that it can be hard to perform that live on stage.

Khan: "It is all very natural for me what I do on stage: the audience is always great. The limit you can betray is the visually on stage. I simply love what I do: I am so lucky to sing in front of an audience night after night."
Are there again some guest musicians on 'Ghost Opera'?

Khan: "We worked with the same musicians we did before. Simone Simons from Epica appears on 'Blücher.' There is the orchestra with more deep horns and other musicians added. It is not that the songs were asking for a caracter like on 'Epica.' Amanda Somerville did four songs like for example 'Love You To Death'and 'Morning Star.' Also she did that very high part on the titletrack 'Ghost Opera.'"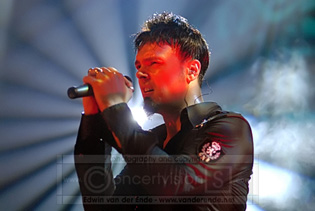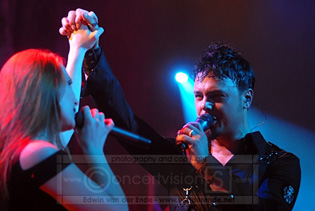 Huge project
Kamelot is always been a band who want to give a lot from themselves. Every album is a very intensive process, or like Khan says:

"'Ghost Opera' was a huge production like all the other albums were. Everybody knows what to do during the process and we had a good plan. There is the aspect that we are slowly getting better and in the direction we all want. We always put all our time, energy, money and passion in the production of an album.
Maybe some day we will make an album which is not as good as the other ones, but I hope it will never happen. Why would we do that?"
How did the song writing go this time?

Khan: "Most of them is done by me and Thomas. We were sitting down together with a guitar and keyboard. The first thing we wrote was the main theme from 'Up Through The Ashes.' I think it is the coolest opening: it is deep and has that contrast with the ochestra."
How was the process of the album this time?

Thomas: "Roy and I wrote everything and the chemistry was pretty much the same as before. We wrote everything in a two-week periode. We sat together and had our ideas. Ended up with about twelve songs and than we worked them out with our producer Sacha Path: that is how we did it."
How would you discribe this new sound in 'Ghost Opera'?

Khan: "There is the sadness and melancholic feeling. At the same time it is uplistening and catchy. It is not complete destructive, because there is hope. We are the gothic version of a powermetal band with progressive elements. We have some arrangements, heavy guitars and also an ochestra."
You worked a lot after 'The Black Halo' did you never get tired of it?


Khan: "Now we see that it payed-off. We stick with what we have and in a natural tempo. After the 'Fourth Legacy' (the first album where Khan was involved) we had free hands. There was no pressure during any recording process. After 'The Black Halo' it went very fast: there was a lot of touring, the dvd, writing this new record, practising, and also traveling a lot concerning the buisness parts of Kamelot. It became a bit of a burden that is true. It is worth it as long as the band is growing and focussed. There is a downside concerning the family, but it is not hard for them. They understand that this is our passion and something we want to do our whole life."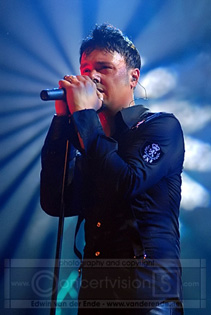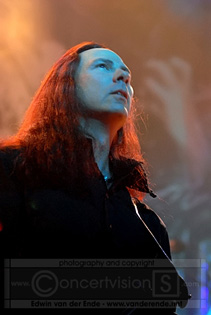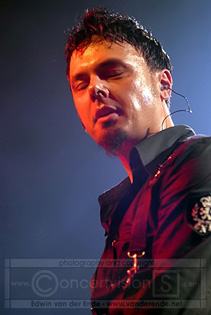 Vocals
When you listen to the new album one remarkable thing is the voice changes: Khan uses a different side of his voice and the song get more layers. He explains about it:

"You can hear my deeper voice especially on 'Rule The World' or on 'Blücher. That last song is a very special balade: many people tought that it wasn't my voice. There is an effect on it, but it is my real deep voice and not pitched down. Than there are little things like on 'Up Through The Ashes' where you hear a darker side.
I still practise a lot on my voice, also when I am alone. After two years your voice still can change and that is what happens with me also. I discover more new things about my voice and how to use that in advance. The high tones are still significant, but I also get a deeper layer. So I can do both and that is something I like a lot."
Future plans
'Ghost Opera' will be released in the June: the start of the festival season. So I ask Thomas right after the start of an other European tour, what the plans are so far.

Thomas: "There are not a lot of festivals planned. We do an USA tour in August and than Japan. Then we come back to Europe in Ocotber: also going to Spain and for the first time the UK. Maybe we come back in 2008 to do an other European tour for the album again."
It almost seems that you have no time off.

Thomas: "It does, but we hardly slow down. We get some time off. You have to keep working. The band is doing well and it is important to keep growing and developing."

Thankword to Frank van Liempd, the crew and Kamelot. Especially Thomas and Khan for their time and kindness.

{jos_sb_discuss:21}