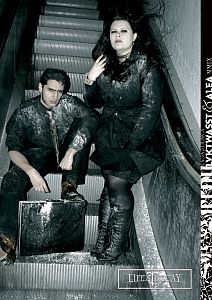 Interview with

Lyktwasst and Alea from Life's Decay

LIFE'S DECAY is a French project that Lyktwasst started in 2003, from the beginning he was alone in this project but in 2005 Alea came along. LIFE'S DECAY has released five albums before their new album 'Dysrieuses'. Learn more about the band and where they musically come from in our little interview.


Reflections of Darkness (RoD): How would you like to introduce LIFE'S DECAY as a band and your music to those who have not heard of you before?
Alea: We are a French project, based in Paris. Lyktwasst created LIFE'S DECAY in the beginning of 2003 and I joined the project in 2005 for the second 'Anleva' album. We have the will to create a personal universe, musically and visually, influenced by eclectic universes: dark classical acoustic music, steam punk industrial, experimental pop-rock... We are very curious and like to mix different styles, discoveries, tastes... A big musical evolution occurred between our first albums 'Art Decay Extremism' and 'Dysrieuses'. Our graphics have a huge importance in LIFE'S DECAY. Lyktwasst creates artworks made of only full black and white which establish a "retro - luxury" universe.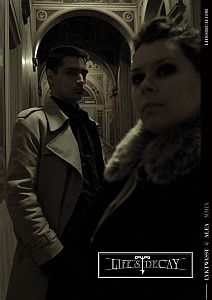 RoD: When it comes to influences, are there any bands or persons that have inspired your creative work as well as your style?
Lyktwasst: We are not really influenced by a particular person or band. We listen to a lot of things every day, visit exhibitions, see a lot of things and of course we read a lot. Inspiration is everywhere, we try to catch it and use it for our project. Being curious is very important to create something interesting. Our references and influences are really various, in art, music, literature, or simply in life.

RoD: What or who inspires you when you write the lyrics / music? Do you need to be in a special mood to be able to create?
Alea: No, I really don't need to be in a special mood but I really have to be focused on my work. That's the most important thing to create. I have to focus on the music or on the lyrics and work during hours. I'm inspired by everything I have read in my life, poetry literature, also personal experiences, dreams etc... I like to create an abstract universe in my texts, an imaginary space and situations which take place on a mysterious story. I have the wish to create some ambiguous texts, and I think that anyone could have his own idea about the lyrics and their meaning.

RoD: You have some cool and interesting art work on your home page (www.lifesdecay.com). I get the feeling that this is as important as the music to have as a creative outlet, am I correct? Would you like to tell me more about this art work and how the ideas come to you?
Lyktwasst: Yes, you are right. The artwork is as important as the music. It is made of only full black and white which creates a very unique atmosphere, a link with the music. They work together, they are connected. I realize the artworks with the idea of creating an interesting booklet. LIFE'S DECAY really is a "Sound and design project". That is an important part of the project. Making an artwork asks a lot of time, sometimes a few weeks.

RoD: If you did not have music and art work to use as creative outlets, what would you use instead?
Alea: Well, I think we could make more pictures, or films... I am an artist outside of the Life's Decay project, so I already use painting, drawings and sculptures, but both of us have music as creative outlet in common so we couldn't imagine stopping making music together. Lyktwasst is a professional graphic artist but he also works pictures and films so we could go far away with that kind of techniques. Our intention to create can't stop but can take some different forms... Nothing is fixed.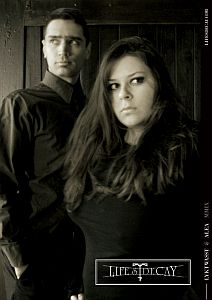 RoD: What drives you and makes you keep working with music?
Lyktwasst: We don't have any explanation, we have that passion and we follow our dreams and our will to explore more and more all our possibilities. Music is infinite and both of us are curious to see where it will drive us.

RoD: What kind of music do you prefer to listen to? Is there any music that you can't stand?
Alea: We are very curious and we listen to many different styles of music: classical, rock, pop, country, industrial, experimental... We're just not really into r'n'b and rap.

RoD: What would you like to say about your latest album 'Dysrieuses'?
Lyktwasst: 'Dysrieuses' is our sixth LIFE'S DECAY official album. It follows its evolution towards a completely acoustical orchestration, this time, nevertheless, with a much more aggressive and dynamic music than in the previous album 'Eklaasera'. In addition to classical instruments such as the cello, the piano or the violin, the bass part is more important as well as the guitar recorded in a more or less saturated way. An organ, even more saturated, is played in some parts. Small atmosphere instruments such as the harmonica, chimes, or a xylophone are also present and so are the industrial drums, the martial percussions as well as many experimental sounds made from pieces of metal or other various objects, all representing a very important part in the project's music. The lyrics are both dark and poetic, always written in French. Moving between or playing with the instruments, the voice goes sweet or turns into a more violent energy. The musical influences are various, like classical music, industrial music, even pop-rock, but it remains globally dark, experimental, tinted with ambiances at the same time martial, poetic, steam punk or deluxe-retro.

RoD: What has been the major source of inspiration on it?
Alea: Nothing in particular because we build our project like a very long succession. There isn't a theme for the albums. The guideline is more the style of the music. In 'Dysrieuses', the music is completely acoustic so it guided the global atmosphere and the lyrics.

RoD: Which songs are favourites at the moment and why?
Lyktwasst: Like we said before, we listen to a lot of things so we haven't a particular favourite song... We're actually seeking darker kind of music in order to have ideas for our next album.

RoD: Having your own label Abstraktsens Produktions, how has this affected you and your releases compared to if you would have been on any other label? Is the freedom to do what you want with your music an important reason of having your own label?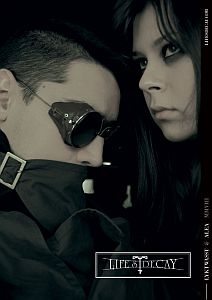 Lyktwasst: Yes, the reason we created our own label is to have complete freedom. We decide everything concerning LIFE'S DECAY and we manage our CDs, production, promotion, distribution... It is a huge engagement and a decision which creates a way of life. We have to make some sacrifices because it asks for a lot of working time and money but we really found our accomplishment into doing that for the moment.

RoD: When did your love for music start?
Alea: I always used to make music since I was a child and my passion has been stronger when I met Lyktwasst. We began to make music together and it became a real way of life. We unite our passion of the music, innovation and work to offer different albums from one to another...

RoD: What is music to you, what does music mean to you?
Alea: Music is art, it builds our life, determines our choices. When Lyktwasst has created LIFE'S DECAY and when I joined him, it was a real engagement. Our project is very important in our life and is present at every moment. Music is a construction of thought, a dream come true.

RoD: When you listen to music what is the most important thing for you? I mean do you listen and read the lyrics or do you just enjoy the music and kind of take it all in at once?
Alea: We have a real experimental approach of the music so the instruments, noises; rhythms are very important to us. The voice is also very important. In fact we don't separate all that elements. Music has to be coherent. We read the lyrics but after listening to the music... In our project, the lyrics are like little poetry which reinforces the construction of our universe.

RoD: Have you ever thought about making an album in English?
Lyktwasst: No, we never thought about making an album in English. We know that everyone cannot understand our lyrics and its exact meanings, but people can feel our music. That is the most important thing to us and the proof is that our main listeners are not French. We prefer to keep the charm of the French language which also participates to build a certain atmosphere.

RoD: What are your all time favourite song / songs, which always work with bringing you and your mood up or down?
Alea: We really don't have a favourite song at all. There are too many songs that we appreciate and they change as the time goes by. For me, there isn't a music that could possibly change my mood.