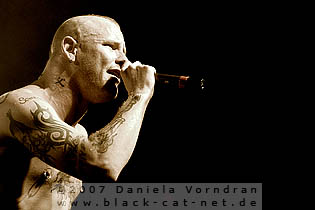 In 1992, about five years before he joined the band SLIPKNOT, Corey Taylor has founded STONE SOUR. One demo and some extensive touring resulted in Corey being fed up with this band in 1997, and so he ended up as a new member of SLIPKNOT, together with James Root (guitars), who was a former band mate. In 2002, Josh Rand (guitars) started the band revival with some new songs he had written, and so STONE SOUR finally published their self-titled debut album ten years after the band foundation via Roadrunner Records. With Shawn Economaki (bass) and Roy Mayorga (Ex-SOULFLY) on drums the band was complete again.
Biography


(as published on
http://www.stonesour.com
)
"The intensity. The drama. The emotion. The colors. The darkness. The melodies. The anger. The honesty. The drive. The new. All of the above and more." According to Stone Sour front man Corey Taylor, those are the things that define Stone Sour's passionately pulsing second album, Come What(ever) May (Roadrunner). Stone Sour's first album in four years finds the band firing on all cylinders, and primed to capture the attention and the hearts of the rock 'n roll masses. Stone Sour's self-titled debut was twice Grammy-nominated and RIAA Certified Gold. It was an eclectic album, propelled by the band's busy tour schedule, the contemplative smash single "Bother", and a series of groovy, melodic metal numbers. In 2002 and 2003, Stone Sour established itself as a multi-faceted hard rock force of nature.
While Taylor is one of the most recognized figures in rock music, thanks to his role as the front man for Slipknot, a Grammy winning, multi-platinum act, Stone Sour is anything but a side project. It's a full-time band that all members are fiercely dedicated to. Taylor spent much of 2004 and 2005 supporting his other band, but will spend 2006 and 2007 focusing on Stone Sour and Come What(ever) May. Also comprised by guitarist James Root, who does double duty in Slipknot, bassist Shawn Economaki, guitarist Josh Rand and new drummer Roy Mayorga, Stone Sour is armed with an album that expands beyond the palette of its predecessor. The band was afforded more time to craft songs, and it shows. The album, produced by Nick Raskulinecz (Foo Fighters, Velvet Revolver), is tight, crisp, and full of rowdy rockers and melodic numbers. "With Stone Sour, I loosen up and show more of myself", Taylor reveals. "As soon as the fans hear this new record, they'll see it's different than anything that we have ever done. It gives me a chance to do the singing that I love to do, the type of singing that I do when I'm walking around my house".
Taylor, a self-described extrovert, may be the mouthpiece for Stone Sour, but he insists the band is a truly collaborative effort, and that's something he thoroughly enjoys. "I've been able to blend into the background if needed, you know? You grow up thinking being recognized all the time will be sweet, but sometimes you just want to be one of the guys. I think I balance it fairly well, without killing people". Guitarist Josh Rand, who ran 3-5 miles a day during the recording process to clear his mind for each day's highly creative atmosphere, believes that the diversity of Come What(ever) May, which features guest appearances from The Wallflowers' Rami Jaffee and Godsmack drummer Shannon Larkin, will be what hooks fans, and what keeps them. "This album's content will fit any mood you may be in", the guitarist says. "If you've had a shitty day at work, you could crank 'Hell And Consequences.' If you need a little optimism, you could listen to 'Through Glass.' If you are feeling depressed, you could listen to 'Zzyzx Road."Obviously, Come What(ever) May is a sensory experience, encompassing a wide spectrum of emotions. "30/30-150" and "Reborn" are bruisers that'll get the blood coursing through listeners' veins, while the first single, "Through Glass", takes up real estate in your brain for days at a time, thanks its unforgettable melodic twists and chorus.
Try and purge your brain of Come What(ever) May's melodies, and you'll fail miserably. Taylor concurs, "So many bands are so genre-specific these days. No bands cover the middle ground. If they try, it's lifeless and limp. Our album has such a pulse. The cool thing is that when we write stuff, it turns out catchy whether we want it to or not. It's just something that we do". He's right. Crafting melody and mixing it with metallic maelstrom is definitely something that Stone Sour does better than most. Jim Root, who contends that "life" itself influenced this album and who claims he consumed nerve-shattering, tooth-staining amounts of coffee during the recording process, sees Come What(ever) May as a necessary evolution in the band's sound. "We're taking every aspect to the next level. As an artist, no matter what you do, you must evolve. That's very important to me. Some people fear change. I embrace it. This record is a testament to where I am at, musically and spiritually. Life is a learning experience and so is song writing. As with everything I try to improve. I can sit back and listen to these songs and know that I have".
Taylor understands that as his career goes on, he will be less and less understood and he likes it that way. "I've lost a little sleep over the fact that people don't get what I do and how I do it. I do everything I can to entertain, educate and infuriate the status quo. If I give the mainstream a headache once in a while, that works for me". It's that attitude that attracts the disaffected youth, the kids, the anti-conservative thinker, as well as the casual rock fan to Stone Sour. "I have a conscience", Taylor says about his songwriting style. "I have a respect for the music and I have an agenda. I have an individualistic mind to botch the 'product' mentality, and I am not out to further myself in a spotlight that knows no favorites. This could all be gone tomorrow. If all you're doing is trying to build your Q points, what are you going to do when no one wants to see you anymore? At least I'll be happy about the music I left behind". The songs and music on Come What(ever) May ensure that Stone Sour's legacy will endure for a long time to come.
Line-up


Corey Taylor - vocals
James Root - guitar
Josh Rand - guitar
Shawn Economaki - bass
Roy Mayorga - drums
Photos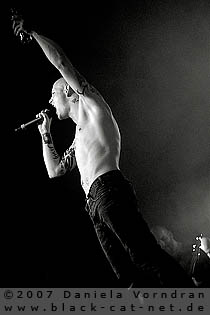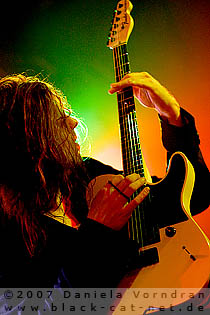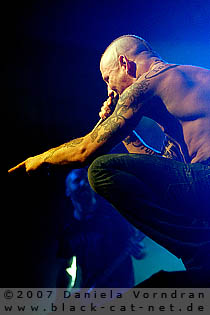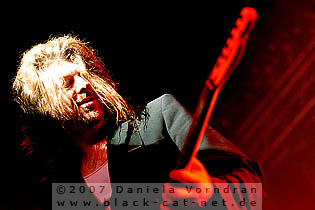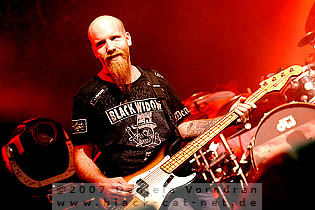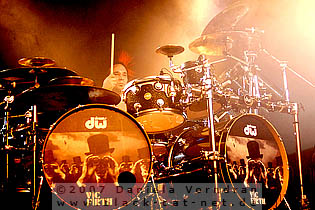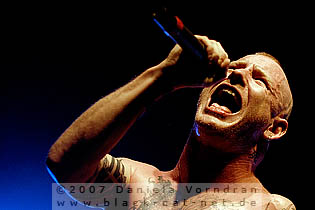 Copyright all pictures by Daniela Vorndran (
www.black-cat-net.de
)


Discography


Albums

2002 - Stone Sour (Roadrunner Records)
2002 - Stone Sour (CD+DVD Special Edition) (Roadrunner Records)
2006 - Come What(ever) May (Roadrunner Records)
Singles

2002 - Bother
2003 - Inhale
2006 - Reborn
2006 - Trough Glass
2007 - 30/30-150
Demos, EPs & Special Editions

1992 - Demo
1994 - Stone Sour (Demo)
1996 - Demo
2000 - Demo
2003 - Stone Sour (Special Edition) (with 5 Bonus Tracks + DVD with 3 videoclips)
Music Videos

2002 - Get Inside
2002 - Bother
2003 - Inhale
2006 - Reborn (Studio Video)
2006 - Trough Glass
2006 - 30/30-150
2007 - Sillyworld
Tourdates


Tour dates can be found through this link:
http://www.stonesour.com/index.php
Website
http://www.stonesour.com/