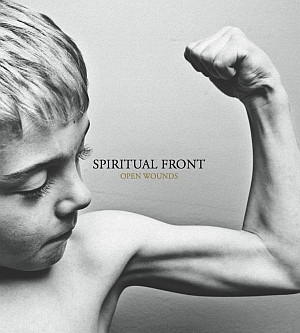 Artist: Spiritual Front
Title: Open Wounds
Genre: Nihilistic Suicide Pop
Release Date: 3rd May 2013
Label: Trisol / Mannequin Records
Album Review

If you have a wound, you should cover it with sterile material and see a doctor as soon as possible. The main thing is that the wound isn't infected. But what if the wound is on your heart and you got infected by love? Unfortunately, there is no plaster for hearts and no doctor can help it. But there is a medicine to ease your pain – music. The best way to prove it is the SPIRITUAL FRONT's 'Open Wounds'.
This time musicians made kind of tribute to themselves. First of all, finally we have the song 'Hey, Boy!' in a record, and don't have to wait for another show or watch the lives on YouTube to enjoy this wonderful piece. The other songs are well known too. What a great present: such songs as 'Soulgambler' and 'Song for the Old Man' and really old stuff revisited. Now there are more instruments, richer arrangements, new versions and visions. The pieces from the earlier times, when SPIRITUAL FRONT was a solo project, could be most interesting. And you could think, what a masochism it is, to open all of your old wounds and make them blood again. And you are right, but
"masochism is not such a bad thing. Pain as desired mean to reach a pleasure,"
- says Simone Salvatori, the frontman of the band.
The bonus CD is another present for die-hard fans. Another eleven tracks represent the atmosphere of making-of the album. That's what Simone said about it:
"This record could rebalance and purify the strange, dark vibrations that came out from the disc 1, at the same time it was a good chance to show a different side of SPIRITUAL FRONT, the side closer to the filmic attitude, creating a sort of inner landscape."
In the late January there is another present, the 'Open wounds' was released as vinyl! In the conclusion it is only left to say, that if you still haven't heard this album, you should do this as soon as possible, and if your heart wounds aren't open after all, you never loved.
Tracklist
CD1
01. Soulgambler
02. Hey Boy
03. Song for the Old Man
04. The Devourment of the Will
05. Delation/I live Through You
06. Autopsy of a Love
07. We Could Fail Again
08. Nectar on Your Lips
09. A Long Summer for the Dog of Satan
10. Eucharist of Sodomy


CD2
01. Autopsy of a Denied Love
02. The Indulgent Waltz
03. Soulgambler Theme
04. The Bent Invocation
05. Nectar Like Lips
06. Letter from Guyana
07. Hey Frail Boy
08. The Forth Summer
09. We Could Lie Again
10. Purple Cross House
11. Promise Like Bullet


Line-up

Simone Salvatori – Vocals, guitar
Andrea Freda – Drums
Federico Amorosi – Bass
Giorgio Maria Condemi – Electric guitar
Website

www.spiritualfront.com
/
https://www.facebook.com/spiritualfrontofficialpage
Cover Picture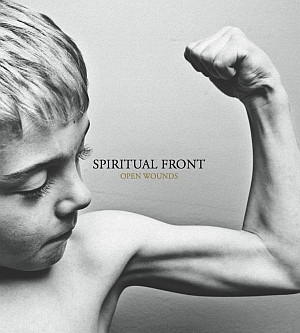 Rating

Music: 10
Sound: 10
Total: 10 / 10