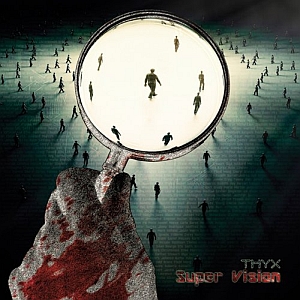 Artist: THYX
Title: Super Vision
Genre: Future Pop
Release Date: 25 March 2014
Label: THYX Records/ Metropolis Records
Album Review

Ah, side-projects! Clever ways of getting on every festival bill in a year, vanity time-fillers or a genuine exploration of musical directions not contained within the Mother-Ship? The results can vary widely, and here, Austria's MIND.IN.A.BOX main man Stefan Poiss has a stab at his own side-project. It's difficult to know why at times. The mission statement of either project could very well be to create intricate soundscapes, hint at distant futures and technological dreams as well as horrors, using distorted vocals at times and complex synthetic arrangements to create an unsettling but compelling glimpse into how computers would write music if they had emotions. Or something. And on the taut, tight structures of MIND.IN.A.BOX' 'Escape' or 'Change', for example, that mission statement would be entirely accurate. But on 'Super Vision', it all gets a bit lost. If there were guitars involved, this would be a progressive-rock concept album, four words to put the fear into any self-respecting music fan.
So what's to love here? Well, there's a huge, expectant intro, and 'Will They Learn' is a solid, driving, synth-pop song, dynamic and creepy, robotic voices and a quivering, uncertain undercurrent all ratcheting up the drama. The robotic voice, however, while part of the story unfolding on this album, soon outstays its welcome, as on 'Robots Don't Lie', which instead of sounding futuristic, is simply dated. It's awfully proggy and wibbly at the end too, which doesn't suit what's being attempted here. What else is good? Well, 'Don't Let Yourself Go' is spooky and whispery, scratchy and unnerving. 'Loyalty' shows Mr Poiss has an excellent voice when not immersed in effects, and the soaring synths of the chorus make this euphoric. And on 'Every Time' a growly, gnarly vocal holds it all together and hints strongly at the future-pop potential that could have been built on throughout the album.
But when it's bad, it's really bad. 'Forgotten', for example, starts off well enough but then erupts into a shockingly naff chorus, and 'Believe' is a rotten old piece of leftover 80's pop. 'Fur Immer', bizarrely, opts for some YES and ELP-style progressive-synth breaks, and sounds messy and ill-conceived. And that's the problem here. The concept probably looked great on paper, but musically this is all over the place, inconsistent and wildly leaping from excellent to average and then nose-diving into embarrassing. So… Side-projects. File this one under unnecessary. Let's all go back to ratcheting instead, and pretend this just didn't happen.
Tracklist

01. Intro
02. Will They Learn
03. Robots Don't Lie
04. Für Immer
05. Waiting For You
06. Don't Let Yourself Go
07. Loyalty
08. Our Way Home
09. Believe
10. Forgotten
11. Every Time
Line-up

Stefan Poiss
Website

http://www.thyxmusic.com
/
https://www.facebook.com/thyxmusic
Cover Picture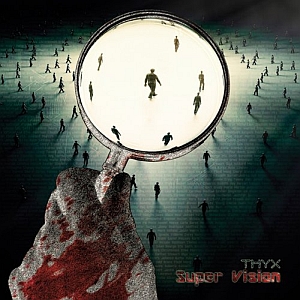 Rating

Music: 5
Sound: 7
Total: 6 / 10