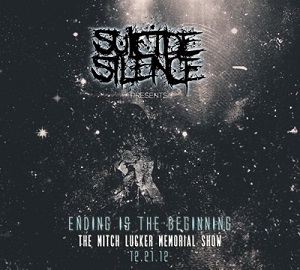 Artist: Suicide Silence with Various Artists
Title: The Mitch Lucker Memorial Show (Ending is the Beginning)
Genre: Deathcore
Release Date: 17th March 2014
Label: Century Media Records
Album Review

On November the first 2012 at 06:17, Mitch Lucker's heartbeat stopped, the SUICIDE SILENCE vocalist died after a serious motorcycle crash. The news of his death shocked his family, friends and loyal fan base to the marrow. The band was left with the question if they will continue or not and family was left without enough money to raise his daughter in his stead. On December 21st part of the metal community came together to celebrate Lucker's life and work and raise money for his daughter's future education.
Now I am sitting here listening to the material that was recorded on this evening in December 2012, the fans really celebrate the musicians and the performed music. Robb Flynn's version of BLACK SABBATH`s 'Die Young' is the highlight of the evening in my opinion because most of the stuff ain`t my cup of tea (I like vocalist`s that sing therefore I despise death core and metal core) most of the songs are unknown to me and will never again enter my auditory canal. The last thing I want is to be disrespectful to the band and family of the deceased but I am notorious for being brutally honest (it`s my trademark). So I must say if you`re into death and metal core and like to be shattered senseless you probably want to buy this, if not check out some classic rock.
R.I.P Mitch, no harm meant..
Tracklist

01. Destruction of a Statue feat. Jonny Davy
02. Distorted thought of Addiction feat. Greg Willburn
03. Ending is the Beginning feat. Brook Reeves
04. Bludgeoned to Death feat. Ricky Hoover
05. Unanswered feat. Phil Bozeman
06. Girl of Glass feat. Myke Terry
07. The Price of Beauty feat. Danny Worsnop
08. No Pity for a Coward feat. Johnny Plague
09. No Time to Bleed feat. Burke Van Raalte
10. Smoke feat. Anthony Notarmaso
11. March to the Black Crown
12. Slaves to Substance feat. Eddie Hermida
13. OCD feat. Austin Carlile
14. Fuck everything feat. Chad Grey
15. Die Young feat. Robb Flynn
16. Roots Bloody Young feat. Max Cavalera
17. Engine#9 feat. Mitch Lucker
18. You Only live Once feat- Randy Blythe
Current line-up

Eddie Hermida: Vocals
Chris Garza: Guitar
Mark Heylmun: Guitar
Alex Lopez: Drums
Dan Kenny: Bass
Website

https://www.facebook.com/suicidesilence
Cover Picture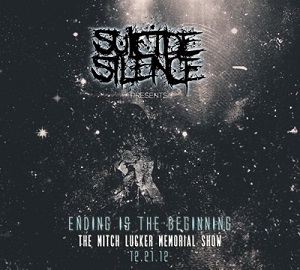 Rating

Music: 4
Sound: 4
Total: 4 / 10