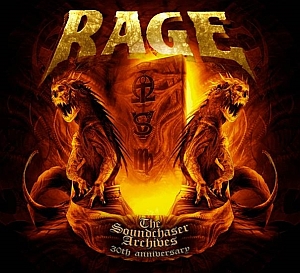 Artist: Rage
Title: The Soundchaser Archives
Genre: Heavy Metal
Release Date: 23rd May 2014
Label: Nuclear Blast
Album Review

The 30th anniversary is a good reason to release a new album but German heavy metal act RAGE decided to make something better and soon their new record 'The Soundchaser Archives' will come out. The record is a compilation including two CDs, 15 tracks each. The whole thing starts with a brand new song, entitled 'Anybody Home?', somewhat classic metal composition with restrained, even vocals and as usual great riffs. 'Mystery Trip' begins powerfully driving listeners away with its energy that smoothly flows into the next piece, which turned out to be the first demo version of the song. And in this case 'In Union' already attracts an attention. However the next track is also very interesting not only because of the impressive guitar part at the beginning. Just listen to it and you'll get the idea.
Actually if I try to say even a couple of words about every composition, this review will be too long and overloaded with information yet the main idea is to give you a brief introduction into the record that is definitely worth listening. So the next nice piece 'Full Moon', the international version of which is sung in different languages, well, I personally like Russian and Japanese. But the album is just full of the interesting things and one of them 'French Bourrée': its tune appeared to be Victor Smolski's interpretation of the music by J.S. Bach. Then again we can enjoy the first demos and even earlier versions of different songs covering RAGE's history. Maybe I mark out 'Lost in the Void' and 'Down to the Bone' as my own highlights and it's time to check out the second album which also opens with a new song.
'The Speed of Sound' seems to be the first way to describe the music of RAGE so far: speedy, strong, vigorous and expressive. And again further there come demos, first and special versions of the songs, each with its own peculiarities. In my opinion the most peculiar is 'Death Is Alive' thanks to the arrangements, great tune, vocals and the lyrics, of course. 'Fugue No. 5' once again refers to wonderful music of Johann Sebastian Bach skilfully arranged by Victor Smolski. Previously unreleased 'Waterfalls' and the title track that is also the final one, definitely deserve a special attention. So the compilation comes to an end and the only thing is left to say: 'The Soundchaser Archives' does not only illustrate the 30 years of the band's existence and will please the devoted fans of the band, but also it may be interesting for those who decide to listen to RAGE for the first time and to get to know what the formation is about. Well, both variants are quite good.
Tracklist
CD1
01. Anybody Home? – 4:54
02. Mystery Trip – 4:16
03. In Union – 3:31
04. Long Hard Road – 4:41
05. Full Moon (International Version) – 4:53
06. Nevermore – 4:14
07. French Bourrée – 4:11
08. A Perfect Day – 3:48
09. Enough Is Enough – 7:01
10. Here Comes the Night – 3:14
11. Spiritual Awakening – 3:43
12. Lost in the Void – 4:13
13. The Missing Link – 4:34
14. Another Kind of Madness – 5:38
15. Down to the Bone – 5:01
CD2
01. The Speed of Sound – 3:14
02. Darkness Turns to Light – 5:03
03. Death Is Alive – 6:05
04. Gentle Murders – 3:49
05. From the Cradle to the Grave – 4:38
06. Refuge – 3:30
07. Fugue No. 5 – 3:17
08. Last Goodbye – 4:26
09. Dirty Wings – 5:08
10. The Pit and the Pendulum – 3:56
11. Waterfalls – 6:24
12. Heads off – 3:24
13. Assorted by Satan – 4:23
14. Shame on You – 5:01
15. Soundchaser – 5:14
Line-up

Peavy Wagner – Vocals, Bass
Victor Smolski – Guitar, Keyboard
André Hilgers – Drums
Website

http://www.rage-on.de
/
https://www.facebook.com/OfficialRage
Cover Picture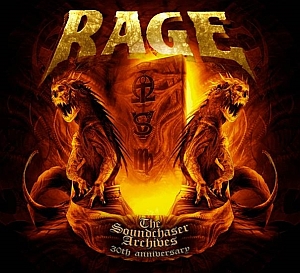 Rating

Music: 9
Sound: 8
Total: 8.5 / 10