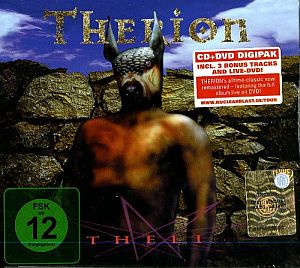 Artist: Therion
Title: Theli (Deluxe Edition)
Genre: Symphonic Metal / Gothic
Release Date: 28th February 2014
Label: Nuclear Blast
Album Review

If titles like 'Preludium,' 'Interludium' and 'Postludium' sound preposterously pretentious, and 'Invocation of Naamah' and 'Opus Eclipse' sound monumentally bombastic and over the top, then it's probably because they are. But then if you're going to go big, bombastic and over the top, then half-measures aren't an option. An over the top epic vision demands total commitment, and THERION demonstrate that on this spectacularly theatrical magnum opus, originally released in 1996 and here expanded with three bonus cuts and a DVD with live versions of the original album's 10 tracks. Phew! Whether a document so immense needed expanding is perhaps questionable, but as an album that encapsulates the very essence of symphonic metal and effectively defined both the genre and the turning point of the band's career, 'Theli' is doubtless deserving of the deluxe treatment.
They run the full gamut of pomp, from the galloping metal guitars and doomy gothic vocals paired with a full orchestra and what sounds like a 40-strong choir on 'To Mega Therion' (which, taking its name from the Celtic Frost album that first inspired the band and meaning 'The Great Beast' in Greek is truly mega in every way) to the progressive metal chug of 'In the Desert Set' which suddenly breaks into a winding Eastern motif. Where THERION succeed is that the music and the production live up to the grand ambitions, and they use the vast swathes of strings and choral sections – not to mention the piano solos, the dynamite drumming and immense guitars - to great effect, stacking up the drama.
'Nightside of Eden' is a more straightforward Goth rocker, spindly guitars twisting around a thumping bass and a square four-four rhythm, while Christofer Johnsson's voice booms cavernously. The result is truly Biblical. The ten-minute epic 'The Siren of the Woods' begins with a gentle acoustic guitar, soon joined by a delicate synth. As additional instruments and voices are added, so the sound builds majestically, leading the listener on not so much a simple journey but a pilgrimage. The closing couplet of 'Grande Finale / Postludium' places the emphasis on the "Grande": it's immense and bursting with grandeur. As a monument to musical excesses, 'Theli' is a towering work that reaches the heavens.
Tracklist

01. Preludiu
02. To Mega Therion
03. Cults of the Shadow
04. In the Desert of Set
05. Interludium
06. Nightside of Eden
07. Opus Eclipse
08. Invocation of Naamah
09. The Siren of the Woods
10. Grand Finale / Postludium
11. In Remembrance (Bonus Track)
12. Black Fairy (Bonus Track)
13. Fly to the Rainbow (Bonus Track)
Deluxe edition DVD contains live versions of tracks 1 -10
Line-up

Christofer Johnsson - guitar, vocals, keyboards
Piotr Wawrzeniuk - drums, vocals
Lars Rosenberg - bass guitar
Jonas Mellberg - guitar, acoustic guitar, keyboards
Website

http://therion.se
Cover Picture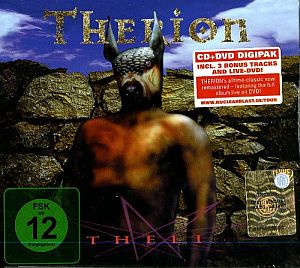 Rating

Music: 7
Sound: 9
Total: 8 / 10