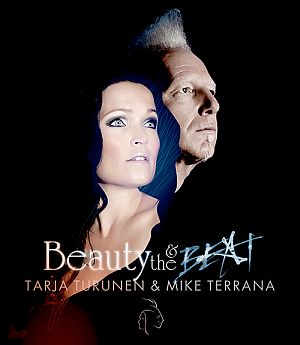 Artist: Tarja Turunen & Mike Terrana
Title: Beauty & The Beat
Genre: Symphonic / Metal
Release Date: 30th May 2014
Label: earMUSIC
Album Review

Tarja Turunen and Mike Terrana already constantly work together for Tarja's live performances. Now, both musicians released an album / DVD together, including interpretations of classic music pieces ranging from Bach to Mozart, from Strauss to Rossini as well as rock classics from QUEEN, LED ZEPPELIN and TARJA. 'Beauty & The Beat' is neither a usual rock show nor an ordinary classic concert. It is music played in an unorthodox way presenting a wide range of classical pieces and rock songs together with an orchestra and choir with altogether more than 100 musicians on stage. The release offers an enormous sound, Terrana's energetic drums and of course Tarja's special voice.
'Beauty & The Beat' was originally planned as a one-time event in 2011. But the show was really successful. So in Spring 2013, Turunen and Terrana toured again together throughout the world, from Poland to Russia to Mexico and this is the corresponding recording, being released as 2CD, DVD, Blu-ray and download. The release's title of course refers to the beauty of Tarja and of course Mike seems to be the beast… the beast on the drums, if I may say so. A little critical comment… I think that Tarja interprets her own pieces too close to the originals and the classic songs are just "accompanied" by Mike's drums. I miss a little bit experimenting when playing with so many musicians. They could have dressed the songs totally new.
But don't get me wrong, both artists are great musicians and of course the sound of their show and their musical presentation are perfect.
Tracklist CD
CD1
01. Mike - Concert For Violin & Oboe (Bach)
02. Tarja - Blute Nur (Bach)
03. Tarja - Zueignung - Op. 10, No. 1 (Strauss)
04. Mike - Barber of Seville (Rossini)
05. Mike - New World Symphony (Dvorák)
06. Tarja - Song To The Moon (Dvorák)
07. Tarja - Vilja Lied (Lehár)
08. Tarja - O mio babbino caro (Puccini)
09. Mike - Can-can (Offenbach)
10. Tarja - I Feel Pretty (Leonard Bernstein)
11. Mike - William Tell Overture (Rossini)
12. Tarja - Mein Herr Marquis (Strauss)
13. Mike - Eine kleine Nachtmusik (Mozart)
CD2
01. Tarja - You Take My Breath Away (Queen)
02. Tarja & Mike - The Reign (Tarja)
03. Tarja & Mike - Witch-hunt (Tarja)
04. Tarja & Mike - Led Zeppelin Medley
05. Tarja & Mike - Swanheart (Nightwish)
06. Mike & Tarja - Fly Me To The Moon (Frank Sinatra)
07. Tarja & Mike - Into The Sun (Tarja)
08. Tarja & Mike - I Walk Alone (Tarja)
Tracklist DVD/Blu-ray
First part
01. Orchestra - Carmen Overture
02. Mike - Concert For Violin & Oboe (Bach)
03. Tarja - Blute Nur (Bach)
04. Tarja - Zueignung - Op. 10, No. 1 (Strauss)
05. Mike - Barber of Seville (Rossini)
06. Mike - New World Symphony (Dvorák)
07. Tarja - Song To The Moon (Dvorák)
08. Tarja - Vilja Lied (Lehár)
09. Tarja - O mio babbino caro (Puccini)
10. Tarja & Mike - The Reign (Tarja)


Second part
11. Tarja - You Take My Breath Away (Queen)
12. Tarja & Mike - Witch-hunt (Tarja)
13. Tarja & Mike - Led Zeppelin Medley
14. Tarja & Mike – Swanheart (Nightwish)
15. Mike - Can-can (Offenbach)
16. Tarja - Mein Herr Marquis (Strauss)
17. Mike & Tarja - Fly Me To The Moon (Frank Sinatra)
18. Tarja & Mike - Into The Sun (Tarja)
Encore
23. Mike - William Tell Overture (Rossini)
24. Tarja - I Feel Pretty (Leonard Bernstein)
25. Mike - Eine kleine Nachtmusik (Mozart)
26. Tarja & Mike - I Walk Alone (Tarja)
Bonus material
Photo Gallery
Line-up

Tarja Turunen
Mike Terrana
Website

http://tarja-beautyandthebeat.com
/
https://www.facebook.com/beautyandthebeatofficial
Cover Picture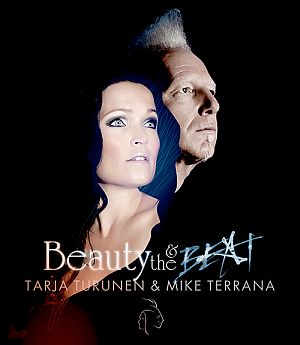 Rating

Music: 7
Sound: 8
Video: 8
Total: 7.7 / 10