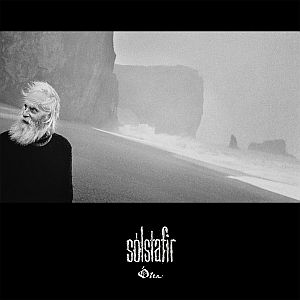 Artist: Sólstafir
Title: Ótta
Genre: Atmospheric Rock'n'Roll
Release Date: 29th August 2014
Label: Season of Mist
Album Review

SÓLSTAFIR are from the most peaceful country on Earth according to the latest study of Institute of Economics and Peace. Can you guess which one? [Yes, it's Iceland.] Founded in '95 they've grown from Black Metal band into something of their own genre; it's such a coherent and cohesive amalgam of styles and it's pointless to cook up some label for it. Some pretend to be unique, some try to be, and this band just is.
Let's go to the background of their new, that is fourth, album 'Ótta', though there are some clues in the cover already – the indifferent serenity in the seeming infiniteness of the sea and yet weather piercing and sculpting turmoil into the fabric of its being, together with its tidal suggestion behind an old man who is God-looking, all in black and white – doesn't it all suggest something to do with time? Indeed:
"the song titles of 'Ótta' form a concept based on an old Icelandic system of time keeping similar to the monastic hours called 'Eykt' ('eight'). The 24 hour day was divided into 8 parts of 3 hours each. The album starts at midnight, the beginning of 'Lágnætti' ('low night'), continues through each Eyktir of the day and ends with 'Náttmál' ('night time') from 21:00 to 0:00."
It will offer you a peaceful sound-oasis with its dreamy, drawn-out songs; effect both procured by psychedelic effects with the dramatic waves of rock beats, metal edges, yet there's a lot of urgency here introduced mostly with the vocal getting an angsty tone on between the smudges of beautiful melodies with their epic reaches to disturb that hazy stillness. It's introspection within a day of a lifetime, it seems. There are also folklorsy elements tangible on their previous releases, but they're truly uniquely incorporated here – in my opinion destroying the easy comparison to the wild beauty of Icelandic landscape and Viking romanticism that they must have had heaped on them in the past.
As you near the last threesome of songs the tempos also increase, the pressure builds on the drums pierced by a guitar at just the right moments to accentuate it. I have to say that my favourite parts are the understatedly melancholy and elegant piano parts, especially in 'Miðaftann' and in the album's seductive beginning. Its emotional impact is there from the start yet it strengthens with every new listen and with discovery of new details in such a layered offering. The mid-section, which is probably most ostensibly Post + Alt Rock-like that at first left me an impatient traveller on a bridge between more ambient, instrument-focused beginning and the great emotive burst of the end before it leaves with magnificent ambient crescendo that seems to have climbed right up to God's knees like a wave. After consequent listen the mid-songs started to shine as such too and it's obvious they're a deserved part of the whole.
SÓLSTAFIR means crepuscular rays, some also call them God's rays, they are sunlit air creating appearance of light columns that you'll see appearing between the clouds or tall buildings especially during dawn and sunset, converging on a point and yet that is an optic illusion. OK, you knew all this and I'm just stating the obvious. So why did I? To illustrate that it's a truly apt name for this band – and for this album that feels like it's exactly that – shifting, illuminated perspectives. To shortly sum up: I feel it is one of the defining milestones on their music path. A gem of an album!
Tracklist

01. Lágnætti
02. Ótta
03. Rismál
04. Dagmál
05. Miðdegi
06. Nón
07. Miðaftann
08. Náttmál
Line-up

Aðalbjörn Tryggvason - guitar, vocals
Guðmundur Óli Pálmason - drums
Svavar Austmann - bass
Sæþór Maríus Sæþórsson - guitar
Website

www.solstafir.net
/
www.facebook.com/solstafirice
Cover Picture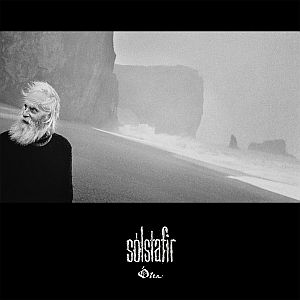 Rating

Music: 9
Sound: 9
Total: 9 / 10