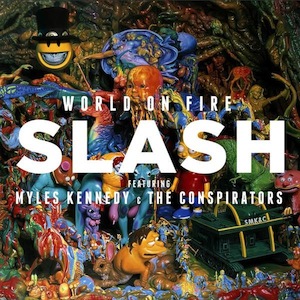 Artist: Slash
Title: World On Fire
Genre: Hard Rock
Release Date: 16th September 2014
Label: Warner Music
Album Review

SLASH is a name that didn't need an introduction if you lived during late '80's and early '90's – GUNS N'ROSES was blasting out from radios and stereos; it wasn't just the many girls who were in love with Axl Rose and/or Slash they seemed to hit it off with a large audience. He's bringing out second solo album featuring vocalist Myles Kennedy (ALTER BRIDGE) and THE CONSPIRATORS.
Kennedy, however good he is, can't do miracles and infuse this dead corpse to life. Was it the opportunity to work with someone who lived during an era when Rock stars still rolled in it whereas today's musicians can't have as much fun as they have fiercer and more plentiful competition, have to grapple with the age of internet, the age of culture freebies? ALTER BRIDGE may not be as widely known as GUNS N'ROSES once were but right now it beats this hands down.
'World on Fire' is stuck back in the 80's to 90's beer-restaurants territory. It may be great for those who glorify the past like Slash is, but for everyone else can this nostalgia offer anything? No, some music survives ravages of time, some retro music can be great, but this is neither of those things. Moreover, there's nothing to freshen it up. This album is literary a locked room in a travel machine where you can't breathe for thick dust. The only thing you'd remember is claustrophobia of it all. Perhaps it's best for the themed parties otherwise it's actually annoying with its obsolete and stale music ideas.
Tracklist

01. World on Fire
02. Shadow Life
03. Automatic Overdrive
04. Wicked Stone
05. 30 Years to Life
06. Bent to Fly
07. Stone Blind
08. Too Far Gone
09. Beneath the Savage Sun
10. Withered Deliliah
11. Battleground
12. Dirty Girl
13. Iris of the Storm
14. Avalon
15. The Dissident
16. Safari Inn
17. The Unholy
Line-up

Slash – lead and rhythm guitar
Myles Kennedy – vocals
Todd Kerns – bass, backing vocals
Brent Fitz – drums, percussions
Websites

http://www.slashparadise.com
/
https://www.facebook.com/SlashParadise
Cover Picture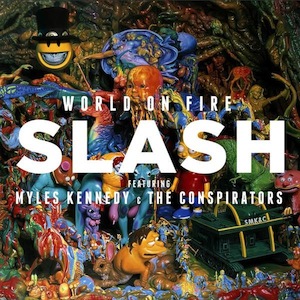 Rating

Music: 5
Sound: 6
Total: 5.5 / 10