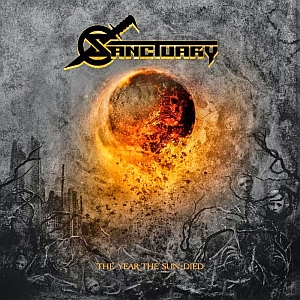 Artist: Sanctuary
Title: The Year The Sun Died
Genre: Heavy Metal
Release Date: 6th October 2014
Label: Century Media
Album Review

25 years after the legendary 'Into The Mirror Black' album, SANCTUARY are back with a new release. Ok I know that many of you while you are listening 'The Year The Sun Died' think "sounds like NEVERMORE" but I think all of you when you listened the first NEVERMORE album you said "this sounds like SANCTUARY" so I think there is no reason to spend our time thinking if this album sounds like NEVERMORE, let's focus on the music itself. The album is dark and heavy with very good riffs, Warrel can't sing like he was singing in 'Refuge Denied' (something which is normal it's been 27 years since then) but he is still singing on high level.
The production made by Chris Zeuss Harris (Agnostic Front, 3 Inches Blood, Chimaira) is modern, loud and clear and the artwork made by Travis Smith (Opeth, Nevermore) is great. Best tracks of the album are the heavy and with great riffs 'Arise And Purify', the up-tempo 'Let The Serpent Follow Me' with the bridge that reminds the old days of the band, the 'Question Existence Fading' one more track with great riffing and very good vocals and the self-titled track of the album with the acoustic intro titled 'Ad Vitam Aeternam', a slow heavy track with vocals full of despair and very good guitar solo.
'The Year The Sun Died' is not 'Into The Mirror Black' is not 'Refuge Denied' but it's a very good modern metal album which shows that even after 25 years of absence the guys still got it!
Tracklist

01. Arise and Purify
02. Let The Serpent Follow Me
03. Exitium (Anthem of the Living)
04. Question Existence Fading
05. I Am Low
06. Frozen
07. One Final Day (Sworn to Believe)
08. The World is Wired
09. The Dying Age
10. Ad Vitam Aeternam
11. The Year the Sun Died
Line-up

Warrel Dane – Vocals
Lenny Rutledge – Guitars
Jim Sheppard – Bass
Dave Budbill – Drums
Brad Hull – Guitars
Website

https://www.facebook.com/sanctuaryfans
Cover Picture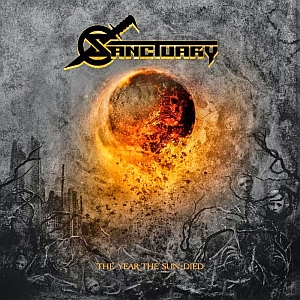 Rating

Music: 7
Sound: 8
Total: 7.5 / 10