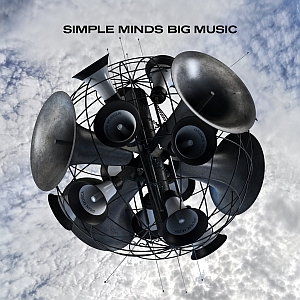 Artist: Simple Minds
Title: Big Music
Genre: New Wave
Release Date: 31st October 2014
Label: Simple Minds Ltd / Embassy Of Music
Album Review

17th studio album for the Scottish cult new wave band... and still no sign of holidays for SIMPLE MINDS as they are actually recording and touring nonstop since decades. We already had a couple of hints on the direction taken by SIMPLE MINDS with two tracks presented on the 'Celebrate' recent compilation ('Broken Glass Park' and 'Blood Diamond'), the release of 'Blindfolded' a couple of months ago and some tracks performed during the "Celebrate Tour" ('Big Music', featured on the SSE Live DVD/CD or 'Imagination'). And the album confirms it: return to big synth sounds, anthems designed for live, massive production...
This 'Big Music' collection is a nonstop succession of hits clearly reminding of the 1980-1982 era in terms of electronically driven sound, and the 1983-1988 in terms of songwriting. Not a surprise Steve Hillage who produced 'Sisters Feeling Call' was involved in the production of some songs on 'Big Music'. But this is not a nostalgia album sounding old school. The sound is very contemporary. As per the inspiration of the songs, it's funny to see Jim Kerr's band being, once more, synchronized with their long-time friends from U2. As the Irish released their 'Songs Of Innocence', inspired by their childhood, early beginnings, parent relationships... SIMPLE MINDS is in the same mood.
'Broken Glass Park' speaks about early days of the MINDS, 'Big Music' is inspired by the feeling you have when seeing a concert of your favourite artist (in Kerr's case, he wrote the song back from a PRINCE's concert), 'Honest Town' is about one of the last drive in town with Kerr's mother before she passed away... Is it their age? Or the worldwide multiple crisis that shakes the world (economic, financial, morale, social...) and that lead to a natural reaction of looking out our past, the things we achieved, what makes us what we are... and getting back to who we are deep inside. Whatever the answer is, we have here one of the greatest album the band had released since probably 'Real Life' in 1992.
I'm not saying the rest was bad. I personally love all the albums that came since then. There were always a batch of incredible songs in any album you pick ('War Babies', 'Cry', 'Hypnotized'...). They experimented different formulas and the two last releases 'Black Or White' and 'Graffiti Soul' were mind blowing. But having such a collection of 18 songs (The Deluxe Edition having a Bonus CD of five additional songs and an alternative version of 'Blindfolded') close to perfection is... BIG music indeed.
On top of already mentioned songs, one of the smash of the album is a cover. 'Let The Day Begin', from the cult Scottish act THE CALL (with whom Jim Kerr recorded some backing vocals back in 1986 on two tracks of their 'Reconciled' album: 'Everywhere I Go' and 'Sanctuary'). This song was already recorded for the bonus cover album of 'Graffiti Soul' in 2009. Where this first attempt clearly reminded of the 'Sparkle In The Rain' era, this new version will take you back straight to the 'Live In The City Of Light'. You could almost see Mick McNell behind the keyboards with his fabulous intro and piano/ strings sounds full of reverb. Charlie's guitar is also key to this sound with his whawha / flanged sounds and big riffs. And the result is a killer hit that will certainly be a key moment of the future concerts.
And as we speak of covers, two other tributes feature on the album (Deluxe Edition only): a very electronic version of THE DOORS' 'Riders On The Storm' that is absolutely incredible and a new recording of PATTI SMITH's 'Dancing Barefoot' (that U2 also covered in 1989) that they already released as a single to promote their cover album, 'Neon Lights' back in 2002. This time, it's Sarah Brown, their backing vocalist for a while now, that sings lead vocals... just as she does on tour for some years. Let's also mention a song that was leaked during Kerr's solo project (LOSTBOY!), 'Kill Or Cure'. It didn't make it on to his album, but it was sometimes performed live and a MP3 of it was leaked on YouTube (as well as a couple of other songs such as 'Sense Of Discovery'). This time, it's under the band's name that it's officially out. The result is not so distant from the original Kerr's idea. Let's say Charlie and Mel bring the MINDS touch to it and give it a "bigger" sound.
Another re-recorded song on the bonus CD is 'Swimming Towards The Sun', from the "originally planned to be the 1999 album", 'Our Secrets Are The Same', but that was not released in the end, partly because of disputes with Virgin but also because the album was totally leaked in a roughly mixed version on an Italian radio. For the record, the album was later officially released in 2004 as part of the 'Silver Box' In that case, the differences are more noticeable. Vocals are smoother and deeper, and obviously, the 2014 electronic production makes a big change from the rockier sound of the original.
But an album of the MINDS wouldn't be complete without an aerial progressive mid tempo hymn. We had 'See The Light', 'Real Life', 'Street Fighting Years' or Kerr's splendid 'The Wait Part 1+2' by the past... This collection offers us 'Spirited Away' that ends up the CD1 album. Vocals are soft and delicate, aerial verses building layers on and on to lead towards big chorus full of synths and riffs, BIG drums and backing choirs... A very much awaited live moment.
I could name them all to be honest. 'Liaison' for example, on the bonus CD. And let's not forget the Bonus DVD with promo videos of 'Blindfolded' and 'Honest Town', as well as a 'Making Of Honest Town' and an interview of the band that takes us through most of the songs of the album (inspiration, recording, meaning...). A BIG 10/10 for the BIG music of a BIG band. SIMPLE MINDS confirms, once again, they are on the top of their art and far from the end of the wonderful journey started in 1978.
Tracklist
CD1
01. Blindfolded*
02. Midnight Walking
03. Honest Town
04. Big Music
05. Human
06. Blood Diamond*
07. Let The Day Begin**
08. Concrete And Cherry Blossom
09. Imagination
10. Kill Or Cure**
11. Broken Glass Park*
12. Spirited Away
* Diffent Mix from single
** New Recording



CD2
01. Swimming Toward The Sun**
02. Bittersweet
03. Liaison
04. Riders On The Storm
05. Dancing Barefoot** (feat Sara Brown on vocals)
06. Blindfolded (reprise)
** New Recording

DVD
01. Honest Town (Promo Video)
02. Blindfolded (Promo Video)
03. Human (Short Clip)
04. Let The Day Begin (Short Clip)
05. Midnight Walking (Short Clip)
06. Making Of "New Town" video
07. Band' Interviews
Line-up

Jim Kerr – Vocals
Andy Gillepsie – Keyboards
Mel Gaynor – Drums
Charlie Burchill – Guitars, Keyboards, Programming
Ged Grimes – Bass
Sara Brown – Backing Vocals
Website

www.simpleminds.com
Cover Picture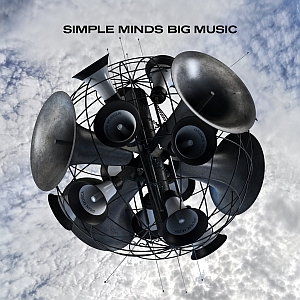 Rating
Music: 10
Sound: 10
Bonus: 10
Total: 10 / 10