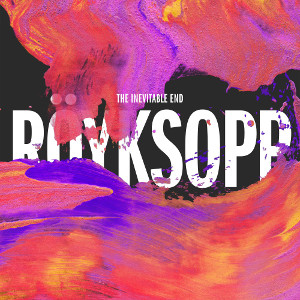 Artist: Röyksopp
Title: The Inevitable End
Genre: Electronic
Release Date: 21st November 2014
Label: Embassy One
Album Review

The tile of the latest album release by the Norwegian duo RÖYKSOPP is as much a description as it is a statement a they're abandoning the classic album format as they see there's nothing more to accomplish with it. So the album is to be seen as a farewell bid as well in a certain way. What shape the RÖYKSOPP output is going to take on in the future is entirely a mystery at the moment. Guess, we'll just have to wait and see. For now we're going to be dealing with 'The Inevitable End'. As seen on previous releases the band have enlisted the talents of various vocalists to set the exact mood they had in mind for it. The first one 'Skulls' though might or might not be the guys themselves. You can't really tell by the heavily processed vocals but the track as such makes a good, albeit a little pale opening for the album, whole the following 'Monument' voiced by long-time collaborator ROBYN gets the show started properly. The only downside to it is the use of auto tune on some of the vocals. That wasn't necessary in my opinion.
'Sordid Affair' practically lives on its airy pads that form an entangled web of sea sadness above a bed made of a simple yet effective beat. At this early time on the album comes a highlight with the sombre 'You Know I Have To Go', voiced by Jaime Irrepressible. A radiant amalgamation of crystalline atmospherics glides subtly over a low electronic stab as a beat while he fills the entire room with a flow of emotion. With Susanne Sundfør, there's the next strong vocalist. Without a vocalist this powerful, 'Save Me' wouldn't be anything you'd consider listening to twice. It's what makes this track whole so to speak. Both have another performance in the following both falling into danceable territory before RÖYKSOPP slip in the wonderfully airy instrumental 'Coup De Grace', a symphony of synthetic grace with notes, making the hair on the back of your necks stand on end. If you're amongst the lucky ones owning the Bonus CD, you'll be treated to a string of additional tracks, I couldn't find remotely as strong as the regular album's content. It's a nice goodie though.
So, getting back to the album that is, despite a few misgivings a strong body of work making op music listenable again and delivering a goodbye that won't soon be forgotten.
Tracklist

01. Skulls
02. Monument (T.I.E. Version)
03. Sordid Affair
04. You Know I Have To Go
05. Save Me
06. I Had This Thing
07. Rong
08. Here She Comes Again
09. Running To The Sea
10. Compulsion
11. Coup De Grace
12. Thank You
Bonus CD

01. Do It Again (RYXP Version)
02. Goodnite, Mr. Sweetheart
03. Caramel Afternoon
04. Oh No
05. Something In My Heart
Line-up

Torbjørn Brundtland
Svein Berge
Website

http://www.royksopp.com
/
https://www.facebook.com/Royksopp
Cover Picture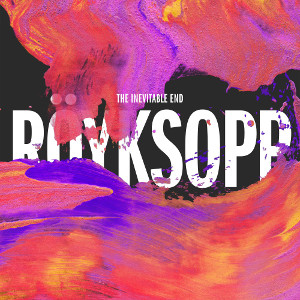 Rating

Music: 8
Sound: 9
Extras: -
Total: 8.5 / 10