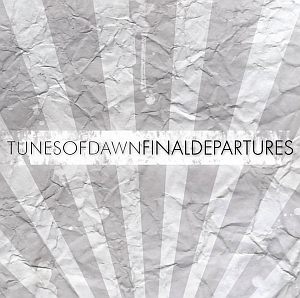 Artists: Tunes Of Dawn
Title: Final Departures
Genre: Rock / Alternative
Release Date: 5th December 2014
Label: thexoomo
Album Review

So let me start with the disarming cognition that TUNES OF DAWN give you a hard fight not to like their new output 'Final Departures'. Somehow the thirteen tracks feel like a frenzy, a swirl, a swarm of sweetest elegy that carries you away, unimpressed by any will or objection. So you better just lean back, let people and places pass and enjoy the ride through jolly despair, cynical compassion and melodies, whose partial sticky sweetness is as filled with pure innocence like a nihilist´s head with meanings and values. Cause that´s one of the really enjoyable facets of the songs (and not just on this album) – every mood can turn out be a fake a few bars later, every line can be a face of Janus and there´s the smell of a corpse potentially hidden under every sonic carpet of blossoms. It´s a daydream in a hall of mirrors, where all is a close dance of the seeming and the real and every reflection is a possible masked distortion. So this indicates the fact that TUNES OF DAWN songs in general are not just sequences of verses and choruses, but acoustic ignes fatui, luring and tempting, seducing and bewitching, stylistically sidestepping from concrete-like guitars to synth-lines made of candy, from angrily stomping drums to acoustic watercolours, all circling around a relentless, roguish truth: "Home is where the heart decays..." – that´s the shiny offered path.
Another of the bands great skills is their sense of melodies that unite the gleaming vast of a melancholy with the infecting devotion of a catchiness, walking the tightrope between elegy and ebullience like musical encephalin. So like the albums eponymous opener, whose final chorus feels like tidal waves hitting the shoreline again and again, ready to pull the rug from under feet, but you don´t care because it feels so pleasing. Or the dangerously accommodating 'A Coffin´s Tale', whose acoustic guitars and clarinet-like background humming seem to put you somewhere in the middle of a golden, late September field, inhaling the last beams from above just for realizing that death and mortality are the architects of this placid setting.
'My Favourite Colour' is almost dripping with heart-melting melancholy, accomplishes the feat to make even distorted guitars sound comforting and consoling. When in its outro shivering drums face fragile pizzicatos and dew-like guitars, carrying the vocals like a lonely boat on an infinite ocean of bittersweet and sticky sorrow, while celebrating words like: "it seems the world has such a bright cover but sorrow is my favourite colour...", then you have to take a deep breath for the supposed debut of the fact how handsome despair can feel. A musical fission finding its sequel in 'Autumn Days', wherein all the emotional bleakness is reduced and condensed to the vocals and a riverbed of strings and pianos, bypassing the trap of sounding too cheesy by its perceivable honesty and modesty (even in the words with lines like: "I'm hunted by thoughts far too slow, getting more tired the older I grow...for the sun refuses to shine, darkening the soul of mine...")
So looking back at all this harmony of sadness and melodic, of pleasing sounds and charming chords there´s suddenly that little moment of guessing the price the band had to pay for this bunch of oily songs (meant in context free of judging, just related to the colourful blackness, their viscosity and the energy they entail!) – they had to sell a few of their rough edges, had to swap boorishness with gentleness. Of course there's no shame in progression and the re-adjusting of the filter through what you throw your reflections back to the outside and I would even call it a desirable condition to have that self-confidence to make the music you feel to have to do, unimpressed by templates and once self-drawn borderlines, but somehow the albums shiny patina is whitewashing the ability to surprise, to kick the listeners ass! (A fact you could be sure about on former releases.)
Okay, it is not all embedded in those velvet sensitivities, cause there are songs like the brilliant 'Don´t F***ing Tell Me What Kind Of Day To Have', which feels like a sonic contraction with its bundle of rhythms, raspy guitars, singing birds, swirling organs and a bass like a plummet (and words filled with great poisoned cynicism), the dirty and rearing 'Tightrope' (in my mind the shortest distance to the mostly discarded TypeO influence of their earlier work) or the almost jolly 'End of the road' with its staccato bridges and surgical chord attacks. But somehow this is not what remains after the 13 songs have departed. You stay wrapped in this honey-like Weltschmerz, what seems enfolded like a canopy above the whole album, so dense and compressed that no other mood can really enter the frame. And unfortunately this is slightly watering down the variety of the single tracks, the great structural ideas. Somehow the album´s two cover songs, the WALKER BROTHERS classic 'The Sun Ain't Gonna Shine Anymore' and the underrated Pop / BOWIE piece 'Isolation' feel like the emotional poles which mark the tracks felt variety. One a heart-breaking and yearning lament and the other a resigning challenge for sorrow and loneliness, but both dressed in a pleasing melancholic costume.
Once again, 'Departure Songs' is a really brilliant album, filled with so many enjoyable tunes and ideas, words and melodies. It´s emotional density is breath-taking with its melancholic grandeur, which is clinging to your senses and your soul, embracing you while carving your skin, but oddly it is the same density that takes the breath of a certain kind of sonic diversity, too thick and heavy is the veil of sorrow. And so it is either an emotional concept I failed to realize in the end or an artistic intransigency, resolute and accepting sacrifices. In both cases it is an album you definitely shouldn´t miss...
Tracklist

01. Final Departure
02. A Coffin´s Tale
03. End Of The Road
04. Leaving The Party
05. Isolation
06. The Swinging Song
07. Don´t F***ing Tell What Kind Of Day To Have
08. Tightrope
09. The Sun Ain´t Gonna Shine Anymore
10. My Favourite Colour
11. Tell Me Your Name
12. Life Is A Grave
13. Autumn Days
Line-up

Hagen Schneevoigt – Vocals, Bass
Gunter Büchau – Keyboards
Martin Schorlemmer – Drums
Rene Gödde – Guitars
Website

https://www.facebook.com/tunesofdawn
Cover Picture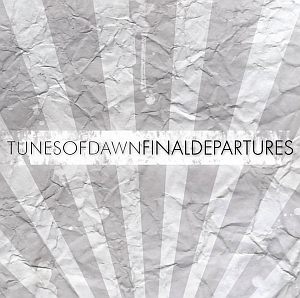 Rating

Music: 7.5
Sound: 7.5
Total: 7.5 / 10