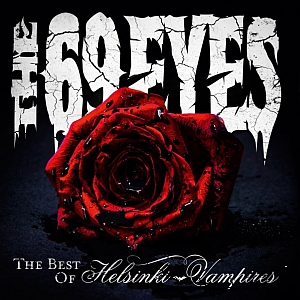 Artist: The 69 Eyes
Title: The Best Of Helsinki Vampires
Genre: Rock
Release Date: 10th April 2015
Label: Nuclear Blast
Album Review

If you didn't know Finland's THE 69 EYES wore black and scowled a lot, you'd probably just lump them into some generic "rock" genre. Take away the visuals, and despite a career lasting over 20 years, and a rather self-indulgent 28 songs on offer here as a 'Best-Of', there's something of the watery theatricals of KISS, or worse, a kind of BRYAN ADAMS-goes-Goth lurking over much of it. Take fan favourite 'Lost without Love' for example. There's no doubting its strong melody, dark theatrics and sense of tragic Romanticism, but it's also seasick with cliché, both lyrically and in its structure. And that, unfortunately, is the curse that shivers and shrugs throughout this collection.
And so we have the sleazy, bar-room crooning and guitar soloing of 'Perfect Skin' an all-American sounding belch of glam-rock, followed by 'Brandon Lee' which plods along like BILLY IDOL but turns in a decent enough chorus and a scattering of tinkled piano. There's 'Feel Berlin', which is horrible frankly, and the darkly smouldering 'Dance D'amour' which is fine until Jyrki sings "Mon Cheri" in the kind of voice a dirty old uncle might use when pissed on cheap scotch. No, no, no, or should that be non. There are songs called 'Rocker' and 'Dead And Gone' – no need to delve in there if looking for a surprise or two - and a duet, on 'Rosary Blue' that at least breaks up the monotony. Choosing Kat Von D for said role, however, is a mystery. I'm sure the tattoo artist, model and 'television personality' (chuckle) looks great in the video, but my god, the woman cannot sing.
The band is loved, strangely, by the Gothic community but try far too hard to please on 'Gothic Girl'. This is possibly the most unforgivable creature lurking here. It's cheap and tacky at best, flaccid and funny at worst. And is that the sound of rain and a bit of synthesised thunder at the end? What a jolly original idea guys! It just might catch on… If you've got as far as 'Red', congratulations, it's nearly over. There are a few more horrors to navigate around, namely the absolutely unconvincing scream and grunt that graces the opening to 'We Own The Night', or the yawn inducing 'Crashing High', which again apes BILLY IDOL and sounds completely bored with itself about half way through. 'Ghost' draws the tatty curtains on everything, redeeming itself slightly with a strong melody and a sense of ease lacking from much that proceeded it. And it's got a violin at the end. Which helps…
If you like your rock packed full of predictable choruses, uninspired guitar solos and occasional flourishes of a dark brush, then this massive collection might just be your new best friend. However, if this is what Helsinki vampires are listening to these days, then things have got very bland indeed in the realm of the undead.
Tracklist

01. Lost Boys
02. Perfect Skin
03. Brandon Lee
04. Lost Without Love
05. Feel Berlin
06. The Chair
07. Dead Girls Are Easy
08. Radical
09. Tonight
10. Dance D'amour
11. Borderline
12. Rocker
13. Dead N' Gone
14. Rosary Blue
15. Never Say Die
16. Gothic Girl
17. Betty Blue
18. Sister Of Charity
19. Love Runs Away
20. We Own The Night
21. Red
22. Devils
23. Wrap Your Troubles In Your Dreams
24. Wasting The Dawn
25. Kiss Me Undead
26. Crashing High
27. Stolen Season
28. Ghost
Line-up

Archzie – Bass
Jussi 69 – Drums
Jyrki 69 – Vocals
Bazie – Lead Guitars
Timo Timo – Guitar
Website

http://www.69eyes.com/
/
https://www.facebook.com/the69eyes
Cover Picture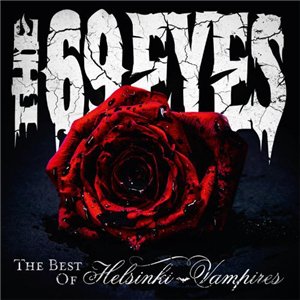 Rating

Music: 4
Sound: 6
Total: 5 / 10