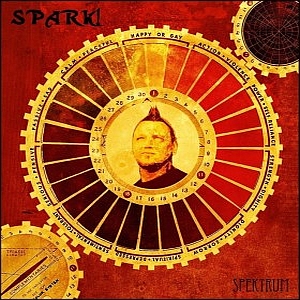 Artist: SPARK!
Title: Spektrum
Genre: Electronic
Release Date: 6th February 2015
Label: Progress Productions
Album Review

So for years the SPARK! project has managed building with a little string of albums under their belt until in 2013, their former vocalist called it quit and the question was either to find a new one, or to change the concept a little. After all, some new ingredients can sometimes create a great new meal. The decision fell on the latter and so on the new album 'Spektrum', you have a variety of very well-known guest vocalists, that is if you are a little bit into the classic EBM genre. The album starts things off with a little help from SPETSNAZ and some poppy variations to a song that has an intensely high BPM count and will make sure, a celebration of this won't go down without a massive load of sweat. 'Nordost' goes down a similar road with the exception of the lyrics being performed in German by our beloved construction workers of PATENBRIGADE:WOLFF.
The following 'Dysfunctional' comes off catchy as hell and for my tastes the first peace where the concept of merging pop sensibilities with classic EBM comes to full effect. 'Light On', featuring DUPONT benefits excessively from the use of layered sounds as a backdrop, giving the comparatively calm song an anthemic character. 'Fashion', regardless of the use of melodies relies primarily on very hard edges and Claus Larsen' slightly distorted voice. What happens if you strip the pop out gets evident on 'Unforgiving' which is merely classic EBM in its purest form and a feast for those NITZER EBB fans out there. The album closes with the exact opposite, which is 'Momentum' with SUBSTAAT. This is the song coming closest to being electro pop on the album, driven by melody and clean, decent vocals. Decent for that matter is exactly the word I'd use to describe 'Spektrum', sometimes leaning more towards pop; other times to the EBM genre, offering something for both fractions to enjoy.
Tracklist

01. Infectious (feat. Spetsnaz)
02. Nordost (feat. Patenbrigade: Wolff)
03. Dysfunctional (feat. Biomekkanik)
04. Weit Voraus (feat. NordarR)
05. Light On (feat. Dupont)
06. Fashion (feat. Leaether Strip)
07. Fangesinn (feat. Xenturion Prime)
08. A Final Twitch (feat. NZ)
09. Mittsommernacht (feat. Blitzmaschine)
10. Unforgiving (feat. Poupp←e Fabrikk)
11. Momentum (feat. Substaat)
Line-up

Mattias Ziessow and various guest vocalists
Website
https://www.facebook.com/pages/SPARK/122230277587
Cover Picture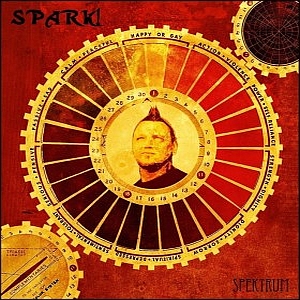 Rating
Music: 7
Sound: 7
Total: 7 / 10