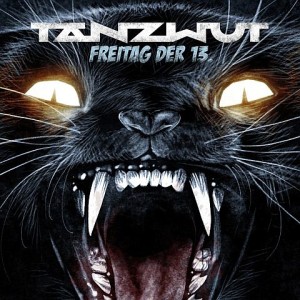 Artist: Tanzwut
Title: Freitag der 13.
Genre: Medieval Rock
Release Date: 13th February 2015
Label: AFM Records
Album Review

With the words "Hereinspaziert, Manege frei", the Berlin founded Band TANZWUT welcomes the listeners of their 9th album 'Freitag der 13.' which, matching the title, was released on a Friday the 13th and contains 13 songs. After a gloomy little intro and some words spoken in Latin, the familiar rocking sounds of guitars and bagpipes ring out. 'Brot und Spiele' is a truly splendid opening song, that immediately winds into ones ear and stays stuck to the head. "Lift the horn and let us drink" say the lyrics of 'Brüder im Geiste'. And yes, listening to this song one only wants to put one's arms around beloved friends' shoulders and sing along together loudly. Up next we have the title song of the album 'Freitag der 13.', a combination of sung vocals and spoken words. The song with its dire intro and its diversity reminds one of riffs from RAMMSTEIN matched with influences from IN EXTREMO and ASP.
Listening to 'Spielzeugland' (Toyland), memories and dreams are awoken. 'Die Zeit heilt alle Wunden' is a more smooth and slow song while the following 'Ohne Sünde' brings back melodic rock and rhythm. Yes, hard to believe, but 'Zeitdieb' (time thief) is already the 7th song on the album and makes one realise how it really seems to "steal" the time which just flies by while listening to it. The very well elaborated lyrics are perfectly combined with the right instrumental accompaniment. Probably being the slowest song on the album, 'Niemals mehr' makes one calm down, before 'Des Teufels Braut' brings on rock 'n' roll again. Despite of the title 'Vorbei ist vorbei' (over is over) is not the last song on the album but it's got a wonderful bagpipe melody and a catchy bass drum driven rhythm to clap along with. 'Spiegelkabinett' is introduced by smooth sounds that slowly grow louder when drum and bagpipe sounds increase. When the guitars come in, the song really starts to rock. The lyrics are very catchy and it's easy to sing along with the chorus when it is repeated for the first time.
The last but one song 'Bis der Morgen graut' comes along with wonderful melodic bagpipes, rhythm driven guitar riffs, electronic influences and storytelling lyrics. Unfortunately all the good things come to an end too soon, but the last song 'Wenn wir untergehen' is a wonderful anthem to finish the album with and not only once again accentuates Teufel's powerful voice but also brings on beautiful bagpipe melodies for the last time. With its variety of sounds, rhythms and melodies 'Freitag der 13.' sticks to the head of the listener immediately. TANZWUT have created an album that one not only wants to hear again and again but is already looking forward to the next one. To this band 13 is not an unlucky number at all.
Tracklist

01. Brot und Spiele
02. Brüder im Geiste
03. Freitag der 13.
04. Spielzeugland
05. Die Zeit heilt alle Wunden
06. Ohne Sünde
07. Der Zeitdieb
08. Niemals mehr
09. Des Teufels Braut
10. Vorbei ist vorbei
11. Spiegelkabinett
12. Bis der Morgen graut
13. Wenn wir untergehen
Line-up

Teufel – vocals
René – guitar
Der Zwilling – bass
Shumon "Zack" – drums
Oually Bomba – keyboard, percussion
Thrymr – bagpipe
Pyro – bagpipe
Website

http://www.tanzwut.com
Cover Picture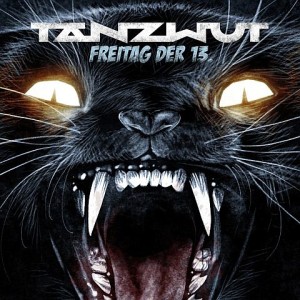 Rating

Music: 9
Sound: 9
Total: 9 / 10