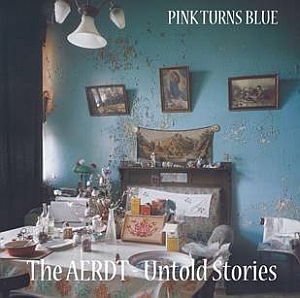 Artist: Pink Turns Blue
Title: The AERDT - Untold Stories
Genre: Post-Punk
Release Date: 15th April 2016
Label: Orden Records
Album Review

Back in the Eighties, PINK TURNS BLUE perfected a moody new-wave swagger with a dark-wave sensibility, and had a run of excellent singles including the ubiquitous 'Walking On Both Sides'. A familiar tale unfolds into the nineties and beyond – the band split, they later reform for a few special festival appearances, put out a 'Best Of' and decide they really quite like being in PINK TURNS BLUE and so start recording original material again. The AERDT – Untold Stories is the latest release.
What is actually a decent and eclectic set of songs gets off to a bit of a soggy start, with both opening tracks being far too similar to be put together. They're good, that's not the problem, but a bit of spacing might have been prudent. But there is real grit and spirit here, a meaty bass line leading 'Give Me Your Beauty' a somewhat snarly, weary menace. 'The Clown' employs choppy guitars to show INTERPOL that they were doing this kind of thing long before the new wave of new wave reared its oh-so-cool head and stroked its chin. There's pace-change on 'Here's To You My Love', deliberately discordant and wonderfully akin to THE PSYCHEDELIC FURS at their finest.
A sparseness runs cleverly through much of the album, a confidence in knowing exactly when less is more. Nothing is buried by layering, there's no swampy production, and in fact no real signs that this is a band once firmly 'of their time'. 'Tomorrow Never Comes' has a timelessness that wonderfully refreshing, and 'NYC Breakdown', although not the best song on here by any stretch, maintains a gnarly, hoary old post-punk vibe. And the piano led 'I Believed' sweeps and soars to an almighty climax, leaving only the raucous punk stomp of 'Devil' to sign off with a spiky flourish.
The assured and solid reliance on excellent song-writing, and the experience and unpretentiousness of a band who really don't have anything to prove, makes this album something of a revelation. Fizzing with ideas, using every texture and shade of all things dark, PINK TURNS BLUE have turned in one of the surprising, most interesting and even original sounding albums thus far in 2016. It's like the Eighties never happened…
Tracklist

01. Something Deep Inside
02. Dirt
03. Give Me Your Beauty
04. The Clown
05. Here's To You My Love
06. Tomorrow Never Comes
07. NYC Breakdown
08. Roads
09. I Believed
10. Devil
Line-up

Mic Jogwer - Vocals, guitars, piano
Ruebi Walter - Bass, keyboards, guitars
Paul Richter - Drums
Website

http://pinkturnsblue.com
/
https://www.facebook.com/Pink.Turns.Blue.Official
Cover Picture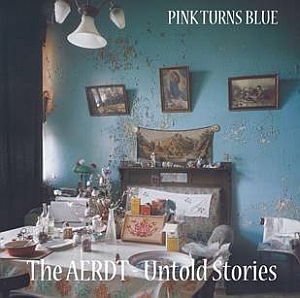 Rating

Music: 8
Sound: 8
Total: 8 / 10