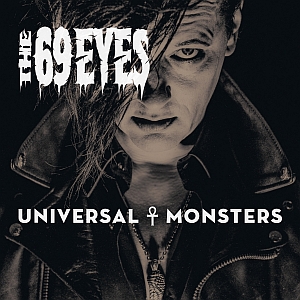 Artist: The 69 Eyes
Title: Universal Monsters
Genre: Goth'n'Roll
Release Date: 22nd April 2016
Label: Nuclear Blast
Album Review

"I rushed to buy the brand new CRAMPS album in the early 90's at my favourite record shop. When I asked to listen to it, the guy behind the counter looked at me and said: 'C'mon Jyrki, it's THE CRAMPS, you don't really need to listen to it beforehand!' This kind of logic should work with the new THE 69 EYES album as well. It's THE 69 EYES, goddammit!"
These are the words of vocalist Jyrki69 and everyone who has checked out the band's latest record 'Universal Monsters' must have immediately realised that "this kind of logic" did really work out. All eleven tracks on 'Universal Monsters' are truly and absolutely THE 69 EYES! And the great thing is that the Helsinki Vampires are not simply repeating themselves on their eleventh opus, but rather bring everything they have been about for the last 26 years to perfection. And on top of that, there are even some sonic surprises that enrich their already unique sound of glammy gloom Rock making this album a real sonic treat. Put on the record and what you'll be hearing blasting out of your speakers are about 47 minutes of a talented, tight, and true band that has mastered its instruments, wonderful arrangements, a perfect production, and a singer in best vocal shape.
Once again, THE EYES teamed up with producer Johnny Lee Michaels who's often referred to as their sixth bat/ vampire. During our interview, Jyrki told us:
"We did everything together, there were no outside forces. We don't have to explain anything to each other, everybody knows exactly what to do and knows what's it's about, and what the magic is. And the magic was still there."
If you love the outcome of their collaboration on the old albums 'Blessed Be' (2000) and 'Paris Kills' (2002), there's no way you're gonna be disappointed by the diverse 'Universal Monsters'. After the more poppy sounding album 'X', this one is more back to the roots and at the same time it's peppered with some new spices, music as well as theme-wise. The album kicks off with some real Goth'n'Roll: The upbeat single 'Dolce Vita' begins with the sounds of some church bells ringing in the distance, which traveller Jyrki recorded when he was in Rome, and a rocking riff. The first lines, which feature the title 'Only Lovers Left Alive' (2013), an unconventional must see vampire film by the indie movie maker Jim Jarmusch, lead to the first catchy chorus with some Rock'n'Roll piano. This successful opener is driven by Bazie's and Timo-Timo's rocking guitars and Jyrki's characteristic, deep and dark King of Rock'n'Roll vocals. The following 'Jet Fighter Plane', also a single release, is a retro sounding Cold War tune that's moody and melodic building up to the question "Did you know governments raising soldiers to kill?!" and another crushing guitar solo.
The following six minutes are clearly a highlight on the album: The atmospheric 'Blackbird Pie' is a tongue in cheek adaptation of 'Sing a Song of Sixpence', an English nursery rhyme from the 18th century with Ennio Morricone-like Western movie elements. There are epic string orchestrations and an amazing instrumental section in the middle in which Johnny Lee himself contributes some Lakota Indian vocals on top of some tribal percussions, North American flutes, and acoustic guitars. The song then leads into an incredible two-minute outro with big choirs and makes you wanna join in the handclaps. Bravo! On we go with the romantic 'Lady Darkness', which conjures up a nostalgic feel with its organ chords in the background, and the crazy 'Miss Pastis' with its killer bass line by Archzie, some accordion tunes, the French chorus, and a psychedelic sounding interlude with some spoken words. This is a fun and energetic song, especially, when you hear it live. 'Shallow Graves' was developed from a guitar riff that sounded somewhat like ALICE COOPER and lyric-wise was inspired by Tim Burton's version of 'Alice in Wonderland' when a real rabbit crossed Jyrki's path. With its rocking riffs, Jyrki singing as if in the character of the Mad Hatter, some more good old bells, the sound of someone digging a hole, and croaking crows in the rain the track doesn't only rock, but also turned out quite cinematic. 'Shallow Graves' and its beautiful chorus is another favourite and there's a message: Similar to 'Dolce Vita', it's a song on living in the here and now. So, carpe noctem, dear people, and don't dig your own shallow graves!
Can 'Universal Monsters' get even better? Indeed, it can! Song number seven, the third single, might surprise those who expected to find some pseudo-poetic songs drenched with Gothic clichés like
"red wine and roses and dark moments of loneliness"
on the album, so Jyrki. Personally, I'm a huge fan of songs that stand out and 'Jerusalem' is a truly outstanding stand-out track. After Rome, the Wild West, and France, Jyrki takes us to "The Holy City". He visited Jerusalem more than once:
"It's a truly mystical and magical place and it was exciting to make it into music!"
The mystic vibes of this atmospheric mid tempo tune, the oriental vocals towards the end, and its message of peace leave me speechless:
"It's said, that whatever happens inside the walls of Jerusalem transfers to the outside world as well. So, when I sing, 'When you bring peace down here' inside the walls, hopefully, that will affect the current world as well. […] And maybe someday there will be peace there and everywhere else as well. So that's what we hope."
'Stiv & Johnny' is a melancholic tune about being a rebel, a "fallen angel", an outsider who doesn't "fit anywhere" but is living "forever free". It's also a hats off to the Punk Rock heroes Stiv Bators (DEAD BOYS, LORDS OF THE NEW CHURCH) and Johnny Thunders (NEW YORK DOLLS) and Rockabilly legends Gene Vincent and Eddie Cochran, who are all
"always looking down from heaven"
on us. With the groovy 'Never' we get more strings next to the guitars, more fragile vocals, and a powerful and catchy chorus. After 'Red' and 'Rosary Blue', the ballads on the previous record, we now have the soft and dreamy Goth Rock ballad 'Blue'. It's not only called this way but also sounds like it. A mesmerising tune that slowly grows before it fades away with Jyrki's whispers and the last piano strumming. And with the rocking smasher 'Rock 'N' Roll Junkie', which is 100% pure Rock'n'Roll as its title also suggests, the band comes full circle on the album highlighting the garage rock rather than "goth only" side; it's also a nod to their sleazier musical beginnings. If you were wondering who you're hearing singing the backing vocals on 'Universal Monsters': THE EYES recruited the hard rocking local gang SANTA CRUZ.
The bottom line is that 'Universal Monsters' is a monster of an album! In April, this eagerly awaited record was unleashed on the world presenting all these killer Goth'n'Roll smashers and the press praised it as the "album of the month". The dark rockers and from Finland, our favourite bats, are back in top form and, as always, with an edge. In fact, one rather must say that they've actually never been gone and never will be, for one way to read the album's title and artwork by Ville Juurikkala is that Jyrki69 (vocals), Bazie (lead guitar), Timo-Timo (guitar), Archzie (bass), and Jussi69 (drums) are timeless creatures themselves. Being around and enfolding us in their melodic duskiness or rocking our socks off for already over a quarter of a century, they're as iconic as the monsters of the classic horror movies. If you're a Goth'n'Roller you can be nothing but thrilled by and thankful for this record which is probably the pinnacle of THE 69 EYES' career. I can only agree with Jyrki regarding its originality, on the one hand, and familiarity, on the other:
"We sounds as fresh as ever, the music goes itself and takes us into undiscovered paths and soundscapes. How the album grew into what it has become just surprised us and you can really hear the creativity blooming there. And still it sounds like nobody else but THE 69 EYES!"
As the band has stressed, they've made "this piece of Goth'n'Roll" for their fans and all that remains for us to say is: Thank you, guys! Allow me to conclude with a line from another monster classic, Bram Stoker's 'Dracula':
"Listen to them, the children of the night. What music they make!"



Tracklist

01. Dolce Vita
02. Jet Fighter Plane
03. Blackbird Pie
04. Lady Darkness
05. Miss Pastis
06. Shallow Graves
07. Jerusalem
08. Stiv & Johnny
09. Never
10. Blue
11. Rock'n'Roll Junkie
Line-up

Jyrki69 - vocals
Bazie - lead guitar
Timo-Timo - guitar
Archzie - bass
Jussi69 - drums
Website

www.69eyes.com
/
www.facebook.com/the69eyes
Cover Picture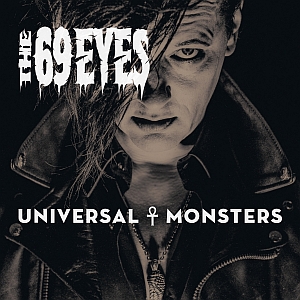 Rating

Music: 10
Sound: 10
Total: 10 / 10

See also (all categories):