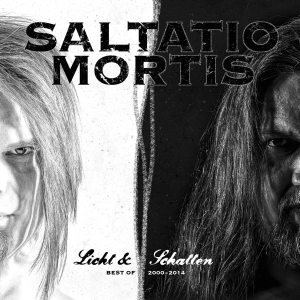 Artist: Saltatio Mortis
Title: Licht und Schatten - Best Of 2000-2014
Genre: Medieval Rock
Release Date: 17th June 2016
Label: Napalm Records
Album Review

Being around for 16 years now, medieval folk-rock band SALTATIO MORTIS has started out its career by playing on medieval fairs using a line-up and acoustic instrumentation most common for bands of this genre in and around Germany, including harps, shawms and various kinds of bagpipes. Corresponding to this, their first album 'Tavernakel' was a typical representative for the common understanding of medieval music, with its sound dominated by bagpipes and percussion. Their next three albums, however, came with a significant change of style, as electronic elements were added to the band's formerly acoustic sound. The bagpipes stayed at the centre, but were now accompanied by synthesizers and electric guitars. In addition, vocal performance and lyrics started to become more important. And with their fifth album, 'Des Königs Henker' released in 2005, yet another change was indicated, as SALTATIO MORTIS started to make their way to become what they are today by fusing their medieval roots with a more rock- and metal orientated style of music.
Now, eleven years later, after having become more and more famous and having gained increasing success with five more studio albums and live CD and DVD releases, SALTATIO MORTIS have launched their first best of - album, a box with two CDs, containing 22 of their most well-known tracks, each of them freshly remastered, as well as three brand new songs, especially produced for this compilation. It is called 'Licht und Schatten' and is supposed to be a collection of songs from the year 2000 to 2014, but this is not entirely appropriate. The oldest song on this album is from 2004. It's the track 'Falsche Freunde' from the album 'Erwachen'. And it's the only one from this album on the whole compilation, which is a bit disappointing because I think there are at least two other songs from 'Erwachen' that would have been worth being included on a best of album, which are 'Daedalus' and 'Hört die Trommeln'. But, sadly, the focus clearly lies on the later album releases, such as 'Sturm aufs Paradies' or 'Das schwarze 1x1' which is represented with six songs. That is more than 1/5 of the whole collection.
As I pointed out before, I am well aware that the style of their music has changed significantly after their fourth album, along with the band's personnel. And I know very well that every band that is up to release a best of collection of their songs is going through the stressful process of deciding which of the many of them will finally be included in the finished product. But still I personally think there should have been more room for the older songs too, in order to maybe put a smile on the faces of the very old fans who have been with the band from the beginning and to show the new fans the diversity and wide range of sounds SALTATIO MORTIS were providing over the years. Nevertheless 'Licht und Schatten' is a well arranged compilation. The songs were edited and remixed with great care. And even if it does not show the whole process of evolution the band has gone through in the past 16 years, it still is a proper introduction to the wild and wonderful world of SALTATIO MORTIS.
Tracklist
CD 1
01. Früher war alles besser
02. Prometheus
03. Habgier und Tod
04. Wachstum über alles
05. Hochzeitstanz
06. Nichts bleibt mehr
07. Satans Fall
08. Salome
09. Sündenfall
10. Ebenbild
11. Tritt ein
12. Falsche Freunde
13. Spielmannsschwur
CD 2
01. Ode an die Feindschaft
02. Idol
03. Krieg kennt keine Sieger
04. Eulenspiegel
05. Schloss Duwisib
06. Freiheit
07. Salz der Erde
08. Koma
09. Letzte Worte
10. Schöne neue Welt (Bonus Track)
11. Fatum (Bonus Track)
12. Weiß wie Schnee (Bonus Track)


Line-up

Alea der Bescheidene - vocals, bagpipes, didgeridoo, guitar, shawms
Lasterbalk der Lästerliche - drums, davul and other percussion
Falk Irmenfried von Hasen-Mümmelstein - bagpipes, vocals, hurdy-gurdy, shawms
El Silbador - bagpipes, shawms, smallpipes, uillean pipes and other pipes
Bruder Frank - bass guitars, electric upright Chapman Stick, guitar
Till Promill - guitars
Jean Mechant der Tambour - drums, piano, guitar, vocals
Luzi das L - pipes, shawms
Website

www.saltatio-mortis.com
/
www.facebook.com/saltatiomortisofficial
Cover Picture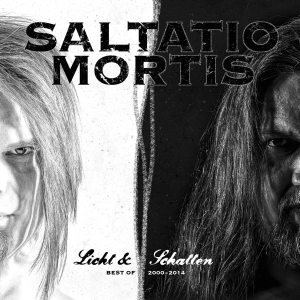 Rating

Music 7
Sound: 9
Total: 8 / 10